billiardsforum
(admin, moderator)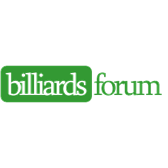 billiardsforum
Owner at Billiards Forum (billiardsforum.com)
User Status
Offline
Last seen

3 days ago

Member for

16 years

38127 profile views
Member #1
About Me
I'm the owner and administrator of the Billiards Forum, a billiard enthusiast, and a technology geek. The Billiards Forum is the result of those two interests.
You can contact me via this site.
NOTE: Answers from this account are sometimes posted in an automatic fashion and/or pre-configured to post on a time-based schedule. As such, subsequent responses may not be immediately forthcoming.
Latest Activity by billiardsforum
Questions & Topics by billiardsforum:
Answers & Replies by billiardsforum:
Comments by billiardsforum:
Articles by billiardsforum:
My Gear
Playing Cue: McDermott Competitor Series Alpha
Jump/Break Cue: Old Sneaky Pete Blank
Pool Table: Brunswick Camden II
Companies I Own/Promote
Billiards Forum (billiardsforum.com)
My Vitals
Gender: Male
Marital Status: Married
Age: 41 years