Cuetec Earl Strickland Cue Value
---
2/9/2022 8:56:51 PM
Cuetec Earl Strickland Cue Value
What is the value of this cue. It's a Cuetec Earl Strickland edition?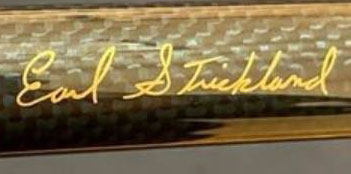 MrB
Cuetec Earl Strickland Cue Value
Replies & Comments
---
billiardsforum on 2/10/2022 12:53:53 PM

It appears to be a fiberglass cue from the Cuetec Strickland Signature series, circa 1999.

The MSRP was $139, and common online retail would have been closer to $110-$120.

I would say that the cue is definitely worth somewhere less than $100 today.

MrB on 2/11/2022 6:24:56 AM

Thank you. Your hard work is appreciated.
Cuetec Earl Strickland Cue Value
Title: Cuetec Earl Strickland Cue Value
Author: MrB (Brett Beranek)
Published: 2/9/2022 8:56:51 PM
Last Updated: 2/10/2022 12:47:33 PM
Last Updated By: billiardsforum (Billiards Forum)