About Billiards Forum
---
About Billiards Forum
The Billiards Forum website has been online officially since June 12, 2006. We're an informational website designed to further cue sports and to be an informational repository for those interested in the game. The site was created as an alternative to the thousands of poorly designed, content-poor billiard web sites our there on the internet. We hope that we have done a good job.
The form has gone through three major designs since June of 2006. The first one, a green, gray, and yellow color scheme was launched to kick off the website. In addition to the forum, the launch included sections such as billiard tips, billiard rules, home billiard rooms, pool players, a billiard terms glossary, and of course, our blogspot blog. See photos below.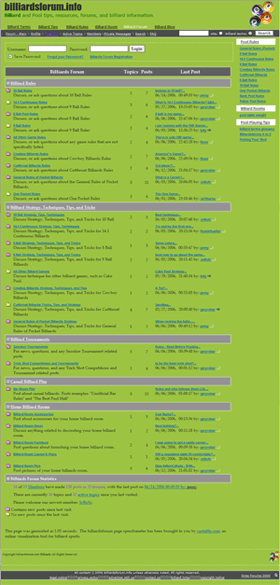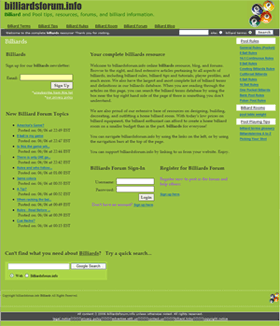 We submitted the design for peer review of several webmaster forums and our research indicated that users liked the design but hated the color. This prompted us to rethink the color scheme and finally roll out a white, green, and gray color scheme. This color scheme was released on July 18, 2006.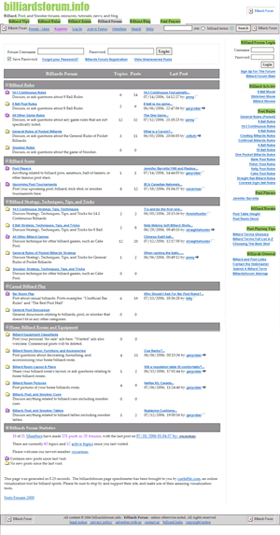 September 2007 marked the soft launch of the new design, and the billiards forum Web 2.0 platform. The soft launch included a full re-factoring of the snitz forum code and the addition of many forum features. The plan going forward is to migrate the remainder of the site from the 1.0 platform to the 2.0 platform. The Billiards Forum 2.0 platform boasts many backend upgrades such as new and optimized database, a new content management system that allows for faster production of articles and other content, a new mailer communications system, and many Web 2.0 features.

)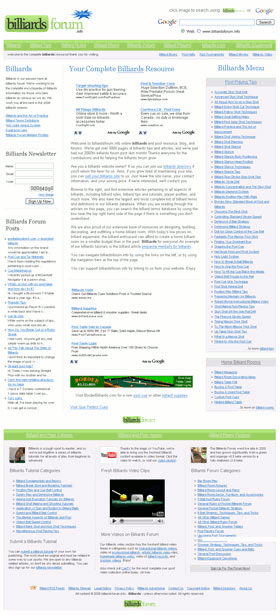 There have been many inquiries as to whether were affiliated with online billiard stores, and were proud to say that we are not. Although the Billiards Forum website accepts billiard advertising, it does so only generate revenue needed to stay operational. Income from advertising is allocated toward hosting costs, publicity, development, and other associated expenses with running the website.
About Billiards Forum
Title: About Billiards Forum
Author: billiardsforum (Billiards Forum)
Published: 4/11/2008 9:50:00 PM
About Billiards Forum
About Billiards Forum Comments