Questions About Refinishing and Recovering an Outdoor Pool Table
---
11/14/2022 10:00:15 AM
Questions About Refinishing and Recovering an Outdoor Pool Table
I've been around pool my entire life. I grew up on an antique 4.5- x 9-foot Brunswick pool table. I live in a townhouse by the beach and just don't have room for an indoor pool table. So a few years ago I found a nice Brunswick pool table with a 3/4" slate table for $125 from a divorced woman wanting it out of her garage, of course. I got it home, disassembled it, and recovered it with "Sunbrella" fabric. It was great. Fantastic.
It was covered most of the time, but it really didn't matter. With eastern exposure and salt air, nothing (including Jeeps - from experience) stands a chance over time. The "Sunbrella" held up great for 4 years. Two of the top rails kept getting worse and worse. I would sand them and douse them in tung oil, but they were failing. In addition, the underside support timbers were failing even worse.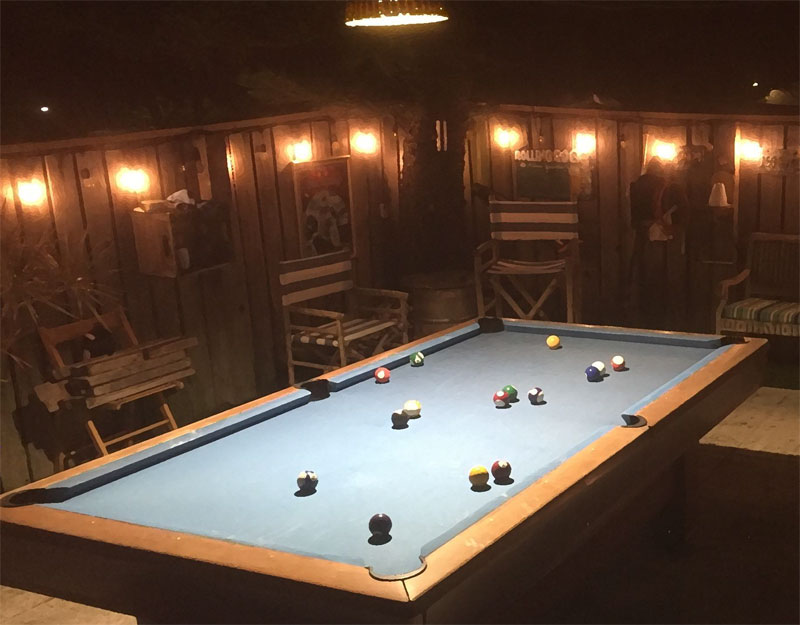 I tore it all down, installed new and better feet, replaced failed wood with pressure treated wood and coated the remaining with a wood hardener. I'm getting to the final sanding on the top rails and want to make sure I don't do something stupid.
While I do have a set of outdoor-specific fabric cut for a 4 x 8 pool table, I'm still going with Sunbrella again. I just like the feel and the speed. As far as the Sunbrella, there is nothing on the slate to tack to, so I'll just use Camie spray adhesive to secure that, after wetting most of the fabric in the middle. That's sort of easy. The tough part of the Sunbrella is affixing it to the bumpers as it doesn't want to stretch. This time, I'll wet that fabric as well and maybe the pocket corners will be easier to staple.
For the rails, I'll stain them to match the bottom, and then coat them with a marine varnish. I can't come up with a better solution. If money was no object, I could do a lot of things with the rails, but multiple coats of Spar seem to be the best option. I'll do that (and cure the varnish) indoors next to a dehumidifier.
Is Spar the best product for the rails?
How many coats of Spar should I try to slop on?
Should I use a fine steel wool between coats?
In closing, I'll make two points:
If you have a patio and no room for an indoor pool table, there are some great pool tables being given away for a song these days (again - divorces). Go find one and make it work.
Thanks in advance for any suggestions anyone might have to my questions above.
I'll let you all know how things work out.
user1668448814
Questions About Refinishing and Recovering an Outdoor Pool Table
Replies & Comments
---
billiardsforum on 12/4/2022 6:25:28 AM

Oh man, I LOVE what you've done here. It looks like a great space!

You've found a pool table basically for free. This alone is key, as it's "no sweat" if damage occurs.
You're making some modifications (e.g. P/T wood where it makes sense to resist rotting)

I've got a summer cottage that sits about 20 feet from the Atlantic ocean (facing the water between Nova Scotia and Prince Edward Island in Canada). We face the identical problem with rust and rot. The air is always moist and full of salt. Always.

I've always wanted to do an outdoor pool table there. Lately, I have been thinking of starting with a cheap or free used one, but then forming rails and aprons in concrete! It's the only way that will hold up, I think.

Also, you should check out @RayMills post about the "rolling shelter" he built for his outdoor pool table. He basically built a wooden casket on wheels/casters so he can just roll it out of the way when he wants to play pool. You guys could probably share some ideas.

Regarding your questions about the Spar:

It's probably the best product, apart from some kind of boating-grade epoxy.
I would suggest 2 coats. If I remember correctly, it goes on quite thick.
Yes, rub between coats with a fine steel wool or 200+ grit sandpaper on a random orbital sander. Use a tack cloth to pick up fine dust before re-coating as well.

Too bad cedar was so soft, otherwise it could be a substitute rail material due to it's natural oils which keep it from rotting.

Anyway, good luck, and I look forward to seeing some "in-progress" and "after" photos!
Questions About Refinishing and Recovering an Outdoor Pool Table
Title: Questions About Refinishing and Recovering an Outdoor Pool Table
Author: user1668448814
Published: 11/14/2022 10:00:15 AM
Last Updated: 12/4/2022 6:11:07 AM
Last Updated By: billiardsforum (Billiards Forum)