Rolling Shelter for an Outdoor Pool Table
---
4/13/2020 6:00:33 AM
Rolling Shelter for an Outdoor Pool Table
Unique Circumstance: Outdoor pool table under a "rolling shelter".
Here near Seattle, I have an 8-foot coin-op on my dis-used tennis court, and I tired of being required to lift off the $50 20'x16' tarp every time I played and then tie or weigh it down on oh-so-many sundowns. (During bright sunlight and light wind I can easily shoot racks in 45-degrees.)
Especially during the Covid-19 shutdown, I spent many idle hours perfecting a wood-and-tarps shed to confidently keep my pool table dry, including during 50-mph winds. I used all rescued materials, including an RV awning, wood planks, and a walker's wheels.
I realize that not many readers would be in my situation (and have the double space), but I'm putting out my experience in case anyone wants to know that they wouldn't be the first to obtain an inside pool table to situate outdoors because there's not enough room inside the house. There are so-o-o many free and cheap tables to choose from on Craigslist, for example; my Global cost me $125 and plays perfectly!
Anyway, I built a frame around the two long sides and one short and left the other short end open and a foot higher with reinforcement on the top. Because I had plenty of time, I even attached a small awning out from the open end so that the tarps could be held off the concrete when no rain was forecast, or lowered when I needed full protection. When playtime begins or ends I just roll my frame the 13-feet necessary, and if I'm in a dry spell no tarp wrangling is needed.
During the pandemic (alone) and all summer, I'll easily be indulging in my pastime a few hours every day.
Shelter and Pool Table
(Balls and rack situated on "wrong" end to "rotate" felt.)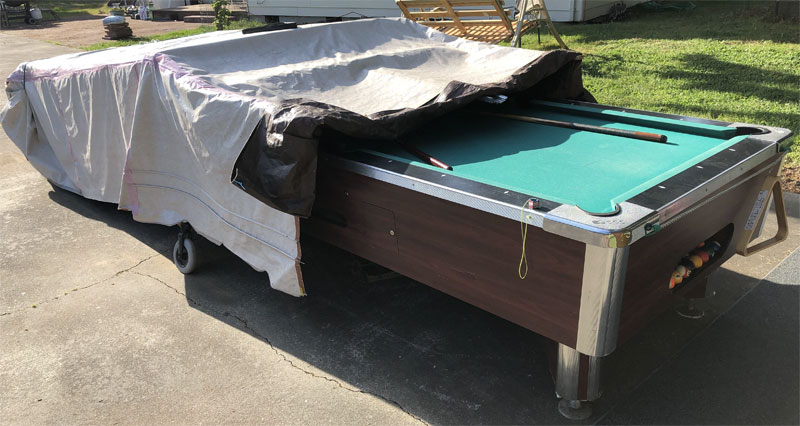 Rolling off the Shelter to Play Pool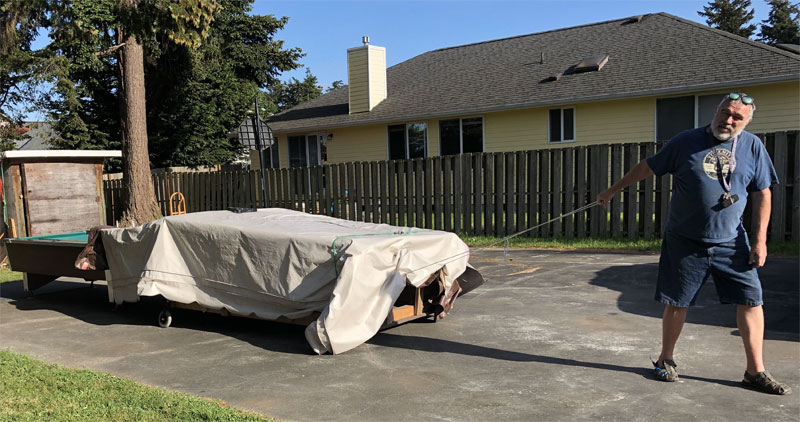 Interior View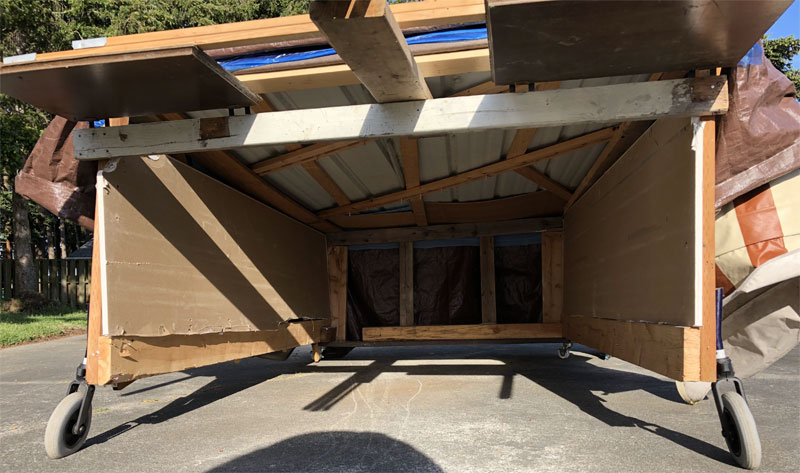 Fair-Weather Overhang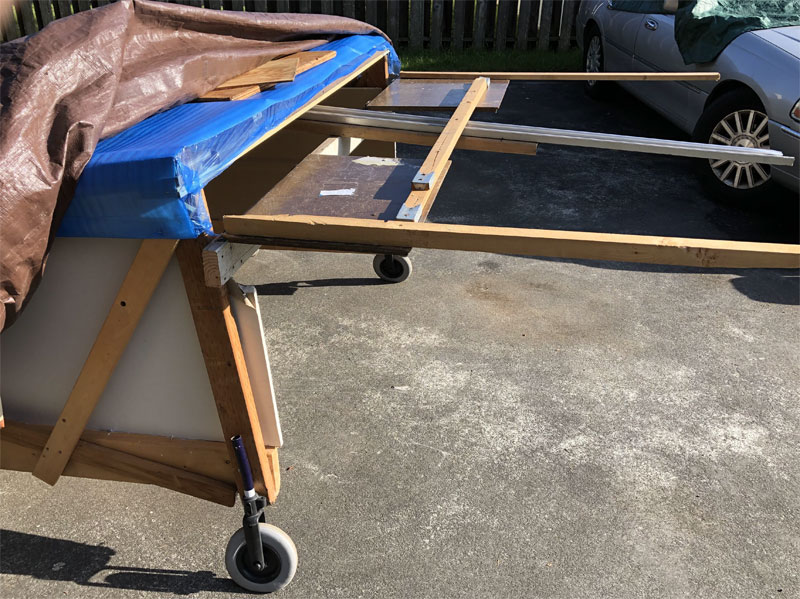 RayMills
Rolling Shelter for an Outdoor Pool Table
Replies & Comments
---
Rolling Shelter for an Outdoor Pool Table
Title: Rolling Shelter for an Outdoor Pool Table
Author: RayMills (Ray Mills)
Published: 4/13/2020 6:00:33 AM
Last Updated: 6/11/2020 8:56:18 AM
Last Updated By: billiardsforum (Billiards Forum)