Info on Helmstetter Cue
---
4/3/2023 9:24:57 AM
Info on Helmstetter Cue
It seems to be raining Helmstetter's. When you get a chance, can you see if you have any info on this 1980s-1990s Helmstetter cue?
The 4-point cue has a 5/16-18 joint, brass pilot, stainless steel joint pin, and a stainless steel joint collar. The bumper is attached with a machine screw into an Allen flat head weight bolt.
A friend of mine, a cuemaker, thinks the points and butt sleeve are Cocobolo and the forearm is Bubinga. The 4 spliced points each have 3 veneers, in light green, green, and orange, and a MOP or Abalone oval. The butt sleeve has 4 large MOP or Abalone dots with 3 rings that match the veneers on the points.
Thank you for your help,
Tim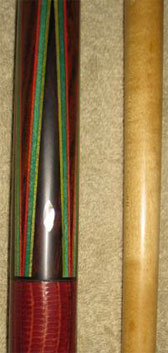 TCummings
Info on Helmstetter Cue
Replies & Comments
---
billiardsforum on 4/26/2023 6:57:49 PM

It's a Helmstetter 97-7 cue from the Helmstetter 97 series, circa, you guessed it, 1997.

That red leather wrap is a great touch!

One was for sale on AZB in June 2012 for $210 and it didn't sell. Dropped to $170, and it didn't sell for that either. Another was for sale on AZB in August 2012 for $250 with a standard Irish Linen Wrap. I don't think it sold either.

I have no idea if those prices are still relevant today.

I am still looking for detail on the materials and MSRP, but here are the specs from those 2012 sales:

Bocote forearm,
4 ebony points,
Ebony buttsleeve with red ring
Genuine abalone inlays
4 veneers, thin black, blue-green, and 2 red.
4 large dots on butt
4 oval shaped in points
5/16x18 pin
double nickel silver rings

Apparently MSRP was $260, per the 3rd edition of the Blue Book of Cues on page 112. Still need to verify that.

Here's the official product description:

Helmstetter 97-7 Pool Cue

Helmstetter pool cue with a bocote forearm with four ebony points with red and blue veneers with abalone inlays. The butt is ebony with four abalone inlays. The wrap is black with white spec Irish linen. There are two sets of nickel silver trim rings and one set of rings in the butt to match the point veneers. The joint is 5/16 x 14 piloted stainless steel. This pool cue comes with one shaft with a 13 mm pro taper.

TCummings on 4/27/2023 9:49:50 AM

Good Morning Billiards Forum,

Thank you for the information on the Helmstetter 97-7 pool cue.

You guys are the super sleuths of the pool cue world.

Tim Cummings
Info on Helmstetter Cue
Title: Info on Helmstetter Cue
Author: TCummings (Tim Cummings)
Published: 4/3/2023 9:24:57 AM
Last Updated: 4/26/2023 6:40:40 PM
Last Updated By: billiardsforum (Billiards Forum)