Ralph Greenleaf
Ralph Greenleaf
Ralph Greenleaf did wonders for the sport of billiards. He was a true showman, and made strides to keep the sport from fading in to obscurity by increasing it's popularity.
Ralph Greenleaf won his first world title in billiards in 1919, and defended it nine times in a row. Married to Princess Nai Tai Tai, a beautiful woman who was in show business. He dazzled audiences with amazing trick shot shows and exhibitions. He made those events more spectacular and enjoyable for the spectators by suspending a huge mirror over the pool table to give a better view.
Essentially untouchable in the sport, Ralph Greenleaf won fourteen world titles by 1937. With a charismatic personality and a showman's natural flair, more than anyone else Ralph Greenleaf rescued the game of pool, by casting it into the spotlight when it was on the brink of obscurity. The first real "billiards celebrity", Ralph "The Showman" Greenleaf was really pool's first charismatic superstar. Akin to baseball's Babe Ruth, he stirred public interest in his sport with skill and pizzazz.
Ralph Greenleaf
As good as Ralph Greenleaf was at the billiard table, he was just as bad when it came to drinking alcohol. Many billiard players or were around during the Ralph Greenleaf era claim that Ralph Greenleaf frequently hit the bottle, causing a premature end to the growing potential of his amazing but short billiard career. There are stories of Ralph Greenleaf cracking under pressure of the big matchup and running to the men's room for a quick one in order to calm his nerves and help them play better.
This alcoholism and drug addiction became excessive Ralph began falling down and using heroin at a rate that killed him.
Eventually the addiction and substance abuse issues got him banned from the world billiard tour at the end of his career. In 1946, he sued his sponsor, Brunswick Balke Collender for $100,000 in retaliation.
Ralph Greenleaf died at the age of 50, drunk, and broke.
Initially Ralph Greenleaf had an unmarked generic gravestone due to lack of funds for a proper one. Pool and Billiard Magazine printed the Ralph Greenleaf story and asked folks in the billiard industry to contribute funds to provide Ralph with a proper gravestone worthy of his legacy.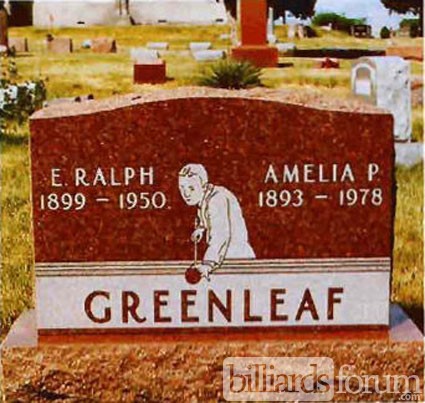 Also, in his hometown of Monmouth, IL, there is nice sign in front of the building where he learned to play pool at his father's pool room on the 2nd floor. The pool room is long gone.
Ralph Greenleaf - Billiard Player
The book "Hustler & The Champ: Willie Mosconi, Minnesota Fats, And The Rivalry That Defined Pool" tells some of the stories of the great billiard players of the Ralph Greenleaf era, and may be of some interest if you are interested in the history of the sport and in Ralph Greenleaf's short career.
Headshot photo of Ralph Greenleaf: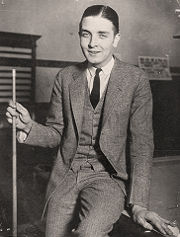 Photos of Ralph Greenleaf playing billiards: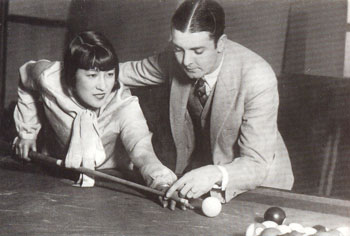 Ralph Greenleaf - Biography
Date of Birth: 1899-11-03
Place of Birth: Monmouth, Illinois, USA
Country of Residence: United States (USA)
Ralph Greenleafs Nickname(s): The Showman, The Aristocrat of the Billiard Table, The King of Billiards, Magic, Ole Boogie
Ralph Greenleafs Sponsors: Brunswick Balke Collender Corporation
Inducted into the BCA Players Hall of Fame: 1966
If you know of any other interesting information about the life of pool player Ralph Greenleafs, send us an update using the contact form below.
Ralph Greenleafs Cue Sports Records and Accomplishments
Ralph Greenleaf achieved many titles during his short run at professional cue sports.
December, 1919 vs. Bennie Allen
November, 1920 vs. Arthur Woods
October, 1921 vs. Arthur Woods
December, 1921 vs. Arthur Woods
February, 1922 vs. Thomas Hueston
May, 1922 vs. Walter Franklin
October, 1922 vs. Bennie Allen
December, 1922 vs. Arthur Church
January, 1923 vs. Thomas Hueston
April, 1924 vs. Bennie Allen
November, 1926 vs. Erwin Rudolph
March, 1928 vs. Frank Taberski
May, 1928 vs. Andrew St. Jean
December, 1929 vs. Erwin Rudolph
December, 1931 vs. George Kelly
December, 1932 vs. Jimmy Caras
May, 1933 vs. Andrew Ponzi
April, 1937 vs. Andrew Ponzi
November, 1937 vs. Irving Crane
December, 1937 vs. Irving Crane
These are, of course, just a few of the formal titles Greenleaf has been awarded. This does not list, however, the massive amounts of cash he earned money matches throughout the great depression.
Recent news on Ralph Greenleaf:
Title: Ralph Greenleaf
Author: billiardsforum (Billiards Forum)
Published: 12/9/2006 4:24:25 PM
Last Updated: 1/14/2017 12:25:23 PM
Last Updated By: billiardsforum
Ralph Greenleaf Comments
Reply and share your comments below: