Volkswagen Pool Table Unique Billiard Table
Volkswagen Pool Table Unique Billiard Table
This Volkswagen Hippie Bus converted in to a billiard table is without a doubt one of the most unique billiard tables we've ever seen. If you are like us, you probably thought three things as soon as you laid eyes on it. The first is "why?" and the second is "how the heck do you get that thing level?" and the third is "wait...why?"
Volkswagen Pool Table Unique Billiard Table
Some commenters of this Volkswagen van/bus turned billiard table poke fun, saying things like "what's next, a pool hall built in a Hummer truck?" or "do the pocketed pool balls roll out of the tail pipe?" Well, no they don't. That's because this Volkswagen van turned pool table does not run on its own, due to the removal of the steering gear and engine. It operates and is registered as a trailer only.
Here are a few shots of this Volkswagen trailer billiard table in all it's glory.
As you can see, the pool table volkswagen van is outfitted with fully playable burgundy pool table felt and that the rails are crafted from solid wood.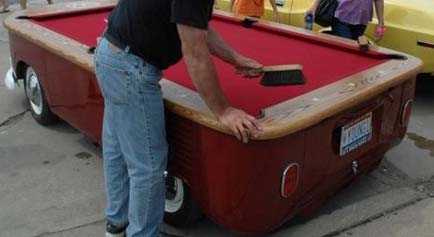 Although it is hard to spot from the images, the Volkswagen pool table was crafted with great attention to detail, and to high standards.
It has operational pockets, yes, but no ball return mechanism. That's fine though, as most high-end pool tables don't.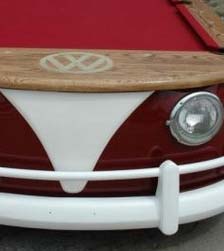 It also has a great, integrated storage area for billiard balls, cues, the rack, and other supplies. This is conveniently located under its engine flap, and behind the license plate holder.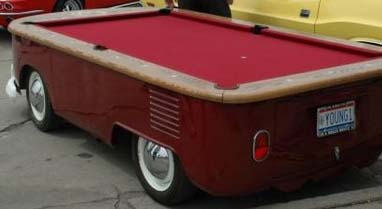 It is not known where the vehicle was created or who its creator actually was. The current owner of this Volkswagen Billiard Table conversion purchased it from its previous owner for a cool $8200 USD, and now stores it in his shop. The place is a customized one saying "YOUNG1" but really though, how many young hippies do you see in the pool hall?

This gem is registered (as a trailer) to an Ohio, USA address, and had a recent debut at a unique automotive show.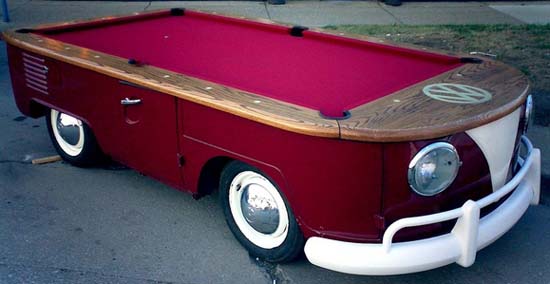 This side of the Volkswagen bus billiard table, the head of the trailer, is the only awkward area. It juts out so that you have a rail that is about a foot thick, which causes the players to have to lean over the car/pool table to make a proper billiard shot.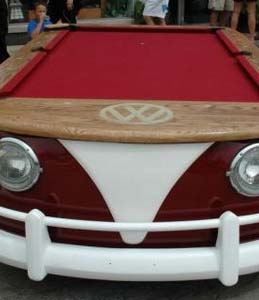 Below is a picture of the storage area under the playing surface of the billiard table.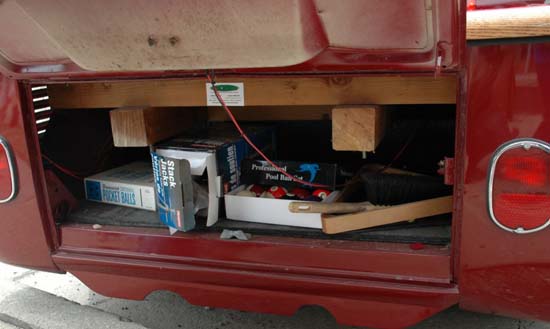 The rail in the front of the pool table has a Volkswagen emblem perfectly inlaid which gives it a cleanly branded look.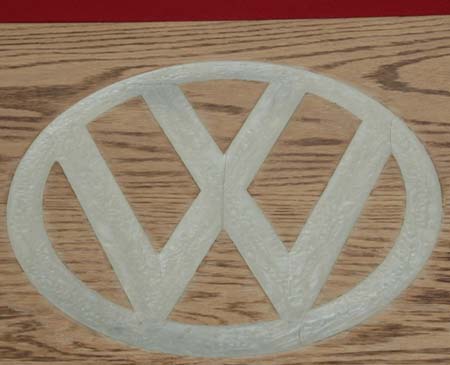 This is easily one of the most unique pool table implementations we've ever seen. It's basically an outdoor pool table that you can take anywhere you can take your vehicle.
Volkswagen Pool Table Unique Billiard Table
Title: Volkswagen Pool Table Unique Billiard Table
Author: billiardsforum (Billiards Forum)
Published: 8/23/2007 6:06:31 PM
Volkswagen Pool Table Unique Billiard Table
The Volkswagen Pool Table Unique Billiard Table article belongs to the Home Billiard Room Tables category. Articles on pool, snooker, and billiard tables as related to home billiard rooms.
Volkswagen Pool Table Unique Billiard Table Comments
Reply and share your comments below: