1973 VW Bus Pool Table Conversion
In 2007, we showcased the Volkswagen bus pool table conversion done by Mike Farruggia in the early 1990s. Now we bring you another VW bus billiard table, this one by Roger Gonzales (Billiards Forum member ilgatto).
Year: 1973
Make: Volkswagen
Model: VW Westfalia Camper Van / Type II Bus
VIN: 2332188774
1973 VW Bus Pool Table Conversion
Roger J. Gonzales set out to build his VW bus pool table by combining a 1973 VW Bus with a 1970s era Valley pool table. Both source components are very old and had probably seen better days. Gonzales freely admits "the body work is not absolutely perfect, mainly in overlooked inconspicuous areas."

This one seems more... advanced... than Figgurroa's, and it is. Perhaps that's because Gonzales, a San Antonio based artist, also has experience as an auto body technician and mechanic.
Perhaps the best feature is it's "on-board pneumatic leveling system" which is powered by an on-board compressor. But you decide for yourself:
VW Bus Pool Table Features:
7ft 1'' slate Valley Pool Table, ball return mechanism
New pool table cloth
4 "Service lids"
On board pneumatic leveling via leveling shocks at each wheel + onboard compressor

A pneumatic leveling system made possible by on board air compressor, ready for use when plugged in to charge 12v system; 4 individual air valves at each wheel well allow each wheel equipped with air shock to be filled according to level of given ground to acquire proper leveling in temporary situations (hours, days); For permanent leveling, I have used scissor jacks, avoiding the complete use of air for long term leveling precision.

Operable Steering, with a removable steering wheel for easy transport

But what about "steering wheel obstruction"? The steering wheel is detachable by means of male and female transmission components, spline attached to steering shaft, and driveshaft yoke attached to an American Racing designer steering wheel, for greater mobility in or out of transport. NOTE: 25% of right steer is hindered by the "ball return mechanism" modification to the right-side wheel well. This "trade-off" was made deliberately, as it was the only feasible place for the ball return components.

600 multicolor remote programmable LED lighting
Discotech style diorama in ball return window area
8 lighted Cue slots
Lockable & VW keyed rear hatch contains system panels and storage area
Operable parking and head lamps
1973 VW Bus Pool Table
It was up for sale on eBay various times between 2013 and 2014, but it did not sell. Even with a "Clear and Clean Texas Title". When asked by buyers "does it run?" Gonzales replies: "No."
Eventually it sold via private sale when a buyer contacted Gonzales in person and "offered [him] more than [he] could possibly refuse or could have even felt okay asking for this item".
Volkswagen Bus Pool Table Conversion
Here is Mr. Gonzales' description of the item:
The VW Bus was fully original, therefore, as much of original equipment possible was utilized for pool table to be most reminiscent of original form; color, trim, inclusive of air scoops used as rear speaker grilles, original badges, rims and center caps, down to the rear latch key fitted with timely rabbits foot; all culminated into a modified form combining modern technology with vintage nostalgia and a form of timeless entertainment.
Construction consists of above mentioned VW Westfalia Bus combined with a quality vintage pool table made by Valley pool tables. Welded steel frames supporting sheet metal, overlaid in fiberglass allows for a sturdier base. 4 "maintenance lids", one per side, allows for full serviceability of every component of this billiard VW pool table.
Fully functional, regulation Valley 7-foot bar pool table with 1" thick slate (recently had cloth replaced), ball return mechanism works as it did before. Only the coin mechanism was not incorporated.
VW Bus Pool Table - Lighting System
About 650 led lights throughout, 600 color changing led lights programmable with remote, sensor in rear in cue ball return area. The remaining led bulbs are used as parking lamps to lessen energy usage, as well as a discotheque diorama style ball return area. Also, the original "sights" (shot markers, where there would be mother of pearl) are replaced with chrome-trimmed red led lights;
Video of the VW bus Pool Table DISCO DIORAMA Ball Window:
VW Bus Pool Table - Speaker System
In the rear hatch, where running motor once was, is now the bearer of 8 slots for pool cues, adjacent to a pancake compressor for use with pneumatic leveling system. Above the ball return area is an MP3-ready cd, am/fm (usb port for charging/powering devices) stereo connected to Infinity speakers internally mounted to emit superb sound through the pool table pockets. Assisting these front speakers are automotive grade rear speakers mounted to the rear of what once were functional air scoops. The panel which stereo is mounted serves also as switch board for all systems, which can all be closed locked and secured via rear hatch & key.
This is more than just a pool table, but an eloquent centerpiece that will ALWAYS be the center of attention, more than that its a source of fun, audio, and visual entertainment.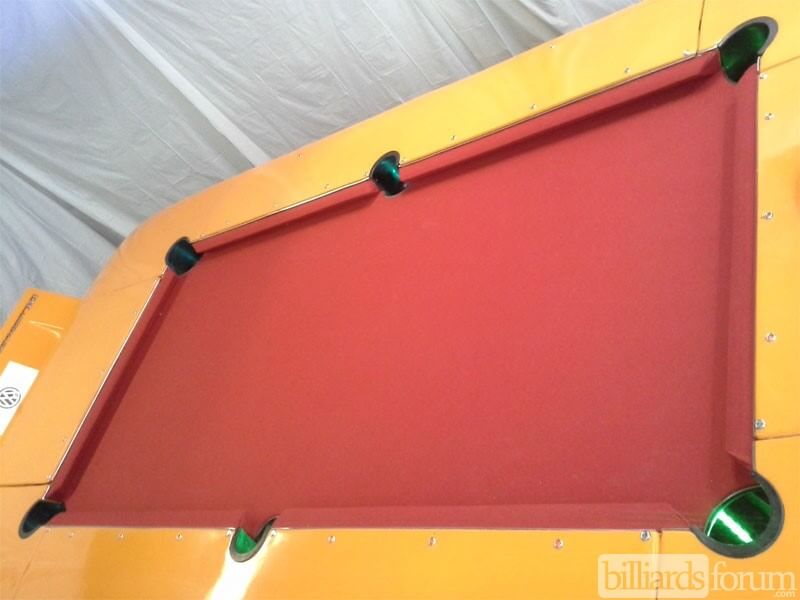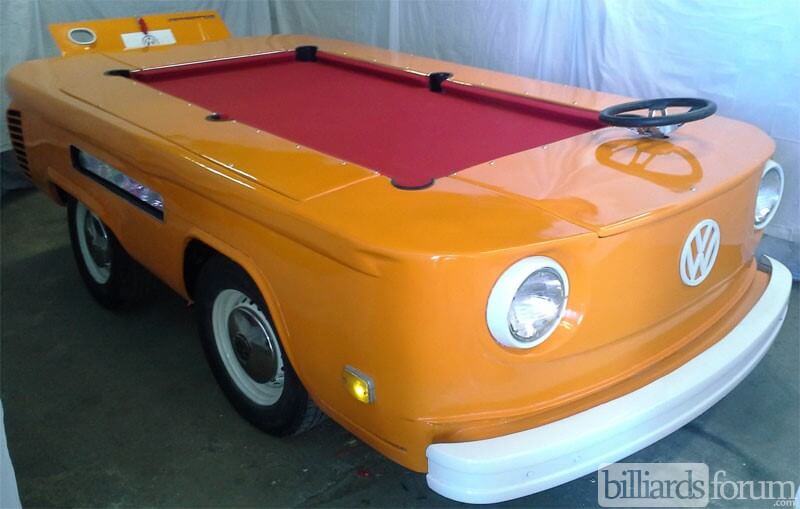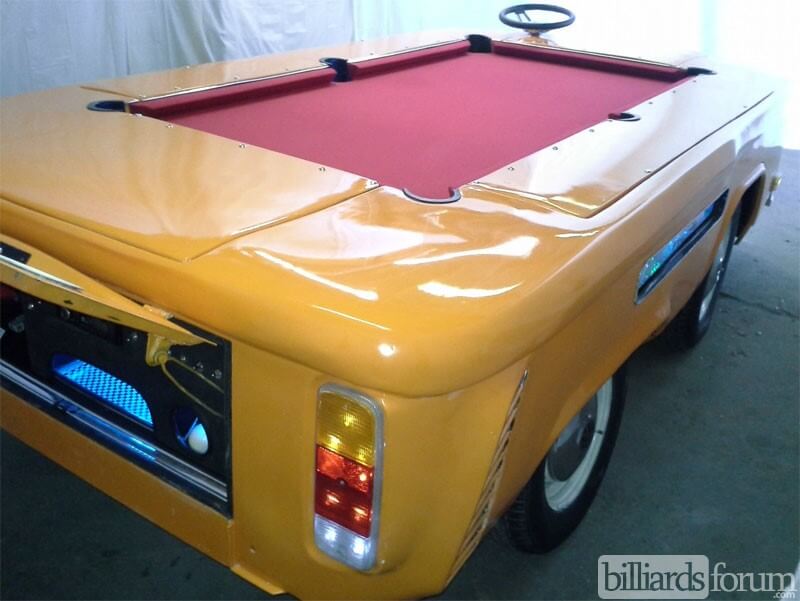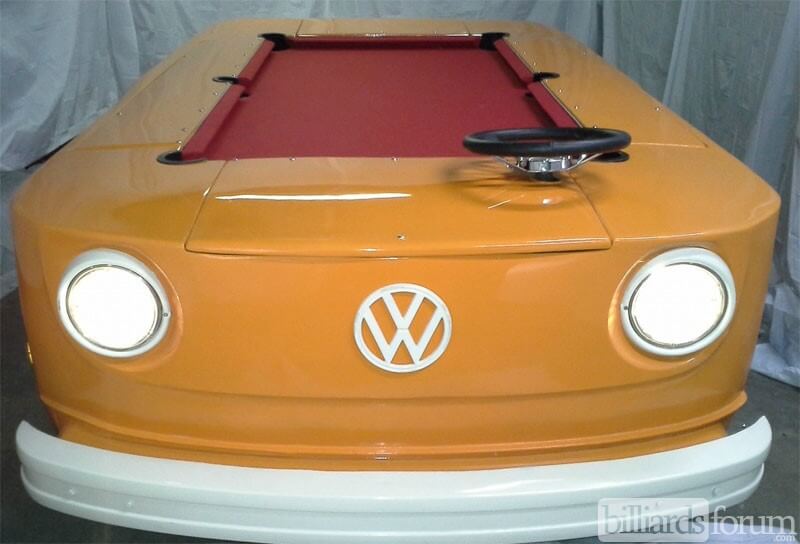 1973 VW Bus Pool Table Conversion
Title: 1973 VW Bus Pool Table Conversion
Author: billiardsforum (Billiards Forum)
Published: 1/18/2017 10:09:23 PM
Last Updated: 1/19/2017 6:58:23 AM
Last Updated By: billiardsforum
1973 VW Bus Pool Table Conversion
The 1973 VW Bus Pool Table Conversion article belongs to the Home Billiard Room Tables category. Articles on pool, snooker, and billiard tables as related to home billiard rooms.
1973 VW Bus Pool Table Conversion Comments
ilgatto from San Antonio, TX on 12/21/2013 11:08:46 PM

FYI - I will have my 1974 Westfalia VW bus pool table (complete with ball return mechanism, discotheque diorama ball return window, pneumatic air leveling, detachable steering wheel, & more) on eBay soon. Keep an eye out.

ilgatto from San Antonio, TX on 12/27/2013 11:36:55 PM

My Volkswagen Bus pool table now for sale on ebay:

ebay.com/itm/1973-Replica-Kit-Makes-VW-Bus-POOL-TABLE-Westfalia-/321283168737

UPDATE: Item is sold.
Reply and share your comments below: