Help Identifying Mali Green Label Pool Cue
---
1/14/2022 5:48:03 PM
Help Identifying Mali Green Label Pool Cue
I am wondering if anyone knows anything about this green logo Mali cue?
What year and Mali cue series is it from, and what is the model number?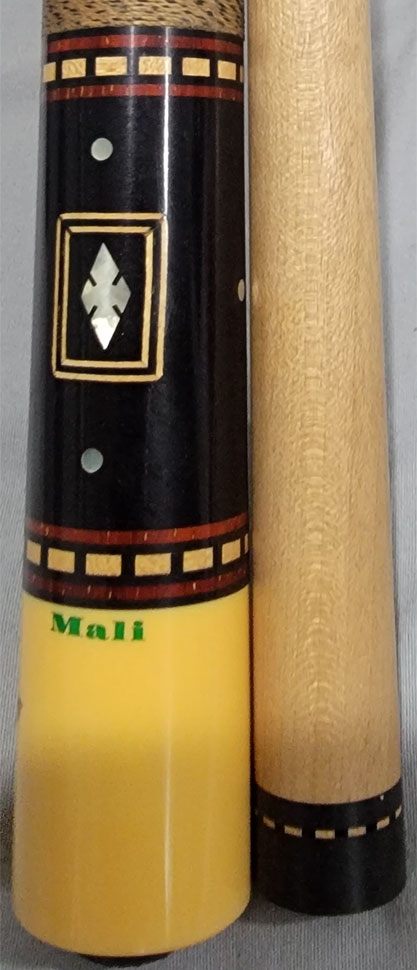 eded
Help Identifying Mali Green Label Pool Cue
Replies & Comments
---
billiardsforum on 1/16/2022 7:55:46 AM

This is either, a:

Mali M-15 cue (1984-1985)
Mali T-15 cue (1986-1987ish)

They're the same cue, with no real difference. The design was simply carried over into the next Mali series.

Here are the depictions and product descriptions from the respective Mali cue catalogs. Here is the Mali T-series T-15 cue blurb and catalog photo:

Mali M15 Pool Cue

Macassar Ebony four-point with black and white inlaid veneers in figured Maple top. Ebony-Maple-Rosewood check and ring decoration. Mother-of-Pearl Diamonds set in veneered inlaid rectangles. Black Fleck, filled, genuine Irish Linen wrap. Stainless Steel joint with stitch decoration.

Mali T15 Pool Cue

Decorated Ebony four-prong into Natural Birdseye Maple. Stainless steel joint with stainless steel pin into brass insert in shaft. Stitch decoration at joint and butt with hand inlaid "boxed" Mother-of-Pearl Diamonds and Spots. Black-fleck-on-white IRISH LINEN wrap.

See also:

P.S. I've dealt with the value in your other question: Mali T-15 Cue Value.
Help Identifying Mali Green Label Pool Cue
Title: Help Identifying Mali Green Label Pool Cue
Author: eded (Ed Harrison)
Published: 1/14/2022 5:48:03 PM
Last Updated: 1/16/2022 7:23:23 AM
Last Updated By: billiardsforum (Billiards Forum)