Green Mali Logo Pool Stick ID
---
12/6/2019 10:15:30 AM
Green Mali Logo Pool Stick ID
I recently inherited this Mali pool cue from my step father. It has a green Mali logo.
I know nothing about it. My internet search led me to this site.
Can someone please help with some information on this Mali pool stick?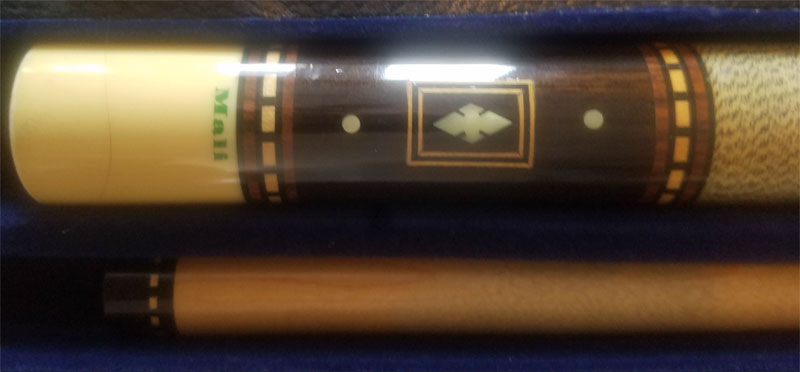 sky
Green Mali Logo Pool Stick ID
Replies & Comments
---
Buzzardbob on 1/3/2020 11:21:03 AM

I can't give you a specific date for the Mali cue, but the green Mali logo means it was made in the US and was made during Mali's heyday period (1960's, 1970's or early 1980's I think).

It is a nice looking cue.

Search for "Mali cue logo dates" as I think someone may have posted a list of various Mali logo styles and their eras.

It may have been here, or on AZB, but I cannot remember.

billiardsforum on 1/3/2020 1:53:03 PM

The horizontal green Mali stamp dates it to the 1980s.

I believe you have a Mali T15 cue from the Mali Traditional series (mid 1980s).

This cue was the top of the line from that series. Ebony wood in the butt sleeve and points, and the forearm, birdseye maple.

Mali T-15 Cue

Decorated Ebony four-prong into Natural Birdseye Maple. Stainless steel joint with stainless steel pin into brass insert in shaft. Stitch decoration at joint and butt with hand-inlaid "boxed" Mother-of-Pearl Diamonds and Spots. Black-fleck-on-white IRISH LINEN wrap.

See also:

sky on 1/7/2020 2:22:04 PM

Thank you very much for the information!

I greatly appreciate it!
Green Mali Logo Pool Stick ID
Title: Green Mali Logo Pool Stick ID
Author: sky (Debbeelee Graff)
Published: 12/6/2019 10:15:30 AM
Last Updated: 1/3/2020 1:40:49 PM
Last Updated By: billiardsforum (Billiards Forum)