Old Muecci
---
10/22/2021 8:56:25 PM
Old Muecci
Inherited my uncles cues after he passed away. He beat me many times using this cue. He spent a bunch of money on a Pechauer cue a few years before he died, but still preferred this one.
I know it's old. I know it's Meucci. I know it is now my favorite cue too. But that's about all I know. Looking around the forum it seems like there are some experts here that could help. Thank you!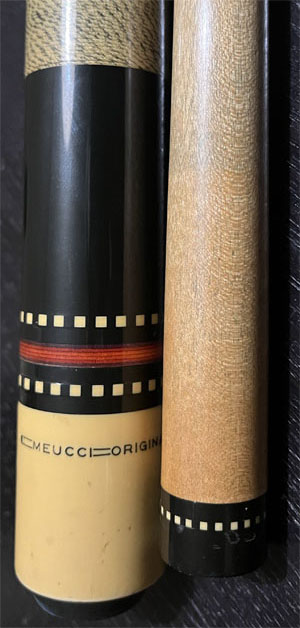 yackje
Old Muecci
Replies & Comments
---
billiardsforum on 11/8/2021 1:38:12 AM

You have either a:

Meucci 80-5 Cue (Meucci Originals 80-5 Cue) from the Meucci 80 series circa 1980-1983, or a;
Meucci 84-6 Cue (Meucci Originals 84-6 Cue) from the Meucci 84 series circa 1984-1987

See also:

yackje on 11/11/2021 8:00:27 AM

Great! Thanks for info. Thought it was early to mid 80's but the photos I found were all a little different.

Anything to check to determine which one?

Thanks again!!

billiardsforum on 11/11/2021 3:29:49 PM

Not really. They're materially identical. It's just a continuation of a specific model over several chronological cue series. Value-wise, they're worth the same.

The only thing, really, that could date one as older than another, would be a smaller, rounder rubber bumper. The presence of that might indicate that it's the older one, and having that specific bumper style might make it worth marginally more, but not much.
Old Muecci
Title: Old Muecci
Author: yackje
Published: 10/22/2021 8:56:25 PM