Billiard Game Room With Home Theater
---
5/2/2008 6:13:23 AM
Billiard Game Room With Home Theater
This home pool table room floor plan layout is very cool in my opinion, and one that I may design when it comes time to buy a house. The only thing I would include that is missing is a wet-bar.
The little red circles are pot lighting, so we know the room will be well lit. There is ample space to move around the actual pool table itself, and there is some great theater seating. I'd probably also add some of billiard seating for spectators and friends. This one seems more focused on the theater than on the billiard table.
Click the image to enlarge.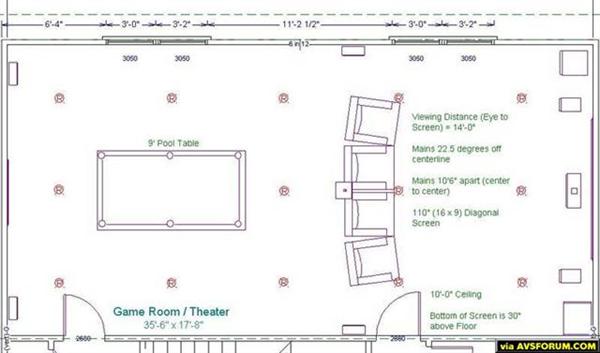 billiardsforum
Billiard Game Room With Home Theater
Billiard Game Room With Home Theater
Title: Billiard Game Room With Home Theater
Author: billiardsforum (Billiards Forum)
Published: 5/2/2008 6:13:23 AM