Players Cue Id
---
3/31/2018 10:46:59 AM
Players Cue Id
I picked up this players cue for $4.00
Thanks for any info you can give me!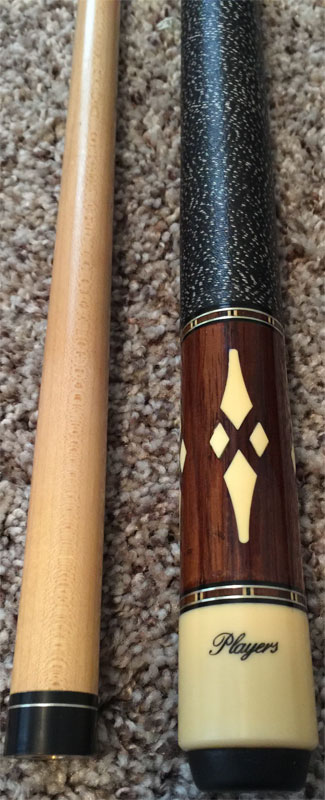 alan
Players Cue Id
Replies & Comments
---
billiardsforum on 3/31/2018 11:37:10 AM

This is a great looking Players cue. Did you actually pay $4 for it? or did you mean $40? Either way its a good deal.

I have not been able to find any catalog showing this model but it looks like it is from the Players Exotics line of pool cues... e.g. where they use nice woods etc.

Cue & Case Sales is the North American distributor for Players cues (always has been) so if you email them a link to these pics, they should be able to answer it for you.

I will also continue to look, and will let you know if I get if figured out. Please also let me know if you figure it out in the meanwhile.

alan on 3/31/2018 3:31:27 PM

Thanks for your quick reply!

Yes, I only paid $4 bucks for the cue at a resale shop. Score!

The cue also has this sticker which says "EE-16" on it but I haven't been able to find anything from it.

billiardsforum on 4/2/2018 5:48:14 AM

From other Players cues I have seen that sticker shows the Players cue model number "EE-16" and the weight "20 oz". I am confident in that from looking at newer Player's cue with similar sticker and known model numbers, and I can see the format is consistent as is the shape and size of the sticker.

However, I still can't find anything on that model number "EE-16", but will still look around.
Players Cue Id
Title: Players Cue Id
Author: alan
Published: 3/31/2018 10:46:59 AM
Last Updated: 3/31/2018 11:39:23 AM
Last Updated By: billiardsforum (Billiards Forum)