Help to Identify Manufacturer of 3-Piece Slate Pool Table
---
1/2/2022 3:53:11 PM
Help to Identify Manufacturer of 3-Piece Slate Pool Table
We were gifted a pool table when we bought our house, but we have no information on it. I am hoping to learn how to care for it and need to have it moved.
I would love if someone can possibly help identify the brand and/or manufacturer of the pool table.
Also, can anyone explain how to know if it has a 3-piece slate or not? The underside of the pool table shows no obvious seems or gaps, normal for those with a 3-piece slate. However, when reaching up into the edge, a seam can be felt in the slate in the exact areas found in 3 piece tables.
Thanks!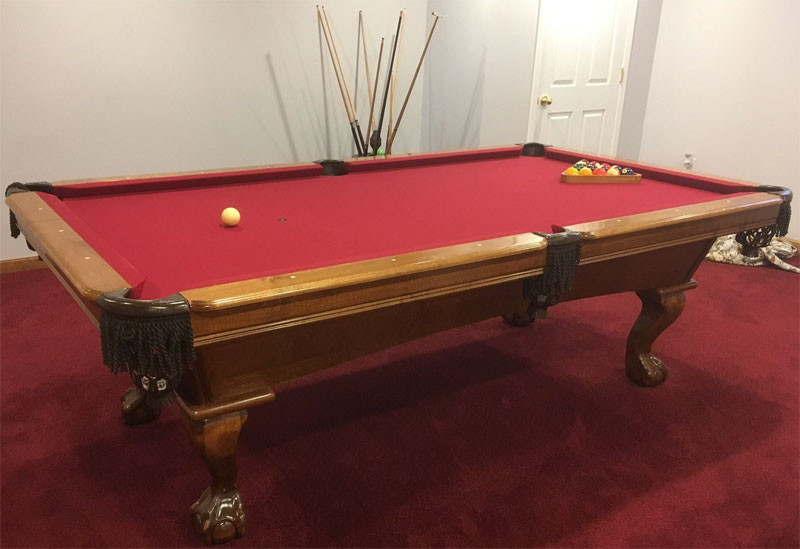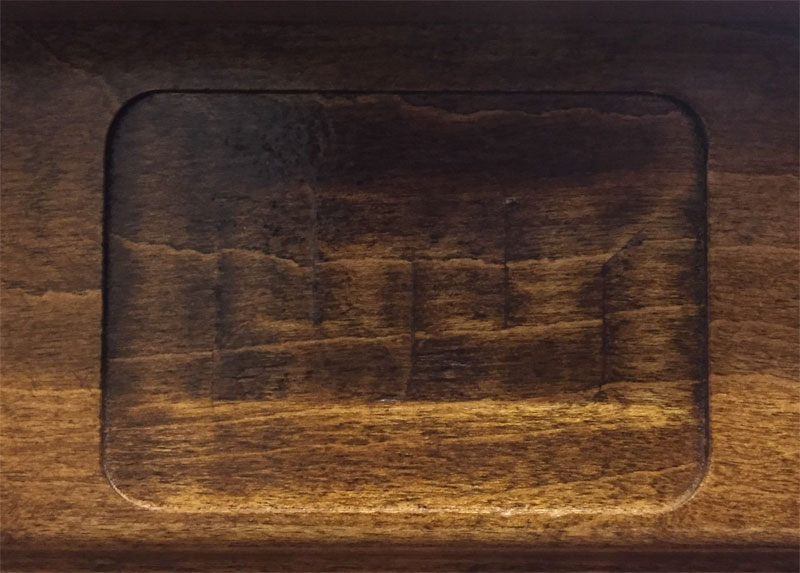 user1641167590
Help to Identify Manufacturer of 3-Piece Slate Pool Table
Replies & Comments
---
billiardsforum on 1/13/2022 4:02:58 AM

Assuming that name plate recess is on the top of the end-rail, and based on the nameplate size and shape, and "ledge-style" leg tops, I believe it is a Gandy pool table from the late 1990s to early 2000s.

It's difficult to identify the exact model from just those two photos alone, but it appears to be very similar to Gandy Winchester pool table (though not identical).

This is what the name plate would have looked like (or similar to):

It most likely has a 3-piece slate. Very few residential-grade furniture-style pool tables from this era would have a one-piece slate.

---

However, if that name plate recess is on the vertical side of the rail, it may be a Kasson pool table.

user1641167590 on 1/13/2022 5:22:43 AM

I'll try to add more photos, in case that helps.

Also, the pool table measures about 99" from end to end but I'll need to measure the playing field.

We appreciate your reply and the information.

The claw-foot legs:

Here is another angle:

billiardsforum on 1/15/2022 3:48:05 PM

Given the position of the recessed name plate on the vertical rail (instead of on the top of the main rails), I believe you have a Kasson Lanchester pool table model from the 1990s.

The Lanchester pool table is from Kasson's "Classic" series.

Here's another that was for sale recently for $1600 (another below it was for sale for $850 at the same time).

Here is what the name plate on yours would have looked like:
Help to Identify Manufacturer of 3-Piece Slate Pool Table
Title: Help to Identify Manufacturer of 3-Piece Slate Pool Table
Author: user1641167590
Published: 1/2/2022 3:53:11 PM
Last Updated: 1/13/2022 2:57:54 AM
Last Updated By: billiardsforum (Billiards Forum)