Possible Brunswick Pool Table Inherited with a New House
---
5/3/2022 10:55:03 AM
Possible Brunswick Pool Table Inherited with a New House
I've got a bit of a strange tale. I purchased a house recently which very much had a pool room in the basement.
The story is that the last owners passed from old age (the husband back in 2010, and the wife in 2019-2020). It's a small town (with the nearest big town having a population of about 5000 is roughly a 10-15 minute drive away). I was able to find some people in town who knew a bit about the people who lived there before me. The husband apparently owned a pool hall in a different nearby town between the 1950s and the 1970s before selling the business. My best guess is that he kept one of the pool tables when he cashed out at the end.
A couple of the people who have come to look at the pool table have told me that I have a "billiards table" due to the smaller pocket size and smaller balls that the table came with.
It's a 9-foot pool table that has a 3-piece slate, and no identifying tag on the rails anywhere. The only tag I could find was on the underside of one of the slate slabs which I have attached a picture of. I had to disassemble the pool table because the old flooring in the room had taken some water damage and I was working on replacing everything in the basement. The pool table was untouched and un-harmed, and even had a nice drop cloth over it.
Any assistance in identifying what I have on my hands would be very much appreciated.
As the pool table is currently disassembled, I can't take any pictures of it in one piece, but I can take additional pictures or answer any questions that might lead me to some answers.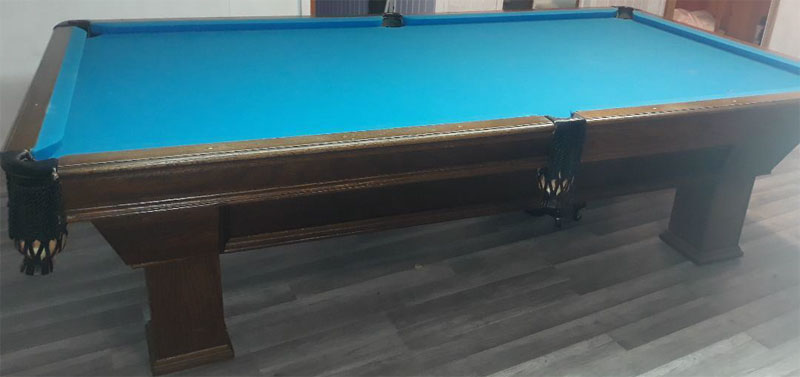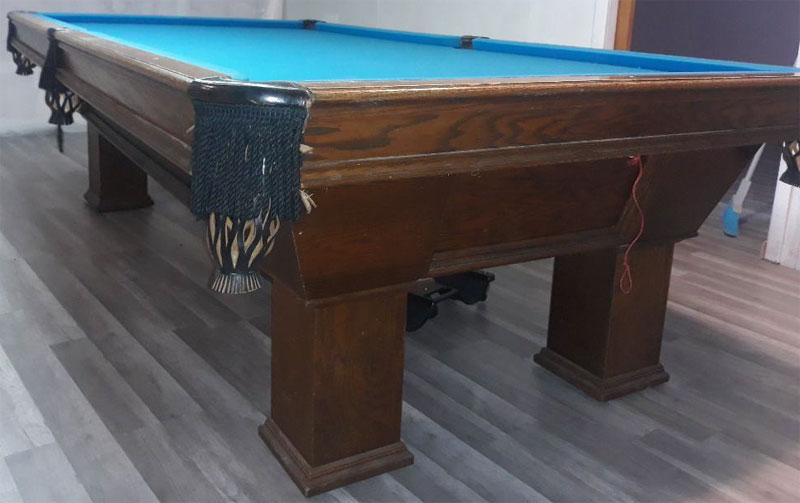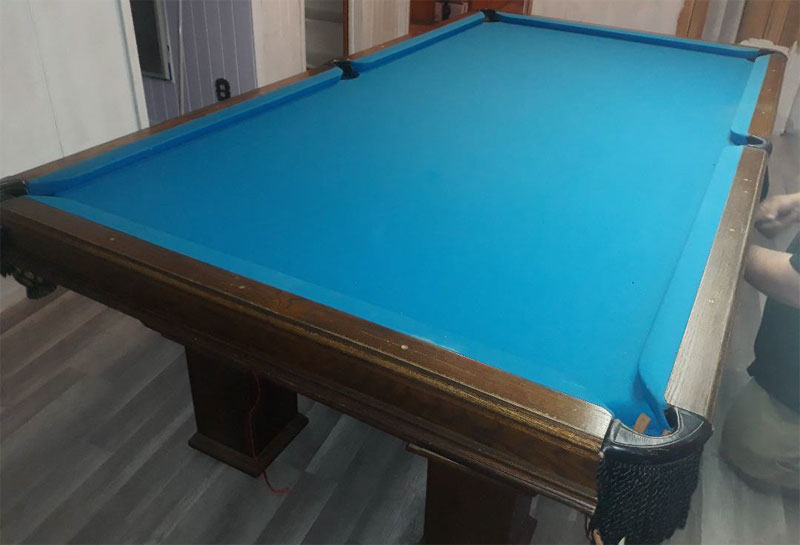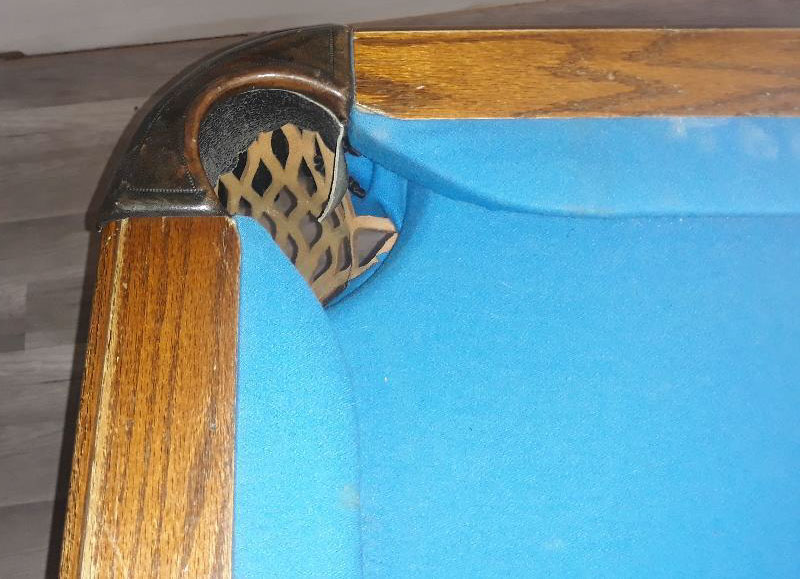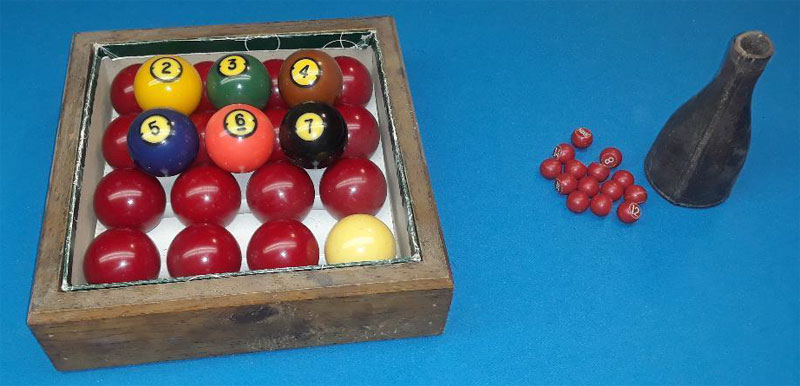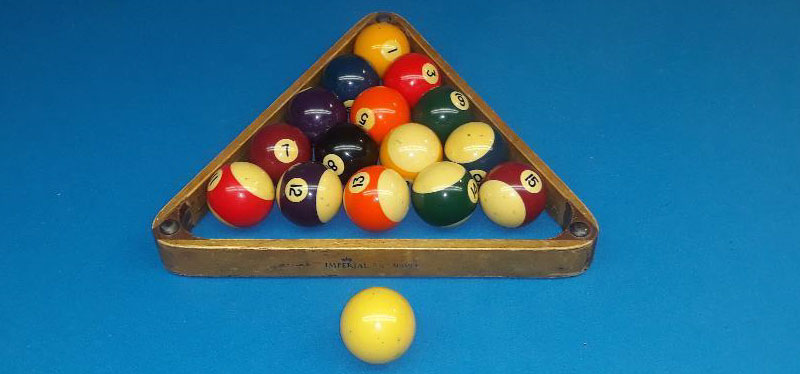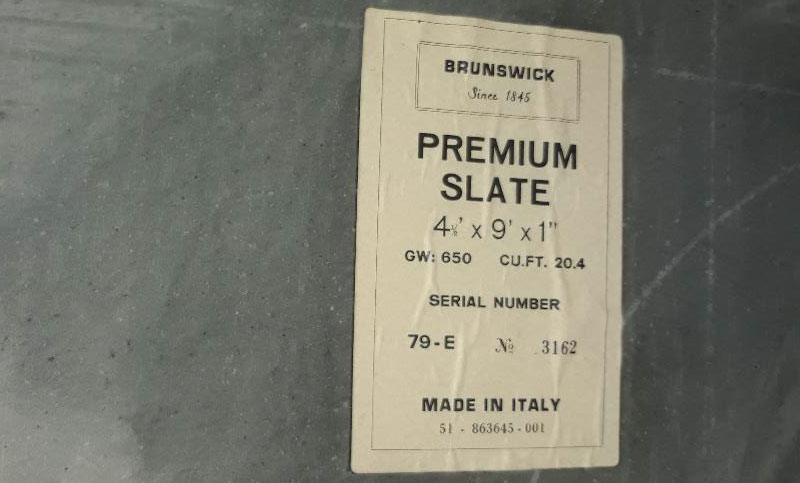 Vargerd
Possible Brunswick Pool Table Inherited with a New House
Replies & Comments
---
billiardsforum on 5/4/2022 7:00:34 AM

Interesting pool table.

The slate with the Brunswick logo seems to be from a more recent era than does the style of that pool table. The pool table's style seems to be from the 1920s-ish, while the logo on the slate label may be from the 1950s. Also, the construction of the rails and apron seem to be from a newer era.

Back in the day, busy pool halls sometimes combined parts from various damaged pool tables to make working units.

Brunswick pool tables (regardless the era) almost all had the name plates recessed in one of the end rails.

A (carom) "billiards table" would be pocket-less, so I am not sure what the folks you had looking at it would be referring to.

The closest model I could find, though not identical, is the Brunswick Remington pool table model, which was made from between 1908 and 1922. It had 4 pieces of Vermont slate (not 3-piece Italian slate). Also had rail bolts which yours does not have.

From the 1920 Brunswick Billiards catalog:

Brunswick Remington Pool Table

8 Home Option:

44" x 88" Playfield
Slate: 4 piece, 1 1/8" thick
Weight (lbs): 1150

9 Pro Option:

50" x 100" Playfield
Slate: 4 piece, 1 1/8" thick
Weight (lbs): 1275

Color Options: Golden Oak or Mahogany

A style of design intended to meet the demand for a medium grade table which has no ornate mouldings or ornamentations. Can be furnished "built in sections" if so ordered.

Wood and finish: Quarter-sawed oak, cross veneer, finished in Golden Oak. Can be supplied in mahogany on thirty day's notice.

Construction: Frame work of body 1 3/4" thick x 12 1/3" wide, double veneered outside and inside. reinforcing blocks at corners, 1 3/4" x 8" x 12". Leg bolt caps 9" square x 2 1/2" thick. Legs 8 1/4" square x 16 1/2" high. Double veneered inside and outside. Long stretchers 50" x 1 1/4" thick x 5 1/4". Cross stretchers 48" x 1 1/4" x 8 1/2" countersunk in sides and ends. Reinforced with two 1/2" x 6" bolts. Bronze cushion caps. The wood construction all of good quality, cabinet made and put together in a most thorough manner. All joints made close and secure and all mitres absolutely accurate. Joints are tongued and grooved, strongly doweled and glued firmly together. All corners and edges made perfectly smooth and true. The legs are attached to the frame work with a 6" x 1/2" iron bolt.

Mitred corners, rigid construction, not built in sections, although it can be if so ordered.

The Cushion Rails: Compound construction 1 5/8" x 3 5/8" thick. Built up of 3 ply stock. Double veneer on face, thereby giving it additional strength. The cap rail is solid American Walnut, one inch thick, natural finish.

The Slate Bed: Good quality, four pieces to the set; firmly screwed to a wood frame, 1 1/8" thick.

The Cushions: The cushions, unless otherwise specified, are our celebrated Match Game perfect angle. These are made in our own rubber factory at Muskegon, Michigan, from a secret formula used exclusively by us. Our guarantee as to their accuracy of angle, speed and durability is evidenced by the name plate countersunk in the top of the cushion rail.

The Pocket Irons: The pocket irons are the No. 3 style, with nickel plated flanges countersunk in cushion rail top, provided with invisible bolts from the lower side of rail.

Note: this table is made two ways, i.e., solid frame and sectional frame; unless otherwise ordered, solid frame will be furnished.

Vargerd on 5/4/2022 10:45:58 AM

I mis-typed when I said "billiards". and meant to say snooker table. My apologies for the confusion as I don't have all the verbiage of the sport locked into my head right yet.

He said he thought it was a snooker table based on the smaller pocket sizes and the smaller sizes of the balls. Lending to that premise is the fact I have a full snooker set of balls that are the same size as my set of pool balls.
Possible Brunswick Pool Table Inherited with a New House
Title: Possible Brunswick Pool Table Inherited with a New House
Author: Vargerd
Published: 5/3/2022 10:55:03 AM
Last Updated: 5/4/2022 6:44:02 AM
Last Updated By: billiardsforum (Billiards Forum)