Value of a Meucci Originals Larry Hubbart LH-2 Cue
---
1/19/2023 5:16:27 PM
Value of a Meucci Originals Larry Hubbart LH-2 Cue
I have a vintage rare Larry Hubbart LH2 Meucci pool cue and I would like to know it's value.
However it has small minor crack on the white below the joint pin and on the green part, a scratch.
What should I ask for it when selling?
I am taking into consideration that it's rare and cannot buy anywhere.
Is asking $250 too much for this pool cue?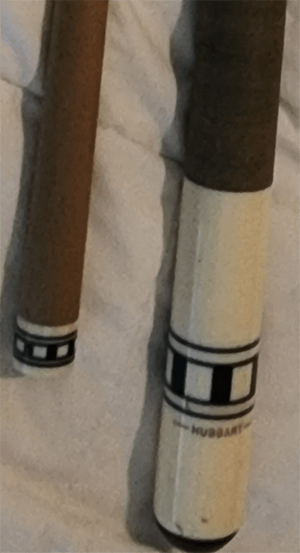 melonee
Value of a Meucci Originals Larry Hubbart LH-2 Cue
Replies & Comments
---
billiardsforum on 2/5/2023 10:01:28 AM

At $250, you're probably in the ball-park, but I can't assess it's overall condition from that poor-quality photo.

But regardless, this cue model has been asked about in the past here. See the answers to the following questions for more info on the Meucci Larry Hubbart LH-2 cue:
Value of a Meucci Originals Larry Hubbart LH-2 Cue
Title: Value of a Meucci Originals Larry Hubbart LH-2 Cue
Author: melonee (Melonee H.)
Published: 1/19/2023 5:16:27 PM
Last Updated: 2/5/2023 9:58:32 AM
Last Updated By: billiardsforum (Billiards Forum)