ID and Value a Larry Hubbart Meucci Original
---
6/11/2019 2:47:12 PM
ID and Value a Larry Hubbart Meucci Original
I need some help to identify and value a Larry Hubbart Meucci Original cue.
I bought this cue in a auction online for $259 dollars.
I need help identifying cue and figuring out how much it is really worth.
Again, I bought this Meucci Original Larry Hubbart cue online and I need help identifying it. It has no Meucci markings on it and the shaft matches the cue.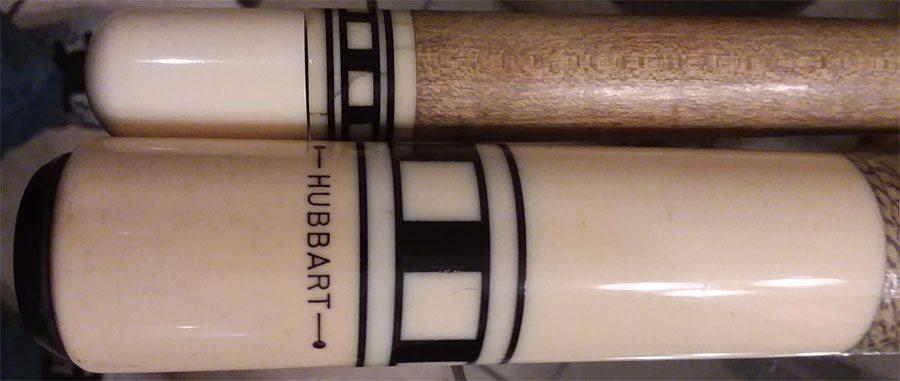 user1560289631
ID and Value a Larry Hubbart Meucci Original
Replies & Comments
---
Cigarblues on 6/11/2019 3:20:27 PM

You got a very good deal in my estimation.

Your cue is a Meucci, Larry Hubbart, Series 1, LH-2.

The shaft, if it is unmarked but has the same ticking that matches the base will likely be the original shaft that came with the stick. The stick was originally sold for $275 to $425 depending on where/when it was sold.

This info below is for another LH-2:

The name Hubbart is printed upside down (Larry Hubbart Cues By Meucci Originals).

Larry "The Iceman" Hubbart was one of the founders of the now APA (american pool players association). For more information on this visit the this web site showing this feature and bookmark their site. It always full of great information on the world of league play and general information on the sport of pool.

Larry Hubbart

[...]

LH1 - Meucci's Larry Hubbart Cue (sold originally by Cornhuskers billiard supply - now Mueller's).

Another one of a kind cue by Meucci. This cue was made to promote one of their first player representatives, Larry "The Iceman" Hubbart in the late 1970s. The thing that makes this cue so collectible is the name engraved in the butt cap: "HUBBART" is engraved upside down! This traditional-styled cue features a forearm of goncalo alves and rings of eight-slot black and ivory-colored composite highlighting the joint and the butt. The butt sleeve is ivory-colored composite and the butt cap is ivory-colored composite. The wrap is white Irish linen with green specks with Meucci's protective polymer finish.

This Meucci Cue has a flat-faced implex joint with a 5/16-18 brass pin and a 13mm Le Pro Tip. It measures 58" in length and is available in 19.75 oz. weight only.

Because of its rarity we value this exact cue in 100% condition as this one at $2700 - $2900. This cue is one of the early Meucci cues and it can be dated by the brass joint pin instead of the newer stainless steel join pins used since the early 1980s.

Source: apapool.com/history.html

The Cue I own has 'Hubbart' printed the correct way but also has the Meucci originals logo on it. I was told it is a rare factory mistake that should have not made its way into the public. The detail band is also of different size.

This is an actual photo of the cue, and this cue is not currently for sale.

---

UPDATE:

After some research I have come to believe this cue is a Meucci Original LH-7.

The Meucci Original logo has been printed lower down from the band to accommodate the Hubbart logo.

The Larry Hubbart, Series 1, LH-2 cue has a different band.

This may be a one of a kind version or a trial printing (prototype) from the Meucci factory.

Cigarblues on 7/4/2019 9:41:38 PM

I've come to find out I AM WRONG!

This is a Meucci Originals LH 2.

It has the extra Meucci Originals logo - 'Meucci Originals' that some how was embossed on it also.

The Meucci originals logo is not centered below the Hubbart logo as one would expect. This may be a one of a kind version or a trial printing (prototype) from the Meucci factory.
ID and Value a Larry Hubbart Meucci Original
Title: ID and Value a Larry Hubbart Meucci Original
Author: user1560289631
Published: 6/11/2019 2:47:12 PM
Last Updated: 6/28/2019 9:42:38 AM
Last Updated By: billiardsforum (Billiards Forum)