Identifying Pool Table Brand from the Early 2000s
---
12/7/2021 5:30:45 AM
Identifying Pool Table Brand from the Early 2000s
I am looking for help identifying a brand of pool table.
I am told this pool table originated from the Atlanta area and is from the early 2000s or earlier.
I'm hoping someone here can help!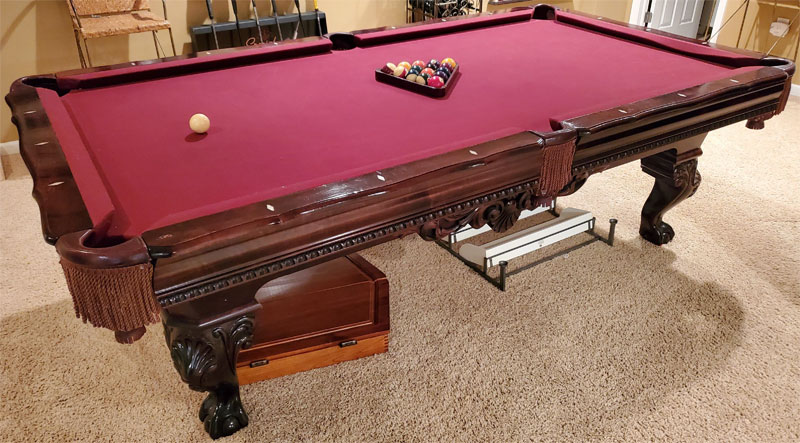 user1638883843
Identifying Pool Table Brand from the Early 2000s
Replies & Comments
---
billiardsforum on 12/15/2021 3:14:16 AM

Your pool table doesn't have any unique identifying features that stand out as being any one brand or another. I didn't notice any name plates in the photos either.

On that note, you did mention that it "originated" from Atlanta, GA. There was a pool table manufacturer, Gandy, from Macon, GA, and they did do some ornate-style designs similar the pool table you've shown above. It could potentially be one of their later, residential-grade models.

This one is the closest that I could find. It's not your exact model, but has similar rails, legs, and skirt trim.

However, if it was a Gandy pool table it would most likely have a Gandy name plate on one of the short rails.

Sorry we couldn't be of more help.
Identifying Pool Table Brand from the Early 2000s
Title: Identifying Pool Table Brand from the Early 2000s
Author: user1638883843 (Kyle Meader)
Published: 12/7/2021 5:30:45 AM
Last Updated: 12/15/2021 3:04:36 AM
Last Updated By: billiardsforum (Billiards Forum)