Identify 2 Smith and Wesson Pool Cues
---
9/5/2023 10:14:30 PM
Identify 2 Smith and Wesson Pool Cues
Can anyone help me ID these Smith & Wesson pool cues?
I am not sure if they were ever released but I wanted to see if they were.
They are also signed by Karl Sloezen. At one time he was ranked pretty high.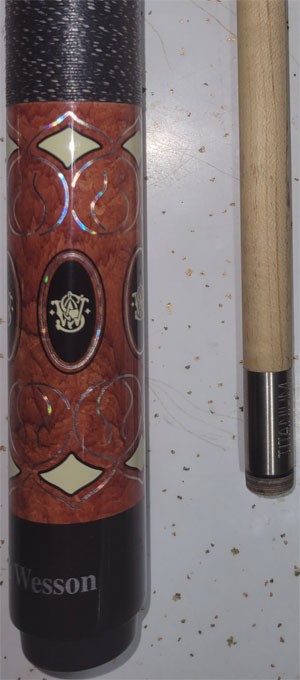 Diablocia072
Identify 2 Smith and Wesson Pool Cues
Replies & Comments
---
KCCC on 9/5/2023 10:58:53 PM

Are they 9mm or .40?

It looks like it is a sticker-based design. I thought these cues were a giveaway item at Shot a couple of years ago.

Diablocia072 on 9/5/2023 11:04:19 PM

I got the pool cues about 20 years ago when I was around 13 years old, from my uncle.

billiardsforum on 9/6/2023 1:51:50 PM

The first one is a Smith & Wesson PS-4504 pool cue model from the "Performance Series" circa 2005-2006. The other one is from the same time frame, though I am missing the catalog for whatever series that is from.

Cues from the "Performance Series" featured the following:

Two Piece Construction
58 Inch Overall Length
Laminated Hard Maple Shaft
Fiberglass Core Forearm
Pure Titanium Ferrule
12 Layer Laminated Italian Leather Tip
Pressed Irish Linen Wrap
Titanium Joint and Joint Pin
Advanced Variable Weight System

This line of Smith & Wesson pool cues were low-end pool cues launched in 2005 by a company called "Leisure Pursuits Sales & Marketing".

Leisure Pursuits licensed the Smith & Wesson brand name for a line of billiard products and had the product made in China and imported.

They also contracted former professional pool player Karl Sloezen to "consult on the design" (which likely really means - he probably did nothing other than lend his name for credibility).

The one you've shown has a design achieved via a transfer graphic or decal (vs. real inlaid materials).

They're lower-end cues and not worth much today, other than perhaps to a collector of Smith & Wesson branded items. Either way it would worth less than $50 as a pool cue. I am not sure of it's value as a Smith & Wesson collectible.
Identify 2 Smith and Wesson Pool Cues
Title: Identify 2 Smith and Wesson Pool Cues
Author: Diablocia072
Published: 9/5/2023 10:14:30 PM
Last Updated: 9/6/2023 3:54:36 PM
Last Updated By: billiardsforum (Billiards Forum)