Value of One-Piece Meucci House Cues with "M Cue" Sticker Logo
---
1/4/2022 5:48:51 PM
Value of One-Piece Meucci House Cues with "M Cue" Sticker Logo
I'm seeking help in identifying these Meucci house cues in the pictures below.
They are one-piece Meucci house cues with a sticker logo that says "M Cue 20 oz".
I've heard that these cues were made in very low runs back in 1995-96, but I would like to know more about them.
I would also like to know how much these Meucci house cues are worth in terms of an estimated value.
If any one can has any info or can assist me, I'd appreciate it!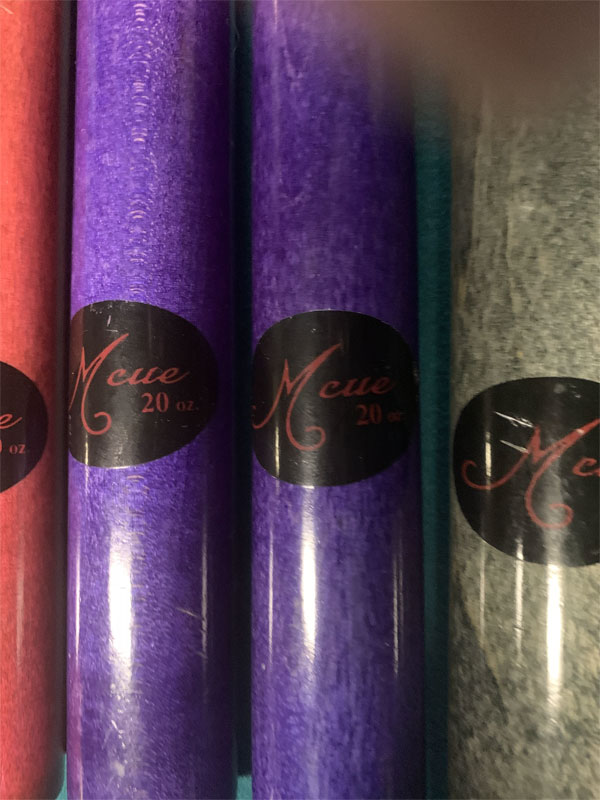 user1641347330
Value of One-Piece Meucci House Cues with "M Cue" Sticker Logo
Replies & Comments
---
billiardsforum on 1/5/2022 3:00:07 PM

Cool find!

You are correct, they're one-piece Meucci house cues made in 1995-1996 according to info from Meucci.

There isn't much more info out there on these cues. Anything specific you want to know would be best directed to Meucci support.

There's no good data out there right now to base a market value on.

Your six (together) are the nicest set I've seen in a long time, especially the purple and red ones. I don't think they're as common (based on what I see out there).

I personally think they're worth between $50 and $80 (because they're really nothing special).

However, if you sold them separately, I suspect you might get $100 or more for each of them. I say that because there is a large cohort of Meucci collectors who would like to have one of these just for the novelty.

But the sooner the better, if you plan to sell. There are more and more of these popping up as time goes on.

By the way, an interesting tidbit on these cues... This was on a whiteboard at Meucci Cues. The photo was taken in 2018, I think:

user1641347330 on 1/5/2022 4:17:11 PM

Thanks so much for getting back with me. I appreciate the info on these Meucci 1 piece cues.
Value of One-Piece Meucci House Cues with "M Cue" Sticker Logo
Title: Value of One-Piece Meucci House Cues with "M Cue" Sticker Logo
Author: user1641347330
Published: 1/4/2022 5:48:51 PM
Last Updated: 1/5/2022 2:41:19 PM
Last Updated By: billiardsforum (Billiards Forum)