Identify Set of Billiard Balls from an Old Barn
---
4/11/2022 9:20:12 AM
Identify Set of Billiard Balls from an Old Barn
I just bought a house with an old barn, and I found this set of billiard balls and some pool cue sticks.
Would you please tell me what kind of pool balls these are? I'm looking for something like a brand name, what material they're made from, and whether or not they are valuable.
Sorry, I don't know anything about billiards, I just wanted to know some kind of history behind the items I found.
Thanks in advance.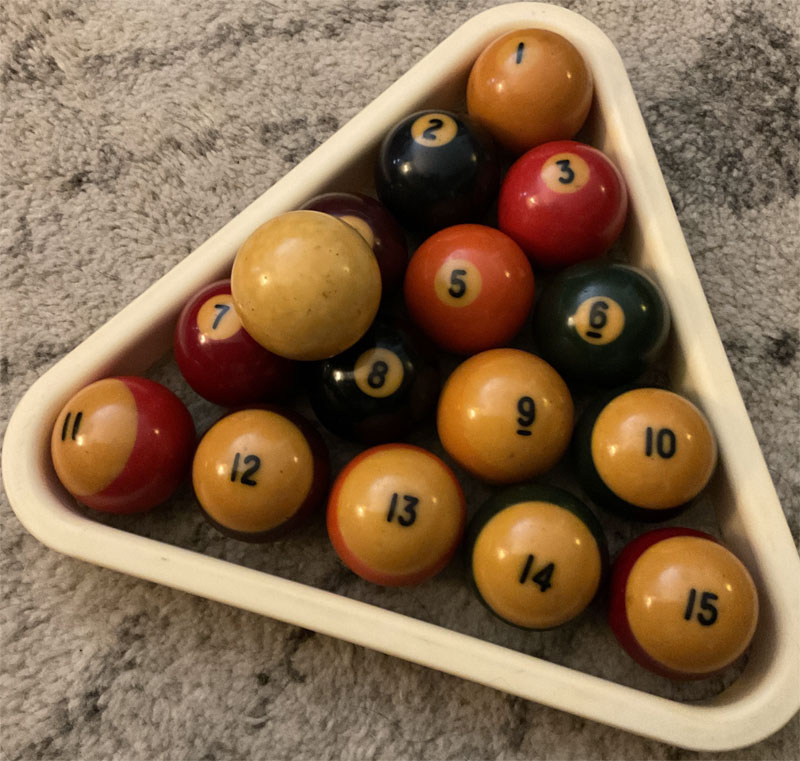 D Morane
Identify Set of Billiard Balls from an Old Barn
Replies & Comments
---
billiardsforum on 4/13/2022 2:24:43 AM

Unfortunately, there is nothing unique about this particular billiard ball set in the photo that would help identify it's brand or material. It might help if you found a box or package.

P.S. You should start another question with a photo of the pool cues you found. There's a better chance of identification with those.
Identify Set of Billiard Balls from an Old Barn
Title: Identify Set of Billiard Balls from an Old Barn
Author: D Morane (D. Morane)
Published: 4/11/2022 9:20:12 AM
Last Updated: 4/13/2022 2:09:48 AM
Last Updated By: billiardsforum (Billiards Forum)