ID Predator "1st Edition" Pool Cue
---
8/19/2023 10:44:10 AM
ID Predator "1st Edition" Pool Cue
Can someone identify this Predator cue?
It says "1st Edition" on the butt cap under the logo.
I am also looking for an idea of how much it is worth.
Any help would be appreciated.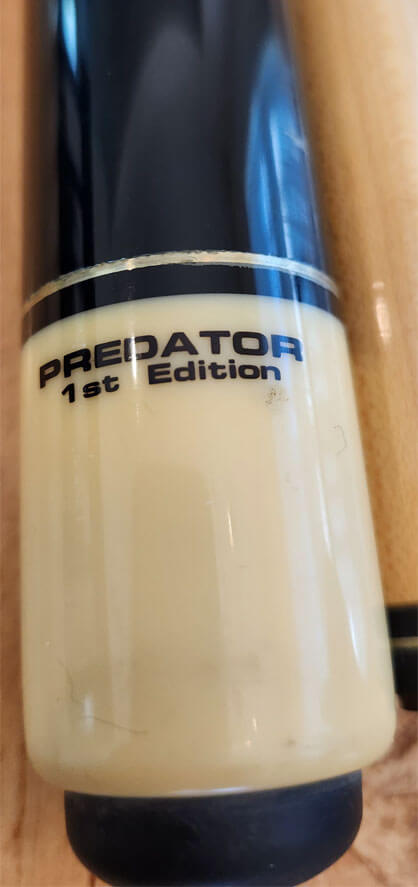 user1692456249
ID Predator "1st Edition" Pool Cue
Replies & Comments
---
billiardsforum on 8/22/2023 7:13:05 AM

It is a Predator 314-3 cue from the Predator 314 series circa 1995-1996.

The Predator 314-3 cue features a dark walnut birds-eye maple stain and German nickel silver rings for a great look. All Predator 314 models feature a classical design, a ten-piece spliced shaft (for perfect radial consistency) made of northern hard-rock maple, and are wrapped in black Irish linen with white specs.

The MSRP of this model was $650 (with shaft) in 1996.

I don't have much data for this model in my archives so I can't give you an accurate price of the cue in used condition, today. It would be somewhere in the range of $300 to $600, I believe—and perhaps even more if the right buyer came along and assuming it's in perfect condition.

But now that you know what it is, you can create alerts on classified sites and monitor the market to get a feel for value.

Here it is from the 1995 Predator brochure:

TCummings on 8/23/2023 5:52:22 PM

The early Predator cue butt halves were made by Joss Cue. They had a 5/16-14 piloted joint with a stainless steel joint collar.

Collectors have some interest in them if they are in excellent condition, and these cues have held their value fairly well.
ID Predator "1st Edition" Pool Cue
Title: ID Predator "1st Edition" Pool Cue
Author: user1692456249 (Robert Higginbotham)
Published: 8/19/2023 10:44:10 AM
Last Updated: 8/22/2023 6:58:47 AM
Last Updated By: billiardsforum (Billiards Forum)