Identify "Weston Table" Pool Table
---
3/15/2022 1:26:17 PM
Identify "Weston Table" Pool Table
Does anyone have any information on a "Weston Table" pool table?
The sticker under the slate reads:
4' X 8' X 3/4" SLATE
WESTON TABLE
PART NO
51-864277
SERIAL
78-NO 6135
GW: 374 * CU. FT. 8.8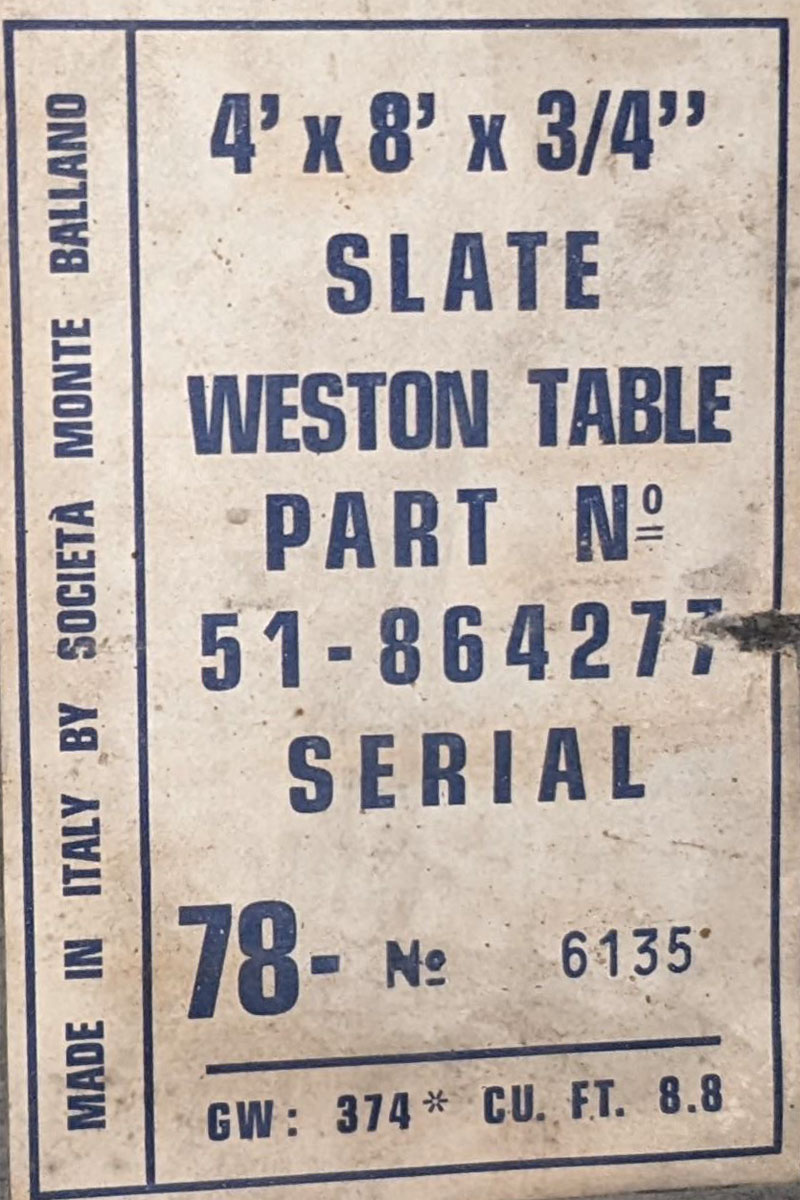 user1647350777
Identify "Weston Table" Pool Table
Replies & Comments
---
billiardsforum on 3/17/2022 2:18:38 AM

Nothing on that slate sticker stands out.

We'll need to see photos of the pool table in order to identify it.

JackStraw on 1/10/2023 5:06:09 PM

I have the exact same slate sticker on my pool table.

The part number is the same but obviously the serial number differs. There are no other markings on the pool table.

It's pretty old but we got it leveled and re-felted and it's great.

I also would like to know more, if possible.

billiardsforum on 2/5/2023 4:36:50 PM

Can someone please upload a photo of the actual pool table?

Also, is it a one-piece slate, or a three-piece slate?

---

I now suspect that you're both talking about the Briarwood Weston pool table (from Brunswick's economy "Briarwood" brand of home pool tables), circa 1977-1979. The slate part number "05-864277" is a Brunswick part number as evidenced by this newer-style label:

The Brunswick Weston (Briarwood Weston) pool table was an extremely low-end, inexpensive residential-grade pool table available in 7-foot and 8-foot sizes.

Briarwood Weston Pool Table

MSRP (approximate) 8' - $420, 7' - $380 (from the May 1, 1979 price list)
Sizes:

7-Foot - 38" x 76" Playfield, Length: 83.75 in, Width: 42.15 in, Weight: 230 lbs
8-Foot - 44" x 88" Playfield, Length: 96 in, Width: 48 in, Weight: 263 lbs

Color Options: Walnut, Woodgrain, Vinyl

A unique idea from Brunswick! An economy-priced entry built with all the quality of our more expensive tables. The WESTON table is available in two sizes with either a slate or non-slate bed. Rails are burn, stain, and mar-resistant with attractive walnut woodgrain aprons.

Slate models come with ¾-inch, three-piece matched and registered slate.

Non-slate models have a ¾-inch high-density composition wood bed-designed to maintain rigidity and flatness. Non-slate models assembled at factory to maintain levelness.

Both models have full-profile CENTENNIAL® cushions for true rebound and roll, and durable-weave, gold wool/nylon cloth. Built-in leg levelers. Available in pocket style only.

Legs: Sturdy stretcher-reinforced with built-in leg levelers that adjust easily to improve playability and performance.
Construction: Laminated wood used for additional strength. All wood kiln-dried to resist warping.
Fasteners: Machine nuts and bolts are used throughout for maximum stability.
Cushions: Full-profile CENTENNIAL® cushions assure true ball rebound and roll.
Sights: Attractive insert sights. Have a maximum tolerance of 30/1000 of an inch for consistent play.
Cloth: Durable weave gold wool/nylon for good playability.
Playing Surface: Slate: Three-piece matched, and registered ¾-inch full-sized slate provides a permanent level playing surface. Slate extends underneath the rails for consistent play. Slate is precision-machined to within 10/1000 of an inch. Non-slate: One-piece ¾-inch high-density composition wood resists warping and remains rigid.
Pocket Openings: All pocket openings made to exacting industry standards.
Pocket caps: Molded pocket caps are crack resistant and clean easily.
Base Frame: On slate models, sturdy cross-members and side beams are ¾-inch laminated wood-resist warping and distortion. Non-slate models use rigid high-density ¾-inch composition wood to maintain levelness and assure table performance.
Identify "Weston Table" Pool Table
Title: Identify "Weston Table" Pool Table
Author: user1647350777
Published: 3/15/2022 1:26:17 PM
Last Updated: 3/17/2022 2:17:42 AM
Last Updated By: billiardsforum (Billiards Forum)