ID a Huebler Pool Cue Model
---
1/7/2023 1:20:59 AM
ID a Huebler Pool Cue Model
Can anyone help me to ID a Huebler pool cue model?
The logo is on the butt cap, and says:
Huebler
Made in
U.S.A.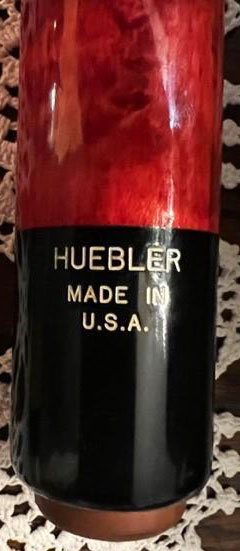 user1673054458
ID a Huebler Pool Cue Model
Replies & Comments
---
billiardsforum on 1/19/2023 6:57:32 AM

Because you've not shown all of the cue, it's hard to nail down the exact model.

It is likely either a:

Huebler HS-1 cue from the Huebler "HS" series circa 1994.

Huebler HS-1 Cue

Here's proof that the architect who said "Less is More" might have been a pretty fair cue maker. This classically simple design adds solid redheard points to it's four double black veneer points, set in birdseye maple. Then black and red are reprised in the black-with-red-spot pressed Irish linen wrap, a gorgeous 3" redheart sleeve, and black butt plate. Like all six models in the series, HS-1 sports a 1" stainless steel joint wiht a 3/8" black fiber collar.

Huebler SH-1 cue from the Huebler "Stained Hitters" series.

Huebler SH-1Cue

A red stained birdseye maple butt, red with white spot linen wrap, black cyro collars at the joint, and a black cyro butt plate.
ID a Huebler Pool Cue Model
Title: ID a Huebler Pool Cue Model
Author: user1673054458
Published: 1/7/2023 1:20:59 AM
Last Updated: 1/18/2023 8:06:47 AM
Last Updated By: billiardsforum (Billiards Forum)