Willie Hoppe
Willie Hoppe
I'm going to have to start this article by noting that Willie Hoppe is, was, and probably will be, considered one of the best billiard players to ever live, both past and present day.
Willie Hoppe - Billiard Player
At the young age of five, Willie Hoppe started learning how to play billiards. He played on the pool table in the hotel that his father owned and operated. Because he was so short, he would stand on a box in order to reach the table. By the age of nine, he became known as the "Boy Wonder" and by age fourteen, he was playing billiards professionally with men three times his age.
Willie Hoppe is thought by many billiard enthusiasts to be one of the greatest well-rounded, and all-around pool player of any era. His name was synonymous with the word "billiards" for over twenty five years due to his many victories and titles in the sport.
Some of Willie Hoppe's accomplishments include:
Willie Hoppe won his first world billiards title at the young age of thirteen.
He won world titles in both 18.1 and 18.2 Balkline
Hoppe won the Cushion Carom world title.
Willie Hoppe is also a very versatile player. When Balkline billiards was replaced by Three-Cushion Billiards as the world championship game, Hoppe simply reconfigured and adjusted his game. Between 1936 and 1952, Willie Hoppe won the World Three-Cushion title eleven times.
Willie Hoppe was and excellent 18.1 Balkline and 18.2 Balkline player, winning the world 18.1 balkline championship by beating Maurice Vignaux of France on January 15, 1906 and by going on to win the title in 1908, from 1909 through 1911, and from 1914 through 1926. Although he lost the championship to Jake Schaefer Jr. in 1926, Willie Hoppe rightfully regained it in 1927, which was the last year in which competitive play took place for that type of billiards. He was also the world 18.2 balkline champion in 1907, from 1910 through 1920, from 1923 through 1924, and in 1927.
With the decline of Balkline Billiards, Willie Hoppe began focusing his game on three-cushion billiards in the 1930s. He won world championships in 1936, from 1940 through 1944, and from 1947 until he retired from professional billiards in 1952.
Willie Hoppe holds numerous records in the sport of billiards which still stand. In his array of records, he hold the one that was set for an incredible run of 622 in 18.2 balkline during an exhibition match in 1912. Additionally, Willie set records with runs of 20 points in three-cushion league play in 1927 and three-cushion match play in 1945, and he ran a record 25 points in a 1928 exhibition against Charles C. Peterson. His grand tournament average of 1.33 in 1950 is also a standing record.
Willie Hoppe
Willie Hoppe (William Frederick Hoppe) lived until he was 71 years old when he died in 1959. When describing his greatness in billiards, Willie Hoppe was compared with Ted Williams of baseball by the Chicago Sun Times in in 1992. in 1999, will he was named number one on Billiard Digest's top players of the century list.
Wille Hoppe was truly a legendary player. Yet, his most famous match strangely had more to do with a penknife, than his unequaled wizardry of the game. In 1925, he met Robert Cannefax, the Three-Cushion champion. After several games, Cannefax, who preferred a fast cloth, asked to move the match to a different table. Hoppe, who was leading, said the cloth was just fine, and refused to allow a change. An incensed Cannefax drew a penknife and savagely cut the cloth down the center of the table. Hoppe was immediately awarded the match, and Cannefax was suspended from competition for a year. Ironically, Cannefax never played another match. He toured vaudeville for several years, and then died of meningitis in 1928.
Willie Hoppe, said to be pronounced like "coffee" also wrote several published books on cue sports. He wrote Thirty Years of Billiards (1925) and Billiards as It Should Be Played (1941). He also published an article called How To Play Three-Cushion Billiards in a 1942 issue of Popular Mechanics magazine. These two books can be purchased below.
These are all considered "rare" billiard collectibles so you can expect to pay a decent price. The only one you'll find for very cheap is the paperback version of Billiards as it Should be Played.
Willie Hoppe - Billiard Player
Headshot photo of Willie Hoppe: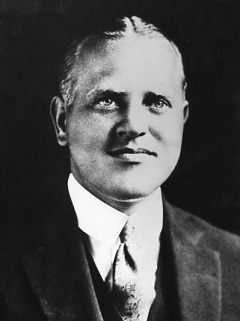 Photos of Willie Hoppe playing billiards: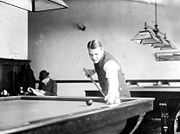 Willie Hoppe - Biography
Date of Birth: 1887-10-11 00:00:00.000
Place of Birth: Cornwall on Hudson, New York, USA
Country of Residence: United States (USA)
Willie Hoppes Nickname(s): Boy Wonder
Willie Hoppes Sponsors: Brunswick
Inducted into the BCA Players Hall of Fame: 1966
If you know of any other interesting information about the life of pool player Willie Hoppes, send us an update using the contact form below.
Willie Hoppes Cue Sports Records and Accomplishments
Willie Hoppe became famous partly because of his high run records and other world record accomplishments during his time at the forefront of cue sports. His victories include:
World 18.1 Balkline Champion (1906, 1908-1911, 1914-1927)
World 18.2 Balkline Champion (1907, 1910-1920, 1923, 1924, 1927)
World Three-cushion Champion (1936, 1940-1943, 1947-1952)
Other things that brought him to fame were his high runs in various different branches of cue sports. These include a run of 2,000 in straight rail, 622 in 18.2 balkline, and 25 in three-cushion. Willie once made a tournament average of 1.333, a world record in his time, which has since been broken.
Forum questions and answers about Willie Hoppe:
Recent news on Willie Hoppe:
Title: Willie Hoppe
Author: billiardsforum (Billiards Forum)
Published: 12/9/2006 4:24:24 PM
Last Updated: 3/20/2020 7:01:09 AM
Last Updated By: billiardsforum
Willie Hoppe Comments
Reply and share your comments below: