jgpool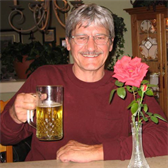 jgpool
Occupation: Retired Software Engineer
Colorado Springs, CO United States
User Status
Offline
Last seen

15 years ago

Member for

16 years

3362 profile views
Member #614
About Me
I have been married for over 40 years. I am a conservative political junkie, and originally from Chicago.
I owned a bar in Colorado Springs with five "bar boxes" for 7 years in the 80's. I had more fun promoting the game than I did playing. I made more money promoting, and also it wasn't proper to win your own tourney.
Hobbies: cue sports history, pool, politics, golf, sports.
Latest Activity by jgpool
Questions & Topics by jgpool:
Answers & Replies by jgpool: