Pool Table Ring With Diamonds
---
12/22/2006 8:12:33 PM
Pool Table Ring With Diamonds
This is my "mens billiards ring" which is a ring with a pool table and a 9-ball rack made of diamonds. Each pool table pocket on the ring has a diamond, there is a diamond cue ball. The billiards ring is made from solid gold and it is very sharp looking.
It was made by Greg Sullivan in 1984/85. I cherish it but the wife wants it. So far she hasn't put up enough in trade. She has only put up with my BS for 32 years. IMO that is not long enough to get the ring. Ha Ha. She will have to wait a few more years to wear me down.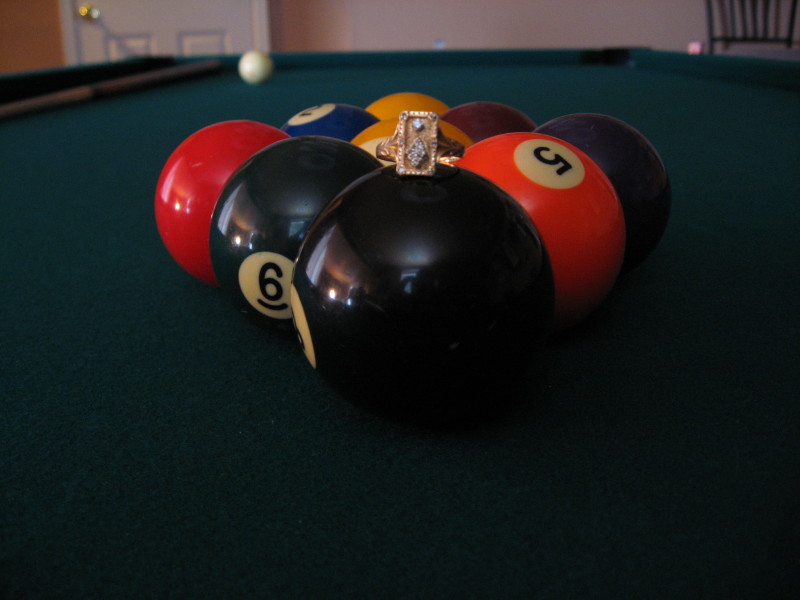 jgpool
Pool Table Ring With Diamonds
Replies & Comments
---
Gabriel on 6/27/2016 12:33:00 AM

I would like to buy a pool table ring but cant locate a dealer. Anyone know where can I buy a ring with a pool table on it, like the one in this post or otherwise?

billiardsforum on 3/5/2017 6:04:34 PM

I noticed a local guy near me with one similar... he was waiting on diamonds for the pockets.

Maloney's Cue Repair and Products out of Shubenacadie, Nova Scotia

His phone number and email are listed on the page in the link. He can probably tell you were he got his...
Pool Table Ring With Diamonds
Title: Pool Table Ring With Diamonds
Author: jgpool (Joe Giammarino)
Published: 12/22/2006 8:12:33 PM