Large Commercial Speed Pool Timer for Billiards
Large "Arena Size" commerical electronic speed pool timer kit for billiard speed pool tournaments, created and manufactured by Geoff Hackett (no longer available).
---
Large Commercial Speed Pool Timer for Billiards

This is the commercial "arena size" version of the speed pool timer. It is
New in 2003, is the Arena speed pool timer. The commercial speed pool billiard timer is based on the smaller "club-size" speed pool timer but with segments over 2' high. The Arena speed pool timer has been tested at distances of over 20m away (60ft) and can been seen with no problems. Designed specifically to play speed pool the timer is ideal for matches or tournaments. This timer can make you money.
The speed pool timer is designed to assist in the scoring of speed pool matches or games. The speed pool timer consists of a microprocessor based control system with an easy to use custom designed keyboard to make the system very simple to understand and use. The control is powered from a mains adapter (supplied) or optional battery pack (NOT SUPPLIED) if required.
The speed pool timer system works as follows:
The timer is reset and shows zero in each display.
The player takes their break. The timer is started.
At the end of the game press stop.
As the game progresses the time penalty buttons are pressed as required.
Once stopped, pressing the game over button will calculate the final time.
Original digital speed pool timer user manual
Shown below is the smaller version.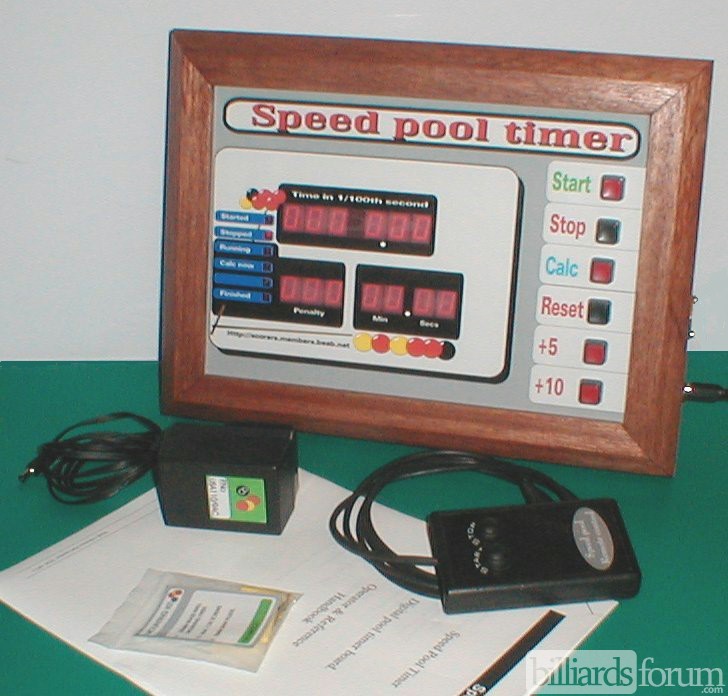 Billiard Speed Pool Timer Specs
Approximate dimensions 730x220x55mm deep (28.75x8.5x2 inches).
Weight approximately 1.5Kg. (excluding power supply)
Display windows 54mm (2.24") high, red seven segment displays
Power supply. 9-12V Ac/Dc Via two pin power plug 5.5x2.1mm. Ac adapter supplied.
Timer Accuracy +-1 second per hour Max.
Microprocessor controlled.
Time in 1/100ths of a second.
Hardwood Mahogany frame.
Tough tinted plastic front panel on metal back frame.
Sale Price: (2001)
Speed pool timer with mains power supply - £270
Remote control for speed pool timer (not supplied) - £
Spare power supply - £
Power supplies in other voltages are available USA 110 or 220 for EU countries. These supplies are supplied with a mains adapter.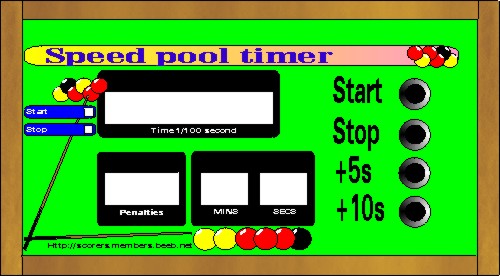 Inventor and Manufacturer
Geoff Hackett
1 St Michaels Close
Madeley
Telford
England
NOTE: This item is no longer available. It is preserved here for informational purposes only. Original sales page was: scorers.members.beeb.net/poolinfob.htm
Large Commercial Speed Pool Timer for Billiards
Title: Large Commercial Speed Pool Timer for Billiards
Author: billiardsforum (Billiards Forum)
Published: 1/10/2017 2:54:32 PM
Last Updated: 3/15/2017 3:39:37 PM
Last Updated By: billiardsforum
Large Commercial Speed Pool Timer for Billiards
Large Commercial Speed Pool Timer for Billiards Comments
There are not yet any comments. Please post one below. All comments are moderated.
Reply and share your comments below: