Info on Heritage Series by Acme Billiards, Inc Los Angeles
---
6/29/2018 11:58:36 PM
Info on Heritage Series by Acme Billiards, Inc Los Angeles
I am looking for information on a pool table with a name plate which says "Heritage Series by ACME BILLIARDS, Inc., Los Angeles"
Does anyone have any knowledge of this company's pool tables?
This is a photo of the beautiful 9' Heritage Series pool table by Acme Billiards, Inc. of Los Angeles.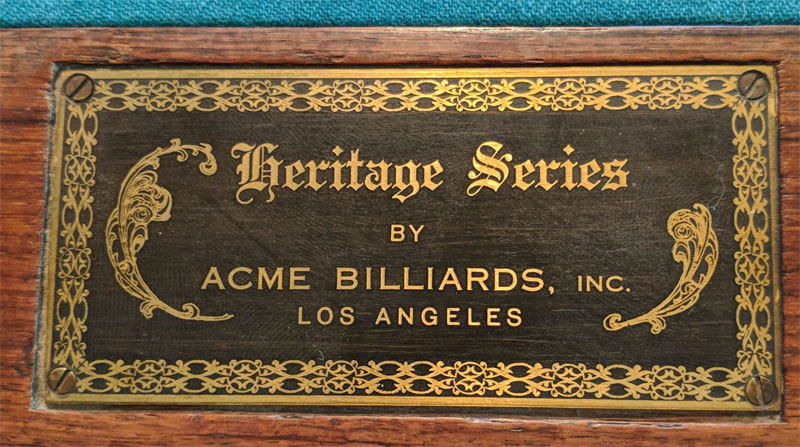 BigRigTom
This question mentions the following businesses:
Info on Heritage Series by Acme Billiards, Inc Los Angeles
Replies & Comments
---
billiardsforum on 7/9/2018 8:39:00 PM

The Heritage Series was sold through the Acme Billiards showroom in Los Angeles and on their website in 2003-2004.

There was a 10-foot Acme Billiards snooker table with the same name plate just recently posted here as well.

Would be cool to see pics of the rest of the pool table.

mwinterer on 10/2/2021 12:17:40 PM

This business was started in the early 1930's by my grandfather Robert Meyers. It was taken over my by uncle and aunt in the 1970's. They closed the business the mid 2000's.
Info on Heritage Series by Acme Billiards, Inc Los Angeles
Title: Info on Heritage Series by Acme Billiards, Inc Los Angeles
Author: BigRigTom (Tom Hardinger)
Published: 6/29/2018 11:58:36 PM
Last Updated: 7/9/2018 8:27:34 PM
Last Updated By: billiardsforum (Billiards Forum)