Rich Q Wrapless Value in Pristene Condition
---
12/15/2018 6:26:30 PM
Rich Q Wrapless Value in Pristene Condition
What is the value of a wrapless Rich Q made from either cocobolo or zebrawood (I am not a wood expert).
It is from the pre-imperial days, and was made in the small Rich Q shop in New York Prior to Abe leaving, so I was told by a living relative.
The cue is a 9/10. In the condition it's in, I can't find another wrapless Rich Q priced or sold and so I need a comparison or good opinion.
The shaft is still 12.5 mm, and you literally can't fit a straight razor blade end in the joint end. Meuccis I've seen 2mm off new these days. I literally had to look for light.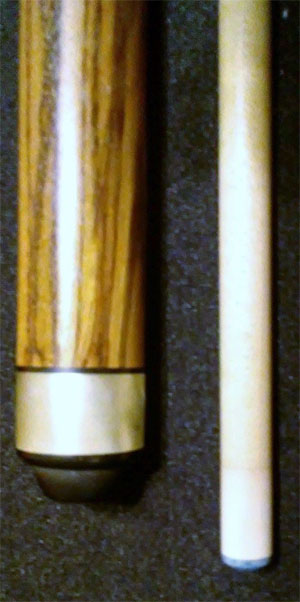 RUSTY
Rich Q Wrapless Value in Pristene Condition
Replies & Comments
---
Rich Q Wrapless Value in Pristene Condition
Title: Rich Q Wrapless Value in Pristene Condition
Author: RUSTY (Tim Linn)
Published: 12/15/2018 6:26:30 PM
Last Updated: 12/16/2018 1:38:05 AM
Last Updated By: billiardsforum (Billiards Forum)