Identify Pool Cue with Word "Vintage" on Butt
---
6/24/2018 1:27:03 AM
Identify Pool Cue with Word "Vintage" on Butt
I am trying to identify a pool cue with the word "Vintage" on the butt. I would love to know the model number of my cue. I inherited it from my father along with a few others.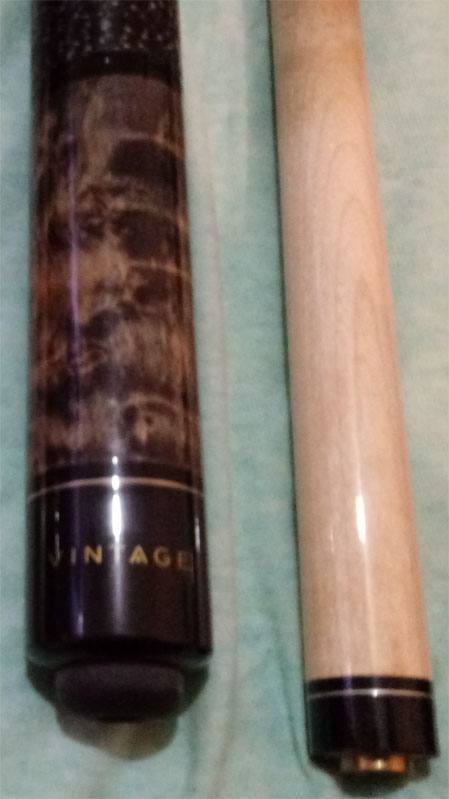 user1512089497
Identify Pool Cue with Word "Vintage" on Butt
Replies & Comments
---
billiardsforum on 6/26/2018 6:17:55 AM

These "VINTAGE" cues were a label imported by Cue & Case Sales and from the same folks making cues like Players and Lucasi. They were mostly sold in the early-mid 2000s and are a lower-end pool cue but generally a well-playing cue. They are basically a "budget" version of cues like Players and Lucasi.

See these posts for more info:

user1512089497 on 6/26/2018 8:51:11 AM

Thanks for the input sir!

Mark Bellamy on 6/21/2019 2:19:27 PM

Is the Vintage cue for sale? If so, what would you take for the pool cue? I pay cash or PayPal.
Identify Pool Cue with Word "Vintage" on Butt
Title: Identify Pool Cue with Word "Vintage" on Butt
Author: user1512089497 (Chad DeWeese)
Published: 6/24/2018 1:27:03 AM
Last Updated: 6/26/2018 5:47:18 AM
Last Updated By: billiardsforum (Billiards Forum)