ID Maker of an Old Pool Cue
---
7/6/2020 4:39:33 PM
ID Maker of an Old Pool Cue
Can anyone help me to identify this old pool cue?
I'm looking to know the maker and model of the cue.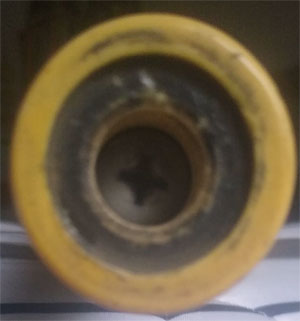 MikeDP
ID Maker of an Old Pool Cue
Replies & Comments
---
ckshyloner on 9/6/2020 2:14:29 AM

The cue is a mystery to me.

It looks like a combination of Mali, Viking, and Adam cues, but the lop sided inlays and the finished over wrap tell me that it might be a very cheap knock off (of other designs) from China.

I do not think it is a Mali cue, or a Viking cue. It is surely an import, and I do not think it is an Adam cue either.

I am going to guess that it is a cheaply made knock off, from China.

MikeDP on 2/19/2021 4:17:58 PM

I came across a posting here for a Mali T-15 cue (and another at Green label Mali cue). The pictures of the cue have the Mali logo in green and the inlays on that one aren't any better than shown in my pictures.

I also found a posting on AZ Billiards. The cue was identified as a Mali but doesn't show the logo. The inlays on that cue are also a little off.

The puzzling questions are:

Did some Mali cues sell without a logo?
Were any Mali cues ever made in China?
ID Maker of an Old Pool Cue
Title: ID Maker of an Old Pool Cue
Author: MikeDP (Mike Della Penna)
Published: 7/6/2020 4:39:33 PM
Last Updated: 10/5/2020 5:05:06 PM
Last Updated By: billiardsforum (Billiards Forum)