Pool Table (Outdoor) Refinishing and Recovering Questions
---
11/14/2022 10:00:15 AM
Pool Table (Outdoor) Refinishing and Recovering Questions
Sorry about a newbie post (possibly in the incorrect forum). I've been around pool my entire life - grew up on an antique 4.5x9 Brunswick. I live in a townhouse by the beach and just don't have room for an indoor table. So a few years ago I found a nice Brunswick 3/4" slate table for $125 (from a divorced woman wanting it out of her garage, of course). I got it home, disassembled it, and recovered it w/ Sunbrella fabric. It was great. Fantastic.
It was covered most of the time, but it really didn't matter. W/ eastern exposure and salt air, nothing (including Jeeps - from experience) stands a chance over time. The Sunbrella held up great for 4 years. Two of the top rails kept getting worse and worse. I would sand them and douse them in tung oil, but they were failing. In addition, the underside/support timbers were failing worse.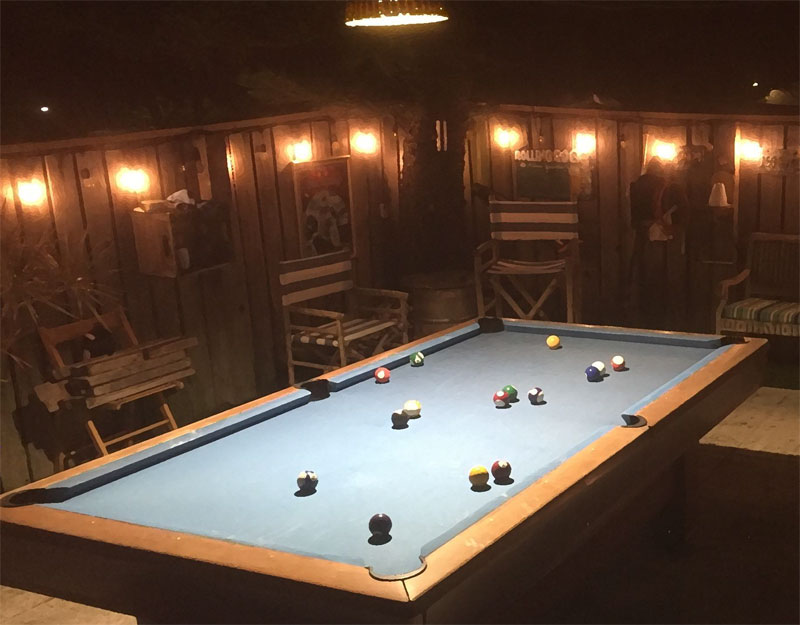 I tore it all down, installed new (better) feet, replaced failed wood w/ pressure treated and coated the remaining w/ wood hardener. I'm getting to final sanding on the top rails and want to make sure I don't do something stupid.
While I have a set of specific outdoor fabric cut for a 4x8 table, I'm going w/ Sunbrella again. I just like the feel and the speed. The rails - I'll stain to match the bottom, then coat w/ marine varnish. I can't come up w/ a better solution. If money was no object, I could do a lot of things w/ the rails, but coats of Spar seem to be the best option, no? I'll do that (and cure the varnish) indoors next to a dehumidifier. How many coats should I try to slop on I wonder? Fine steel wool between coats?
As far as the Sunbrella, there is nothing on the slate to tack to, so I'll just use Camie spray adhesive to secure that (after wetting most of the fabric in the middle). That's sort of easy. The tough part of the Sunbrella is the bumpers as it doesn't want to stretch. This time, I'll wet that fabric as well and maybe the pocket corners will be easier to staple.
2 things - 1) if you have a patio and no room for an indoor table - there are great tables given away for a song these days (again - divorces). Go find one and make it work. 2) thanks in advance for any suggestions anyone might have. I'll let you all know how things work out.
user1668448814
Pool Table (Outdoor) Refinishing and Recovering Questions
Pool Table (Outdoor) Refinishing and Recovering Questions
Title: Pool Table (Outdoor) Refinishing and Recovering Questions
Author: user1668448814
Published: 11/14/2022 10:00:15 AM