BMC Val Beesley Cues
Information about the BMC Val Beesley Series of pool cues. Find information about valuation of BMC Val Beesley Cues, and get model number info on BMC Val Beesley Series cues, etc., including a listing of all models under the Val Beesley BMC line of pool cues which can be used to research or identify a BMC Val Beesley Series pool cue.
BMC Val Beesley Series Overview:
Manufacturer or Brand Owner: Meucci
Brand Name: BMC, aka Bob Meucci Customs
Line Name: Val Beesley
Line Long Name: Val Beesley Series
Line Full Name: BMC Val Beesley Cues by BMC Cues
Common Abbreviation: BMC "VB" Line
Line Exclusive to: Cypress House
BMC Val Beesley Series Production Date(s): BMC Val Beesley Cues production dates are unknown. Inform us below if you have details.. (More specific production dates may be available for each cue within the Val Beesley Series line which may be found in the links below.)
A listing of info on the BMC Val Beesley Cues model numbers and other information about BMC Val Beesley Series pool cues.
A list of all BMC Val Beesley Cues by BMC:
---
Here is a detailed close-up photo of the butt-sleeves to help in identifying BMC Val Beesley Series pool cues.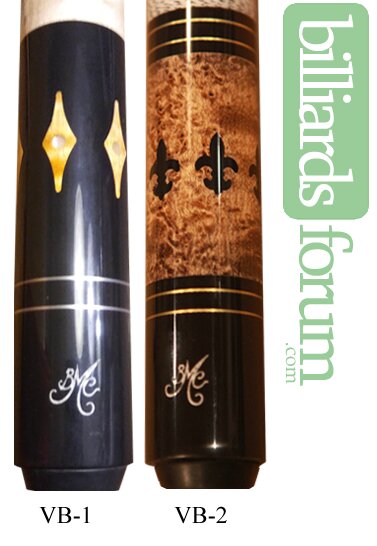 ---
More Pictures of BMC Val Beesley Cues
BMC Cues Val Beesley VB Series Pictures
Pictures of the BMC Cues Val Beesley VB series.
---
BMC Val Beesley Cues Info
Info on BMC Val Beesley Cues
The BMC Val Beesley exclusive series cues are designed by and named after Mr. Val Beesley, a friend of Bob Meucci. Val Beesley runs V & B International, Inc, in Port Gibson, Mississippi, a company specializing in hardwood sawmill and wood products.
The BMC VB series cues feature high-end wood products from Val's operation, and were designed in a collaborative effort between Val and Bob, with Val Beesley designing the cues and Bob producing them in limited quantities in his Byhalia, MS pool cue factory. Quantities made:
BMC VB1 Cue - 7 Made
BMC VB2 Cue - 10 Made
The Val Beesley BMC cues were sold exclusively through The Cypress House in Mandeville, LA, the retail store run by Val's son and daughter-in-law Nicholas and Deanna Beesley.
Nick Beesley also sold the cues on eBay (as user nick_beez) and on AZ Billiards (as user LoneStarBanker).
The Val Beesley BMC cues were also sold with special versions of Meucci's "The Pro" shaft, also made from wood supplied by Beesley's company. According to Beesley's son Nick, the shafts are "designed with the best wood sourced for Bob Meucci and the insert material has not been revealed for proprietary reasons".
In another ad, Nick again mentions his Father's involvement in designing the special shafts. "[The] shaft was designed by my father for Bob Meucci and Jayson Shaw. Using over 35 years of hardwood lumber experience and feedback from the pros, he developed the BEST for the BEST!".
The dates of production for cues in this line are not known with certainty. The earliest references we could find were from March 2016 for the VB-1 cue, and the fall of 2016 for the VB2 Louisiana Fleur-de-lis cue.
Info on BMC Val Beesley Cues from The Cypress House
The Cypress House is the leading seller of custom designed Meucci Cues and other gaming accessories. We take great pride in our designs as well as each customer's buying experience. We work hard to ensure your purchase is smooth, seamless, and satisfactory! We are an Official Meucci Cue distributor for the state of Texas and Louisiana, and we're the home of the exclusive Val Beesley and Texan series of BMC cues.
Questions about any of the models under the BMC Val Beesley Series of pool cues? Something not quite correct? Let us know using the form below.
Title: BMC Val Beesley Cues
Author: billiardsforum (Billiards Forum)
Published: 1/31/2019 4:21:10 PM
Last Updated: 2/5/2019 6:43:36 PM
Last Updated By: billiardsforum
BMC Val Beesley Cues Comments
There are not yet any comments. Please post one below. All comments are moderated.
Reply and share your comments below: