Modern Style Home Billiard Room
A description of the Modern Style Home Billiard Room photo is found below the image.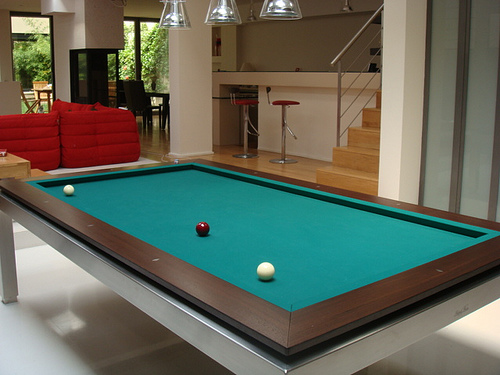 Modern Style Home Billiard Room
Here we can see a modern and contemporary styled home billiard room complete with modern pool table lighting and a modern style bar and bar stools. In this home billiard room, space around the pool table is emphasized, leaving a good deal of open space for players to get around the table with ease. It seems that they could have used the lighter trim on the stainless steel pool table in order to match it with the other lighter wood furniture and lighter hardwood floor. Notice that this stainless steel billiard table is pocketless. Pocketless pool tables are used most commonly for carom or carombole billiard games and for artistic billiards. UPDATE - we have found out that these tables are available with a slate thickness from 30mm to 60mm.
Modern Style Home Billiard Room
The billiard room photo titled "Modern Style Home Billiard Room" was taken by billards_breton on 2008-05-28 03:14:25.000 and uploaded to flickr on 2008-05-30 03:14:25.000. It was retrieved from a public flickr feed on 2008-05-31 10:32:04.000. The accompanying article was written and published by the Billiards Forum. The publish date of the text content is found below.
This page belongs to the Home Billiard Room Pictures category. Pictures from users and from around the internet showcasing different home billiard rooms.
Title: Modern Style Home Billiard Room
Author: billiardsforum (Billiards Forum)
Published: 9/18/2008 7:39:16 AM
Last Updated: 9/18/2008 7:34:59 AM
Last Updated By: billiardsforum
Source: Flickr user contribution
An error occurred on the server when processing the URL. Please contact the system administrator. If you are the system administrator please click
here
to find out more about this error.