Random Pool Cue Collection Pic
---
7/4/2018 7:58:43 PM
Random Pool Cue Collection Pic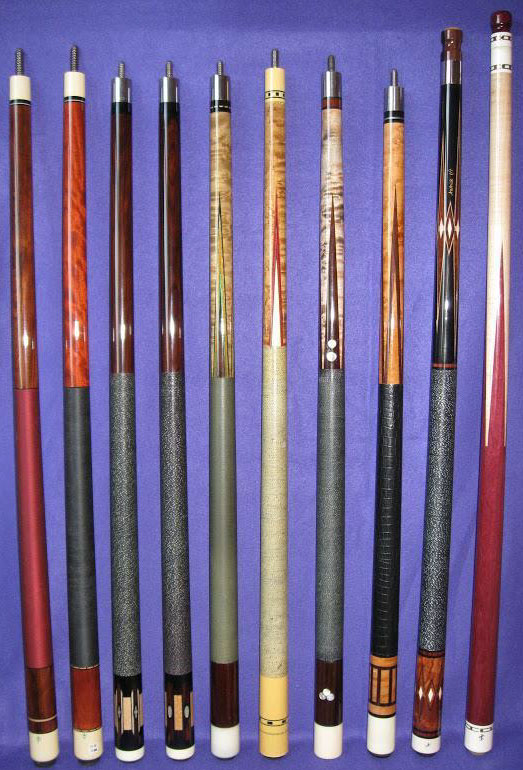 McDermott D-2
McDermott D-3
JOSS Cocobolo J3300 Crystal Leisure
JOSS Cocobolo M-005 Omega Billiard Supply
JOSS (my right arm)
Meucci Original 84-4 (needs to be refinished)
Viking (believed to be from early to mid seventies)
Adam J/R-10
Audrick (actually a great cue)
Auerbach purple heart conversion

Chopdoc
Random Pool Cue Collection Pic
Replies & Comments
---
billiardsforum on 7/5/2018 7:12:18 AM

Man these are some awesome cues. You have one heck of a collection.

Scott Erwin would be my recommendation for a re-finish on the Meucci 84-4. You can see lots of his work in the Meucci Collectors Facebook group.

Chopdoc on 7/5/2018 7:59:35 AM

Thank you.

Yes, I know his work. That cue has been sitting in my collection for 11 years needing a refinish. It's the only Meucci I own. I may just get rid of it as is. I have little to no interest in Meucci, except for the very early cues when he worked for Huebler.

I have a number of other projects and may be sending Scott some work soon.

The Joss M-005 is no longer mine. I gave it away to my "protégé", a young man that I taught to play. I gave him a break cue and case as well. He is now playing leagues, doing well.

I sold the Auerbach cue. The McDemott D-3 also got sold.
Random Pool Cue Collection Pic
Title: Random Pool Cue Collection Pic
Author: Chopdoc
Published: 7/4/2018 7:58:43 PM
Last Updated: 7/9/2018 9:38:44 PM
Last Updated By: billiardsforum (Billiards Forum)