STL Nuisance Softball 2012 Missouri 8 Ball Cash Tournament
---
2/29/2012 12:47:58 PM
STL Nuisance Softball 2012 Missouri 8 Ball Cash Tournament
The St. Louis Nuisance Softball team is holding a Missouri 8 Ball Cash Tournament Fundraiser at Side Pockets Bar and Grill in St. Charles, MO on Saturday March 10th, 2012. Must be 21 or over to enter into the tournament.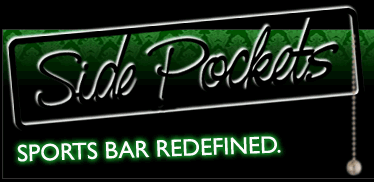 Side Pockets Bar and Grill 1439 Bass Pro Drive St. Charles, MO 63301 (636)724-9300
Entry Fee: $20.00 per player
Format - Double Elimination bracket form...at matches (Best of 3 game match) going by the Missouri 8 Ball rule book.
Please arrive 1 hour before before the start of the tournament for check in, payment of the entry fee, and what table you'll be on. Matches will start at 12pm sharp and the tournament will go until the final games are played which we are thinking will be somewhere in the realm of 5 - 6pm maybe longer. If you don't have your own cue stick they have house sticks at Side Pockets available for use. They have an ATM on site for easy cash withdraw, Full stocked bar, Really friendly helpful waitresses, and some of the best Americana food you can get your hands on, On that side of the river. Gonna be a great time and we invite you all to come and help us raise money for our team.
Payouts are the following (Based on 60 entries)
1st Place - 300.00
2nd Place - 200.00
3rd Place - 100.00
If we get more entries the prize money amounts will go up. Please contact me by phone for any questions you may have. Hope to see you all there! Thank You.
If you have any additional questions please call me (Justin) at (636) 233-8039
Nuisance2012
STL Nuisance Softball 2012 Missouri 8 Ball Cash Tournament uses billiard rules similar to:
STL Nuisance Softball 2012 Missouri 8 Ball Cash Tournament
STL Nuisance Softball 2012 Missouri 8 Ball Cash Tournament
Title: STL Nuisance Softball 2012 Missouri 8 Ball Cash Tournament
Author: Nuisance2012
Published: 2/29/2012 12:47:58 PM