7-Foot Irving Kaye Pool Table for Sale in Warwick, RI
---
5/2/2023 6:22:05 PM
7-Foot Irving Kaye Pool Table for Sale in Warwick, RI
For sale is a handsome 7-foot Irving Kaye bar-size pool table with auto ball return. It was a coin-op pool table but has been converted for home use.
It has a slate top in very good condition. It's wine-colored cloth is in very good condition, but has minor light chalk spots on it—though it doesn't affect how it plays.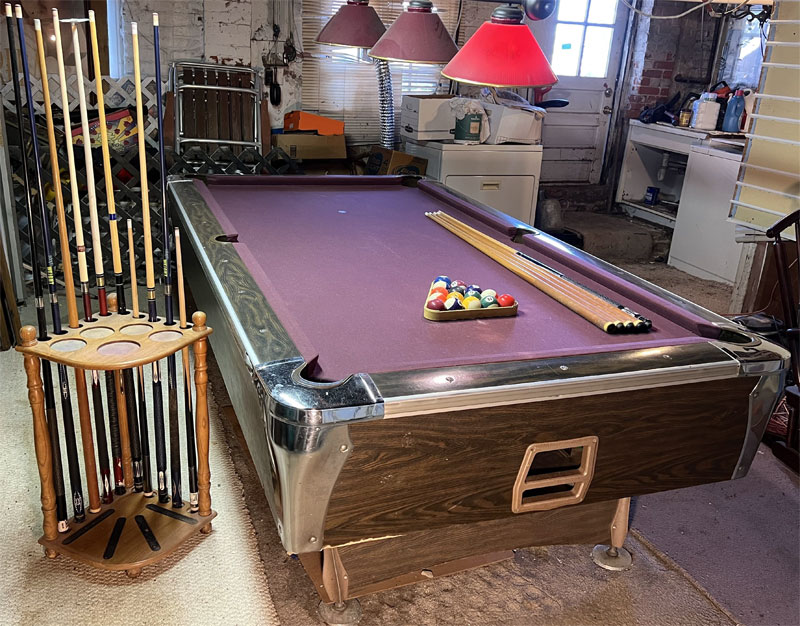 The sale Includes approx. 2 full sets of balls, racks, 15 pool cues, pool table cover (W 57" x L 102" x H 32")
Price: $700 OBO
location: Warwick, RI
BUYER MUST DISASSEMBLE AND MOVE FROM WALKOUT BASEMENT LEVEL. The slate is VERY HEAVY. Honestly, it requires at least four very strong people to lift and carry the slate top after disassembly.
Here is some information about the manufacturer:
Irving Kaye Co., Inc. - Brooklyn, NY

Irving Kaye got his start in the coin-op business in the 1940s in New York City. In the 50s Irving Kaye Co. Inc. was established as a premier manufacturer of coin-op pool tables. Irving Kaye Co. Inc. discontinued doing business in 1981.

"Build up to quality, not down to price," are the words echoed through the design and engineering departments of The Irving Kaye Company. "We care about costs, but we care more about the quality of the products that bear our name. Only the finest materials and designs go into producing them." 

— Irving Kaye, founder, Irving Kaye Co. Inc.
user1683066124
7-Foot Irving Kaye Pool Table for Sale in Warwick, RI
7-Foot Irving Kaye Pool Table for Sale in Warwick, RI
Title: 7-Foot Irving Kaye Pool Table for Sale in Warwick, RI
Author: user1683066124
Published: 5/2/2023 6:22:05 PM
Last Updated: 5/4/2023 5:23:32 AM
Last Updated By: billiardsforum (Billiards Forum)