1880 Brunswick Exposition Novelty Pool Table for Sale
---
11/3/2018 7:30:22 AM
1880 Brunswick Exposition Novelty Pool Table for Sale
Extremely rare antique billiard pool table -1880 Exposition Novelty by Brunswick Balke Collender
The antique Brunswick Balke Collender pool table has been owned by my family for 80 years. The table is in absolutely "Mint Condition" completely original apart from new leather pockets, new rails installed and new Simonis felt in 1980. Table includes original cue rack w/ approx. 10 cues, wall ball rack, pool brush, triangle ball rack, and wired scoring disks.
Contact Steve at (303) 349-1436 if interested. Details below the photos.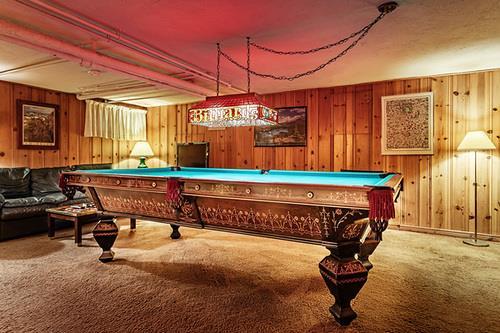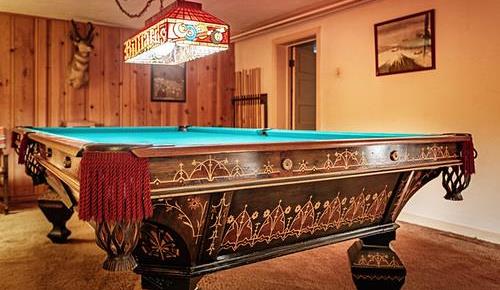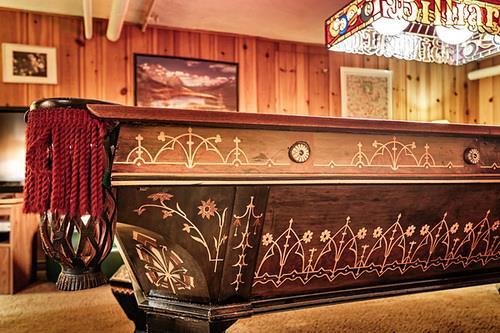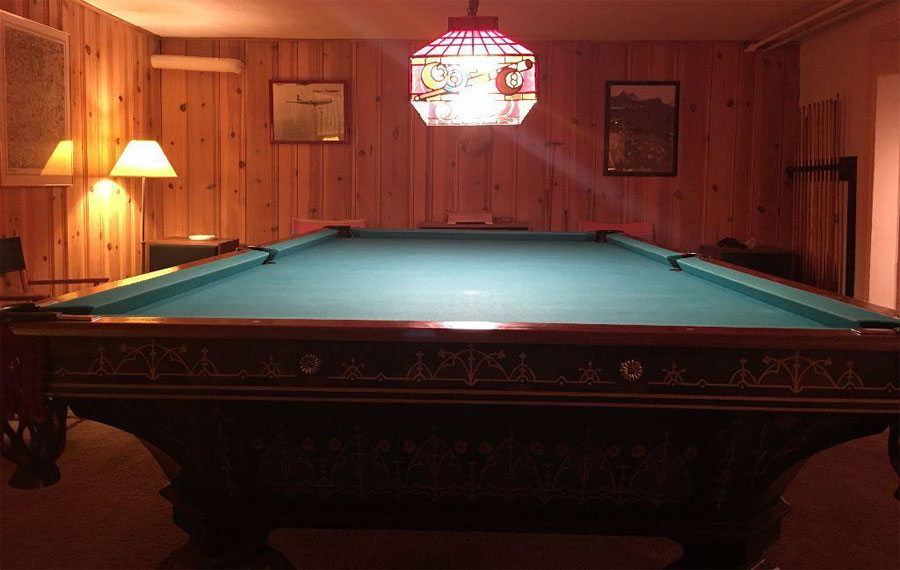 Per Brunswick and antique pool table historians, only a few hundred of these were ever made. Notable owners include President Theodore Roosevelt, Andrew Carnegie (Steel Tycoon), J. Paul Getty (Oil), J.P. Morgan (Banking), Samuel Colt (Firearms), and Richard Mellon (Banking), etc..
The top of the line table Brunswick ever produced and "all handmade". The table commissioned strictly on, and only on, a special order basis.
Technical Information from Brunswick Archives:
1880 J. M. Brunswick and Balke Co. - "Hand inlaid" with California Laurel, Burl Ash, French Walnut, Bird's Eye Maple, Mahogany, Rosewood and Tulip Woods (years of manufacture, 1870 to 1880).

The Exposition Novelty: Private residence table is a marvel of artistic excellence. Of all the various designs produced by Brunswick or rivals, either in this or other countries, none even remotely approached the Exposition Novelty in beauty or finish.

It is of superb make, expense and elaborate inlay, finest Vermont slate bed, elegantly carved legs, gilded with fine gold, furnished with the unequaled Monarch Cushions, and especially manufactured for gentlemen's private residences. It is a perfect work of mechanical skill and has taken the Gold Medal at San Francisco and Cincinnati, and wherever exhibited.

Note: Without footnote - the above technical information is quoted from Brunswick archives.
user1541255421
1880 Brunswick Exposition Novelty Pool Table for Sale
Replies & Comments
---
1880 Brunswick Exposition Novelty Pool Table for Sale
Title: 1880 Brunswick Exposition Novelty Pool Table for Sale
Author: user1541255421
Published: 11/3/2018 7:30:22 AM
Last Updated: 11/6/2018 2:46:31 AM
Last Updated By: billiardsforum (Billiards Forum)