Value of an 8' Brunswick Manchester II Pool Table
---
5/30/2017 7:45:52 PM
Value of an 8' Brunswick Manchester II Pool Table
I am trying to find the value of a Brunswick 8' beautiful solid cherry wood table with solid claw feet and net baskets. I have one in excellent condition.
I want to post it to Craigslist but like others I am purely guessing at the value.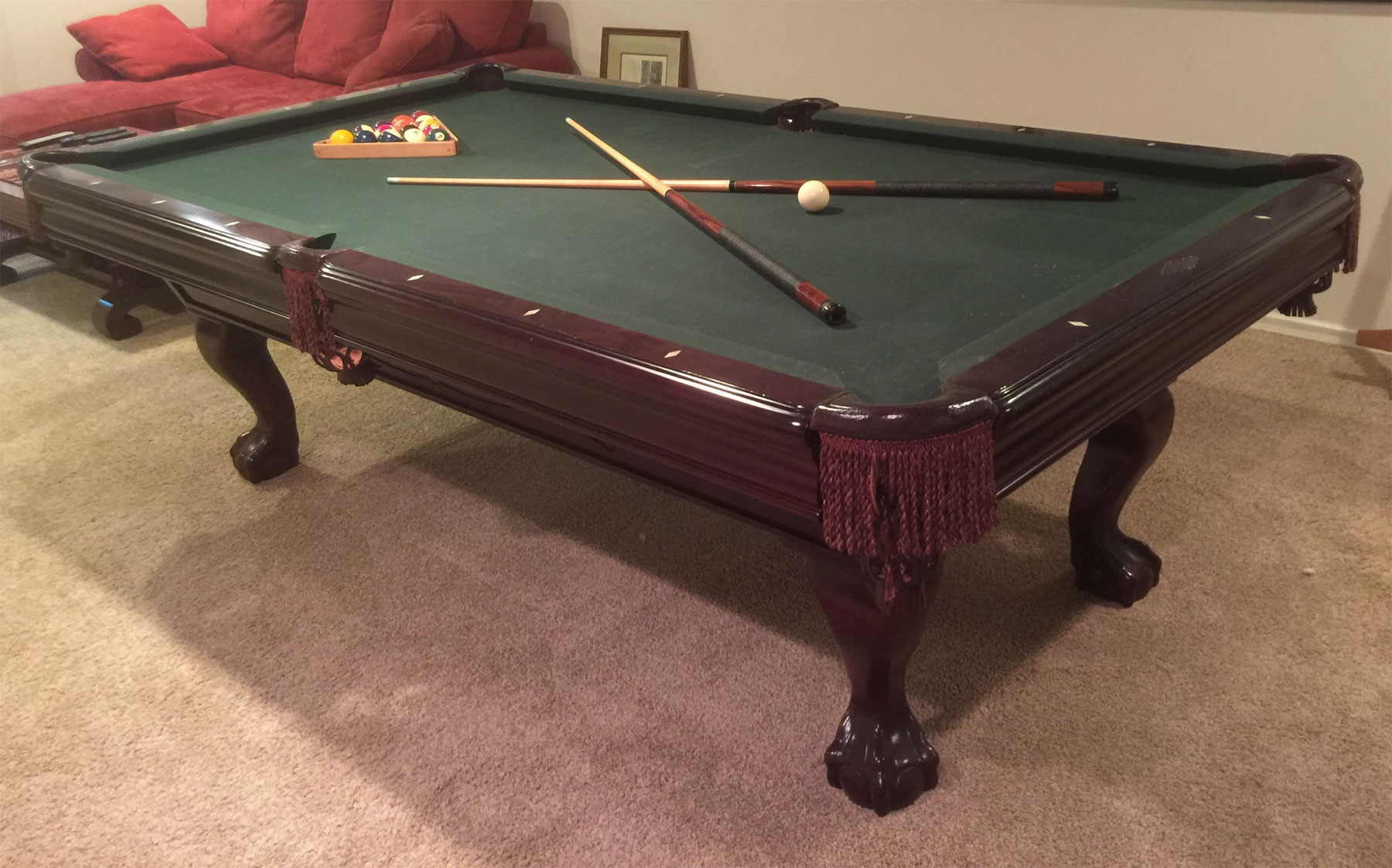 dunn78170
Value of an 8' Brunswick Manchester II Pool Table
Replies & Comments
---
billiardsforum on 5/31/2017 4:53:37 AM

First you'll need to know the Brunswick model name. It is sometimes stamped up under the table, but the best place to find it is on the owners manual or installation manual that came with the pool table. If you have that you should dig it out and reply with the model/name or a photo of the cover.

I have looked in the Brunswick Billiards catalogs and It's hard to place it based on the one photo. Would be better to have a full photo of the apron (the side under the rails).

Once we nail down the exact Brunswick pool table model, we can work on narrowing down an appropriate value for the pool table.

Actually, the closest I can find based on the single photo, is the Brunswick Manchester II pool table. They were sold from the late 1990s to early 2000s. Here is the 2002 Brunswick catalog page:

If that's the case, here is a sample of recent classified sales for the Brunswick Manchester pool table from December 2016:

Barely Used Manchester Pool Table - $800 (Ohio)
Antique Brunswick Manchester pool table - $1500 (Florida)
Pool Table-Brunswick Manchester 8' - $1250 (Dallas)
Brunswick billiards 8ft Manchester pool table - $500 (Fort Worth)
POOL TABLE 8 Brunswick Manchester Classic - $1200 (Fort Collins)
Full size Manchester pool table - $1300 (Central NJ)
Brunswick Manchester 8' Pool Table - $1000 (Dallas)

...and basically the Dallas ones are re-posts from the same seller... so he's not selling it.

BUT - it obviously depends on condition, and your location, and the number of buyers and sellers in the market at any given time...

Here is my opinion, and it IS opinion only, and nothing more, so take it with a grain of salt. I can tell you, it is a BAD time to be selling a "no frills" pool table like this one (don't get me wrong it is a very nice pool table, but there is nothing "special" about it and there are 100s of others on the market just like it). In Dec 2016 alone, in the US, there were 2600 Brunswick pool table ads on craigslist alone. Over 50,000 ads for all brands of pool tables. So buyers have tons of choice and people seem to be just dumping their pool tables for whatever they can get. It's a bad time to be selling in my opinion.

SO - if you have TIME to wait for the right buyer, you could get between $1300 and $1600, if it is in good shape. If you have a package e.g. you have a pool table light, pool cues, balls, accessories, maybe another couple hundred. Remember a buyer has to spend another $500 roughly to have it set up again and re-leveled in their house so you have to consider that in the overall cost to someone.

But do please let me know how the sale goes, as we like to keep track of the market to help others trying to value a pool table just as you are.
Value of an 8' Brunswick Manchester II Pool Table
Title: Value of an 8' Brunswick Manchester II Pool Table
Author: dunn78170
Published: 5/30/2017 7:45:52 PM
Last Updated: 5/31/2017 5:39:42 AM
Last Updated By: billiardsforum (Billiards Forum)