Armac Minnesota Fats "The Hustler" 1960s Pool Table
---
11/10/2017 7:06:07 PM
Armac Minnesota Fats "The Hustler" 1960s Pool Table
I have a 1960s Armac Minnesota Fats "The Hustler" 8 foot slate pool table. Not sure how to tell exactly what year. What should I ask for when selling?
The model I have is the Armac 8' Slate Model #20 1083 pool table by Armac Enterprises, Chicago, Ill.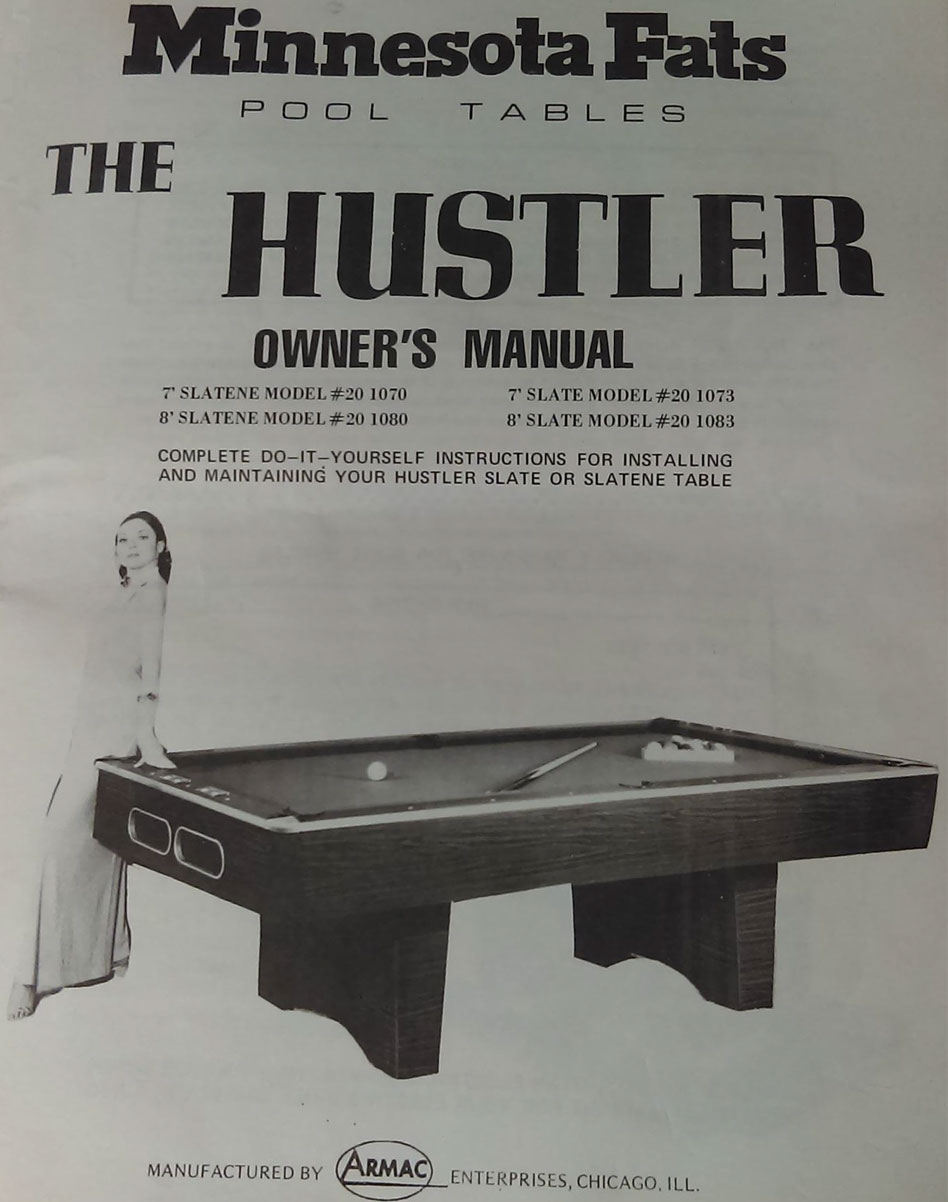 user1510358764
Armac Minnesota Fats "The Hustler" 1960s Pool Table
Replies & Comments
---
billiardsforum on 11/10/2017 9:03:39 PM

These are low-end residential consumer-grade pool tables sold in the 1960s and 1970s through stores like Woolco, etc. They would be equivalent to some of the pool tables you might get today at Wal-Mart or K-Mart or Costco.

Also, some more background information via the Chicago Billiard Museum:

MN Fats tables were at one time made by the Pre-Vue company (of Manitoba Canada) but they were also produced by a company called ARMAC who owned the ROZEL company. (of Chicago, IL)

Both ARMAC and ROZEL sold the pool tables (and so did A.E. Schmidt).

According to the Chicago Tribune, Rozel converted all the Minnesota Fats stores into VIDEO KING stores in 1980.

There is little to no value to these pool tables at this point... other than what you can convince a recreational player to pay for it. To give you an idea, one sold via a classified ad in 2014 for $55 CAD.

Desc: 4'x8' slate pool table made by Armac Co. "Minnesota Fats Hustler" pool table (in pieces)
Price Realized: $55 CAD
Date: 2014-03-05

Source: greatwestteam.hibid.com/lot/52394-41330-35795/4x8-slate-pool-table-made-by-armac-co-

Though it doesn't feature your exact model, here is an ad from October 1973 by Woolco, featuring similar Minnesota Fats Armac pool tables:

user1566980829 on 8/28/2019 1:27:10 AM

Does anyone have a complete copy of the owners manual for these Armac Minnesota Fats pool tables?

wendyruth59 on 6/30/2022 6:05:00 PM

I owned the Minnesota Fats Cordova pool table, with slate.

It was purchased on December 12, 1975 for $549 from the Minnesota Fats store in Lombard, IL (which later became a Video King store before going out of business). The sales receipt indicates that there were eight Minnesota Fats stores in the metro Chicago area. It also indicates that Rozel Industries is the retail division of Armac Enterprises.

I moved the pool table to a new home in 1977 and sold it with the house in 2021. It was still in very good condition. It had a 3/4" 3-piece slate bed, and a frame made from wood, plywood, and particle board.

I wouldn't call it a high end pool table (because of the frame construction), but it lasted 45 years and is still going strong.

I have the original owners manual which is primarily a "how-to put it together" guide and a parts list.

It lists the pool table as being manufactured by Armac Enterprises, Inc., 555 North Tripp Avenue, Chicago, IL.
Armac Minnesota Fats "The Hustler" 1960s Pool Table
Title: Armac Minnesota Fats "The Hustler" 1960s Pool Table
Author: user1510358764
Published: 11/10/2017 7:06:07 PM
Last Updated: 11/10/2017 8:53:19 PM
Last Updated By: billiardsforum (Billiards Forum)