My New Basement Billiard Room "A Work in Progress"
---
1/16/2013 11:38:08 AM
My New Basement Billiard Room "A Work in Progress"
I had a fire at my old home so had to move to a new place about 1 year ago. I was low on funds from losses that the insurance would not cover along with moving expenses so I could not afford a LOT. But with a 1440 sq foot basement I decided to FINALLY have the game room and entertainment room I had always wanted. My 3 requirements were to have:
a billiard table,
an air hockey table,
a dart board, and,
a TV and some AV gear
I started looking on Craigslist for a billiard table that I could get into my basement and did not cost an arm and a leg.
A co-worker linked me with a friend of his who either had to get rid of his table or leave it when he moved as his new home did not have a place for it. So what I ended up with is an AMF Playmaster with 3 piece slate. I went to look at it and discovered that two pieces of skirting were missing and the rest were either broken or poorly made. But I paid $200, disassembled the thing, loaded it into the Suburban. On the way home I stopped to take a look at an air hockey table that the owner said he would deliver. It was a nice table so I bought it as well. He followed me home and unloaded the machine while I and my slaves helpers unloaded the pool table and moved it to the basement.
I then hired Steve Stokes, a pool table mechanic in my area, to come set up the AMF Playmaster table. I assembled, squared, and leveled the cabinet, and laid the slates on the frame before hand. Steve came out and informed me that my slate was not the slate that came with this table but was a more expensive slate. Cool. He set up and leveled the pool table and installed the Simonis cloth. Steve did excellent work so if you are in the KC Metro and need pool table work done, he is THE recommended man.
Here is the AMF Playmaster pool table when I first saw it. Ugly room, even uglier chocolate brown table with cream colored rails and a black frame.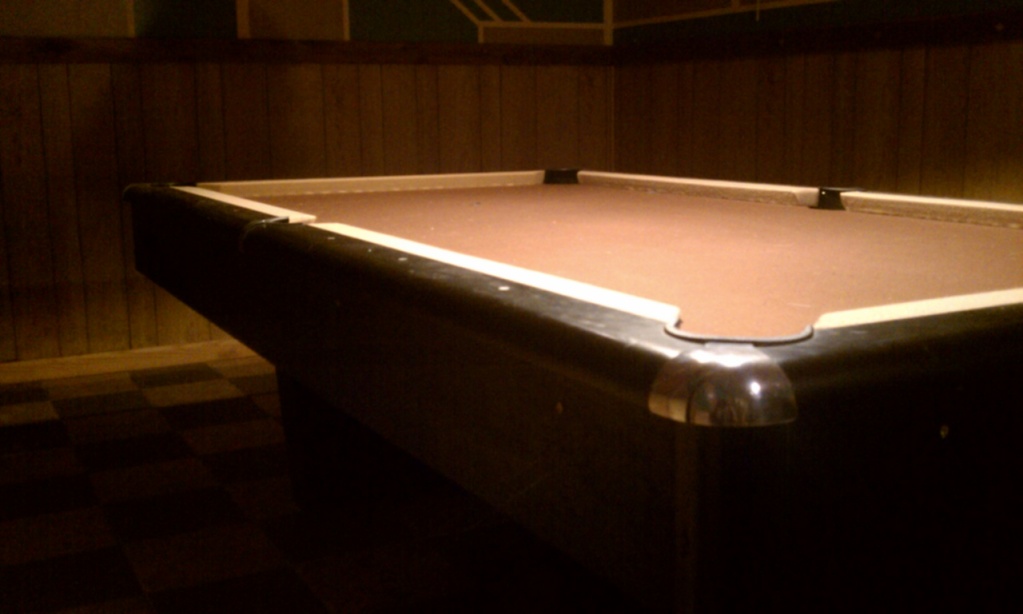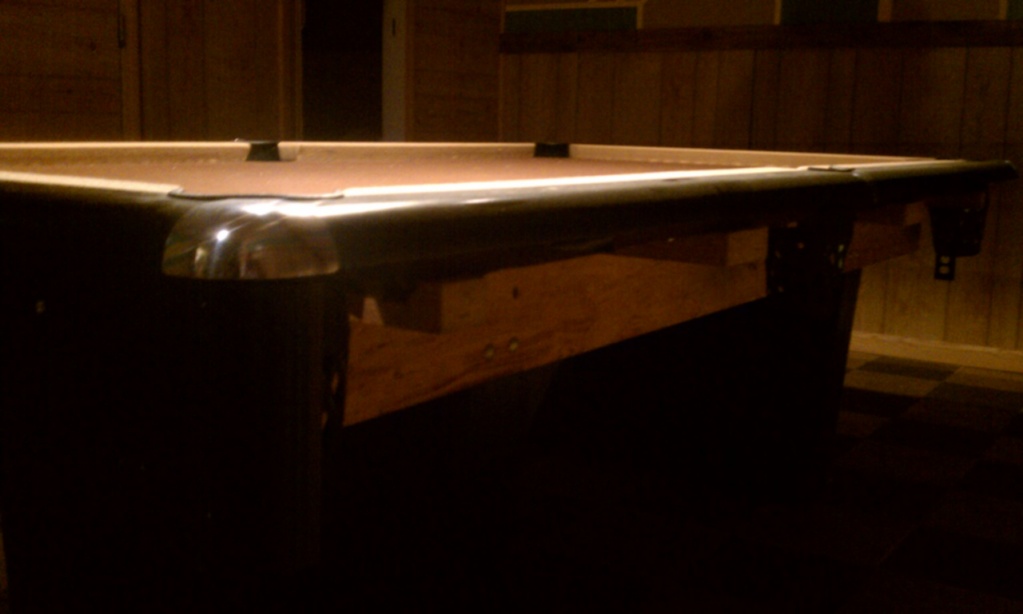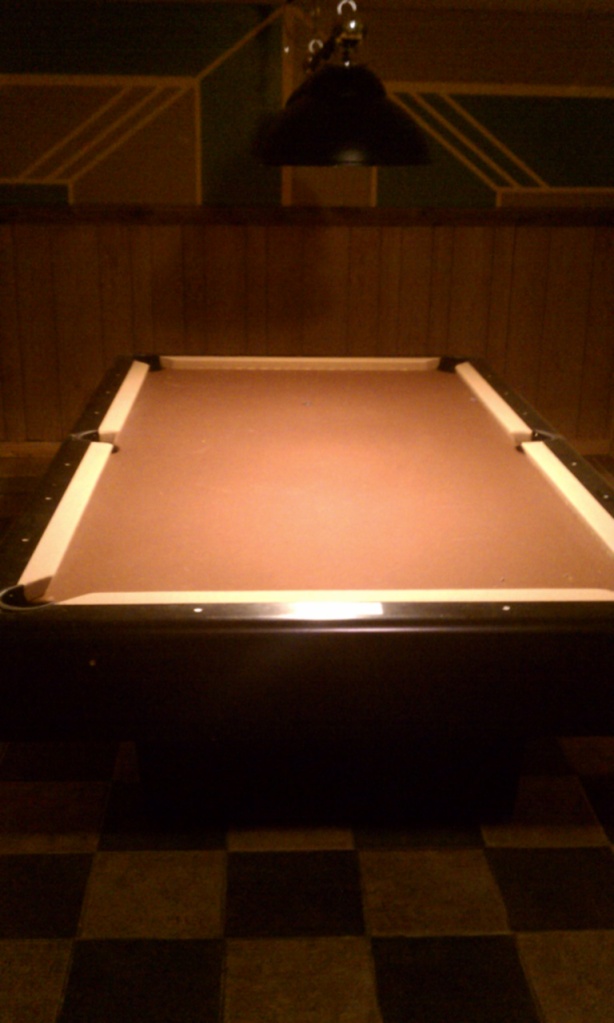 When it was setup I had burgundy cloth installed, but the skirting was still missing.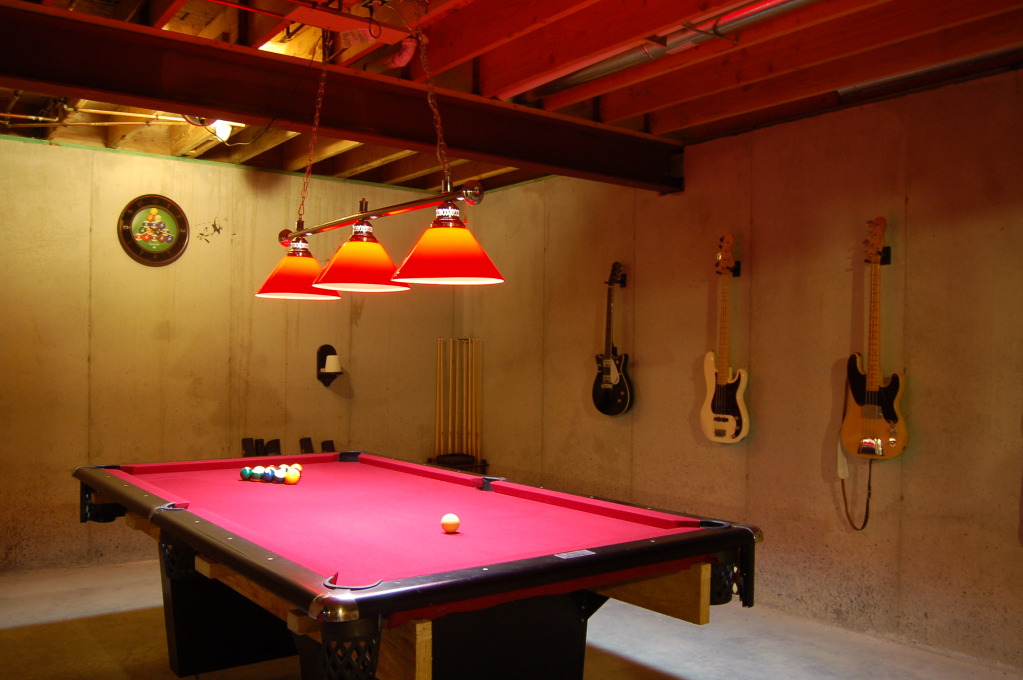 So a couple weeks back I made some new skirting from a sheet of 1/2" MDF cut in strips and covered it with stainless steel drawer/shelf liner material and some chrome corners I purchased from Muellers.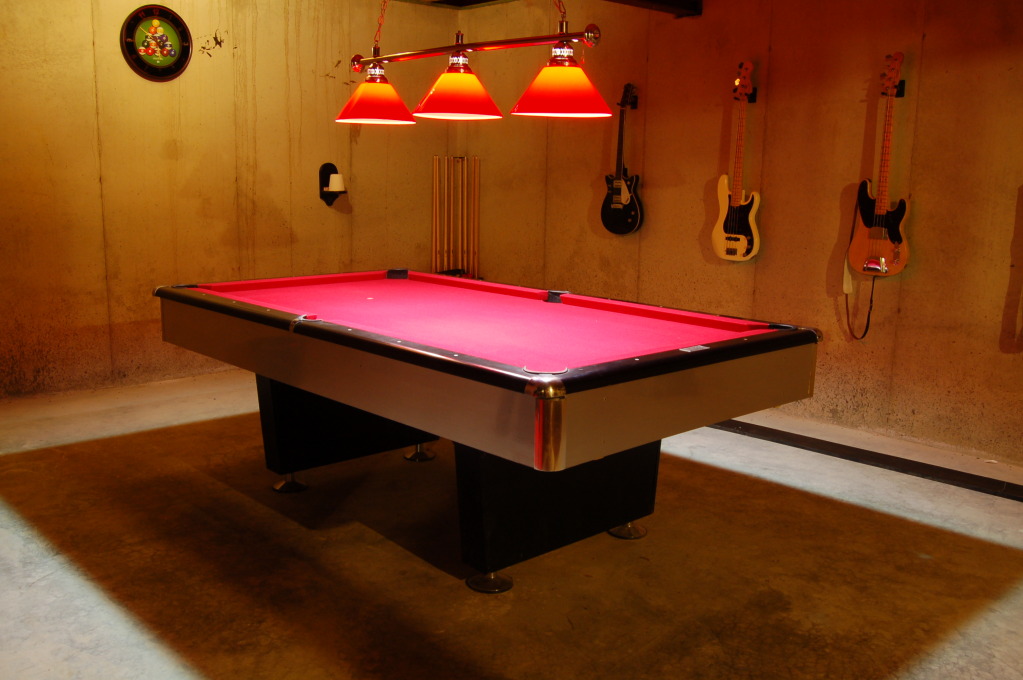 With Flash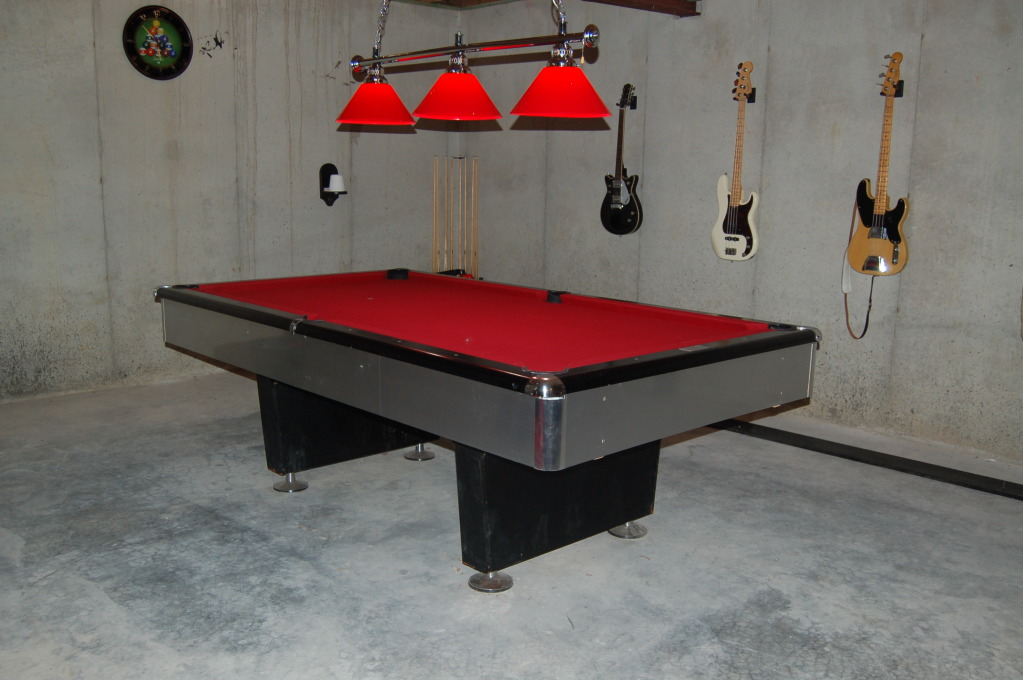 The Room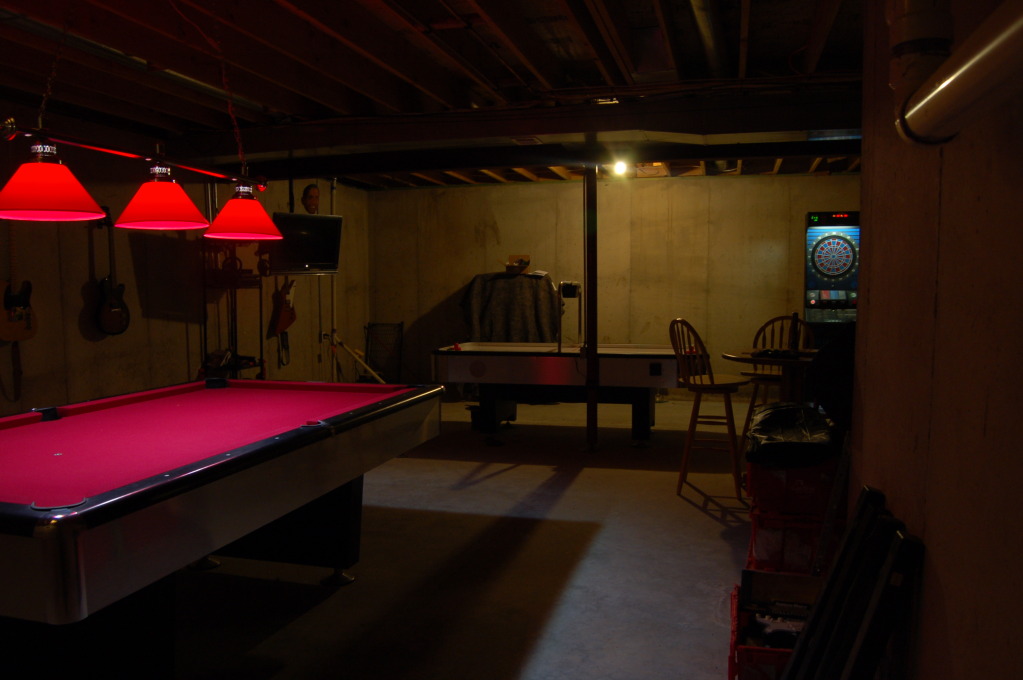 The Floor Plan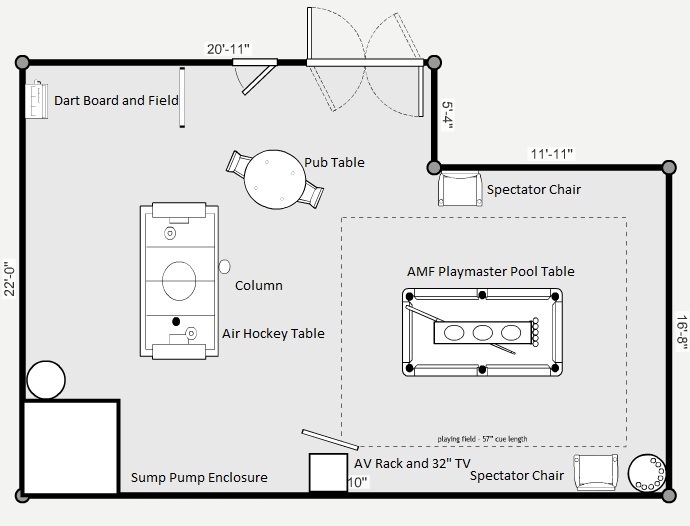 Some Photography.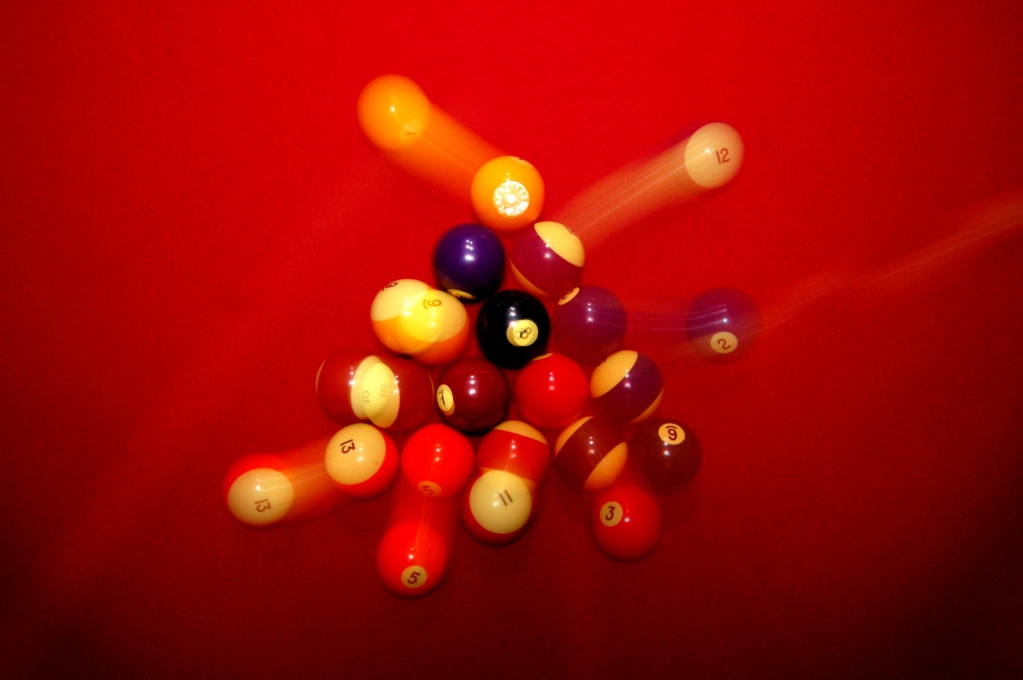 The TV is a 32" Sony that I purchased from a friend in need. The dart board is a Valley Cougar 8.
I still have some paint work and other finishing that I will be working on but all in all I like it!
kkroger
My New Basement Billiard Room "A Work in Progress"
Replies & Comments
---
My New Basement Billiard Room "A Work in Progress"
Title: My New Basement Billiard Room "A Work in Progress"
Author: kkroger (Kerry Kroger)
Published: 1/16/2013 11:38:08 AM