Basement Billiard Room With Brunswick Pool Table
---
7/31/2007 2:16:30 PM
Basement Billiard Room With Brunswick Pool Table
Hi just joined and thought I should post a pic of my basement. I've been shooting on a 7 foot bar table in my grandparents basement (it took two dimes) since I had to use a stool to reach the table. I played in the APA league for 15 years and was captian of the team for 6 of them. I quit the league when I moved to Virginia but continue to play at home. Here's a shot of my basement. The best part not in the picture is the beermeister. The SWMBO wants me to build or buy a bar, I'm the luckyest man in the world.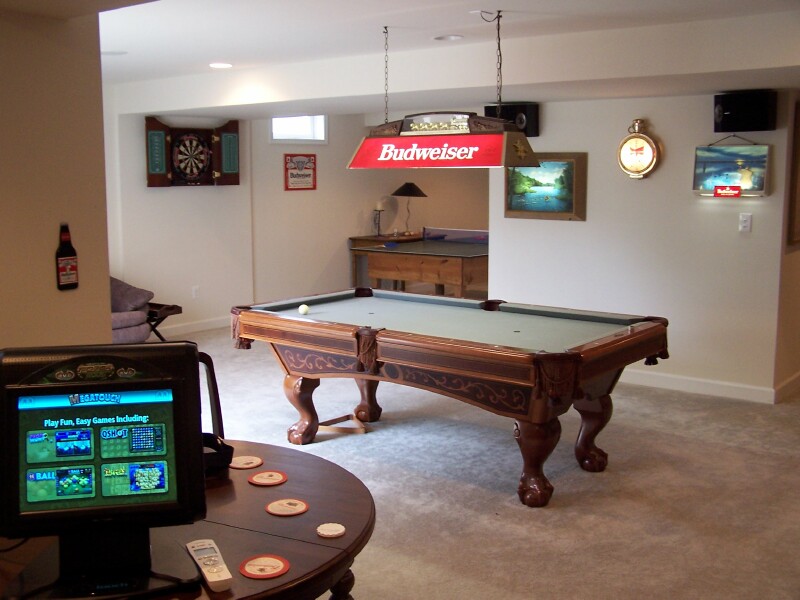 jags
Basement Billiard Room With Brunswick Pool Table
Replies & Comments
---
Ginger on 8/1/2007 9:05:09 AM

Hey Jags, welcome.

That is one killer room! I like the natural light that is coming in. What kind of billiard table is that, and is that a ping pong table in the background too? Very nice!

billiardsforum on 8/1/2007 9:08:20 AM

Welcome to the billiards forum Jags, thanks for posting. You are truly a lucky dude, that room looks killer. I bet you have some nice parties there!

My wife lets me keep a bar in our place too. Back when I put it in, there weren't too many home bars available on the market, so I built one, but now, most major furniture stores carry a variety. You are probably better off buying.

jags on 8/1/2007 10:25:59 AM

Yes it's ping pong, it came as an option with the pool table to go on top but had the room so I built legs for it. The table is a Brunswick.

We do throw a big party every March, and it ends up being a last man standing contest.

I am leaning to just buying a bar, I'm getting lazy in my old age and don't want to add anymore items to my to do list.
Basement Billiard Room With Brunswick Pool Table
Title: Basement Billiard Room With Brunswick Pool Table
Author: jags (Jags Web)
Published: 7/31/2007 2:16:30 PM