Vintage Robertson Black Max Pool Table
---
11/19/2019 9:21:42 AM
Vintage Robertson Black Max Pool Table
I got a 1990s vintage 9' Robertson "Black Max" pool table for FREE. I had to drive 100 miles one-way to get it and overheated my '62, Chev 3/4 (my fault) but I got there, got it in the truck and made it back home. It is basically a good pool table BUT was in a pool hall for decades and has all the bumps and bruises to prove it.
I sanded and clear-coated the rails with automotive clear with some added gold pearl so they sparkle in the light. Then, just yesterday I decided that the frame needed strengthening because the slate support is not directly over the base. There's about 8" of 2x6 (which is really 1.5" thick) and this sticks out 4.5" from the base. So about 900 lbs of slate is held up by unsupported wood. It's really a dumb design, almost like they made the base for a standard 8' pool table. Regardless, I decided to use some angle-iron to bolster the wood. NOW, it's a pro pool table!
Also, some jackass pool table mechanic screwed-up the wood backing on the slate so I'm going to replace it all with new wood. I've never done this but it seems pretty straight forward.
Here's a pic of my base strengthening. The angle iron is thick so the slate is now well supported. I countersunk the screws too to make it nicer.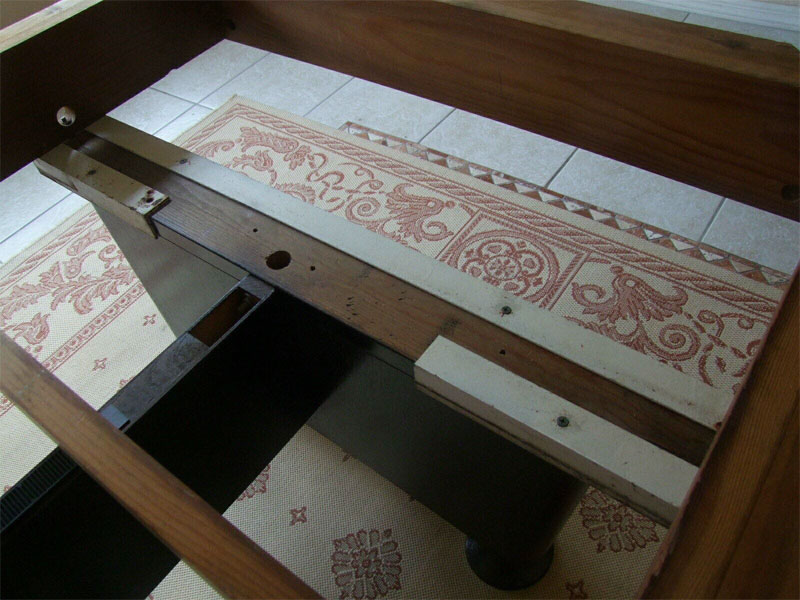 Here is a link to the thread outlining the full restoration with the "after photos":

BallBuster
Vintage Robertson Black Max Pool Table
Vintage Robertson Black Max Pool Table
Title: Vintage Robertson Black Max Pool Table
Author: BallBuster
Published: 11/19/2019 9:21:42 AM
Last Updated: 1/6/2020 3:15:28 PM
Last Updated By: billiardsforum (Billiards Forum)