United Billiards Coin Op Pool Table Ball Size and Type
---
10/26/2019 1:32:17 AM
United Billiards Coin Op Pool Table Ball Size and Type
I just recently purchased a United Billiards coin operated pool table that appears to be pretty old.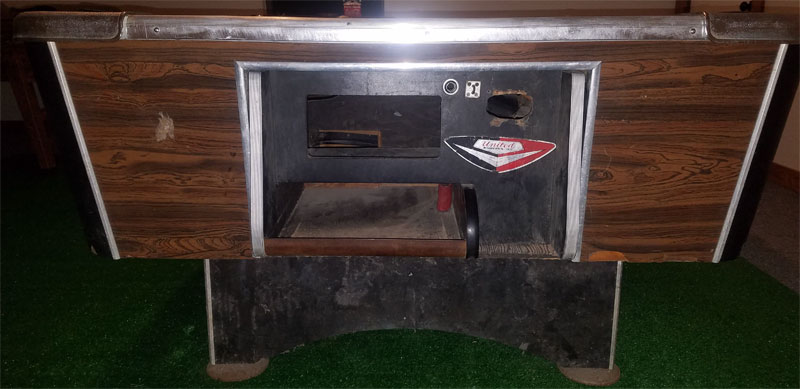 I can't find anything on the pool table to help me determine exactly what model it is, and I'm attempting to restore it as much as possible.
I'd like to know what ball size and cue ball size/style matches this pool table.
The ball return and coin mechanism is on the end of the table. There's a half black and half red United Billiards, Inc. emblem underlined with a split-v which says "Union, New Jersey" (as a sticker) on it.
The width is 53" and length is 93".
The top rails and corner pieces are black and the side has a dark woodgrain laminate appearance.
The back left leg has an opening in it that goes up towards the ball tracks and has a split metal track at the top of the leg. I have no idea what this is.
The bottom has a large opening on each side of the table.
I know this is a lot of information, but any help would be greatly appreciated.
This coin op pool table seems to be built with a quality that's tough to find any more.
Thanks for any information you have, and have a blessed day.
Joe Bridges
United Billiards Coin Op Pool Table Ball Size and Type
Replies & Comments
---
billiardsforum on 12/31/2019 11:46:51 AM

I believe it is a United Billiards "Zenith" coin-op model pool table (or similar). There is also a "Crest" model - same brochure, not sure what the difference is.

See this post:

Here's the patent awarded to Art Daddis, founder of U.B.I. for the ball separator mechanism in case that helps:

And here is a photo and description from another UBI Zenith model pool table that was for sale a while back:

This is a particularly rare example of the classic coin operated pool table. It is a United Billiards Zenith model Coin-Operated slate pool table. The coin system has been taken out so that it returns balls like an at-home pool table without having to be fed quarters. I am sure the coin function can be restored if needed, but this is a great bar table to be used at home. The pool table is in excellent condition for the age. I am not sure how old it is. The pool table measures 48"W x 32"H x 84"L.

United Billiards was founded around October 1965 by Arthur (Art) Daddis on Loretto St. in Newark, NJ. Mr. Daddis was already a veteran of the coin-op industry (since 1933) having worked for every major juke-box manufacturer and pool table producers including Irving Kaye, National Billiards, and U.S. Billiards of Amityville NY.

Here's the brochure for the United Billiards, Inc. Zenith pool table.
United Billiards Coin Op Pool Table Ball Size and Type
Title: United Billiards Coin Op Pool Table Ball Size and Type
Author: Joe Bridges
Published: 10/26/2019 1:32:17 AM
Last Updated: 12/31/2019 11:27:30 AM
Last Updated By: billiardsforum (Billiards Forum)