Replacement Rail Screws for a 1964 Valley Pool Table (VA 12393-X)
---
10/18/2021 11:01:02 AM
Replacement Rail Screws for a 1964 Valley Pool Table (VA 12393-X)
I have 1964 Valley VA 12393-X pool table.
I'm looking for the appropriate size and style of the cushion rail screws as well as the countersunk washer covering the screw head. I am missing a couple of the washers and some of the screw heads are stripped.
The pool table has six cushion rails, which use three screws and washers each.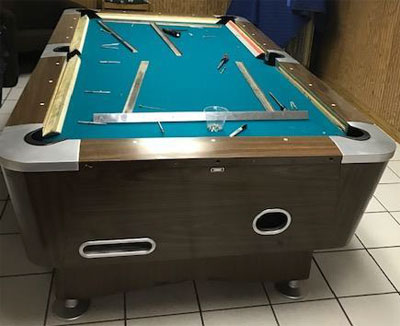 Dave Hoch
Replacement Rail Screws for a 1964 Valley Pool Table (VA 12393-X)
Replacement Rail Screws for a 1964 Valley Pool Table (VA 12393-X)
Title: Replacement Rail Screws for a 1964 Valley Pool Table (VA 12393-X)
Author: Dave Hoch
Published: 10/18/2021 11:01:02 AM
Last Updated: 10/21/2021 5:21:11 PM
Last Updated By: billiardsforum (Billiards Forum)