Removing Legs from Brunswick Heirloom Pool Table
---
1/14/2021 12:07:46 PM
Removing Legs from Brunswick Heirloom Pool Table
I could use some help!
Can the legs be removed from the base of a Brunswick Heirloom pool table?
I'm getting one of these pool tables. It is very similar pool table to the Brunswick Heritage model discussed here (and in the same age range etc.).
Looking at the Brunswick Heritage manual (linked in the older question above) it says:
Step 1 - Remove the entire base frame (without legs) from the carton,
Step 2 - Attach the legs.
Additionally, on the Brunswick Archive history page, it says:
Base frame is assembled and leveled at the factory for maximum rigidity and flatness.

Source: brunswick.pastperfectonline.com/library/4444EA7E-4118-4E55-99BF-712822186511
This would also suggest that the base frame was indeed shipped pre-constructed as per the instruction manual.
HOWEVER, I need to move one myself, in our mini van.
So I'm desperate to find out if the base frame can be dissembled, or if it's just one solid lump that does not come apart and has to be moved as-is (and we're talking base frame, minus legs only here, obviously not the complete pool table).
Here's what the base frame and legs look like on a Brunswick Heirloom pool table: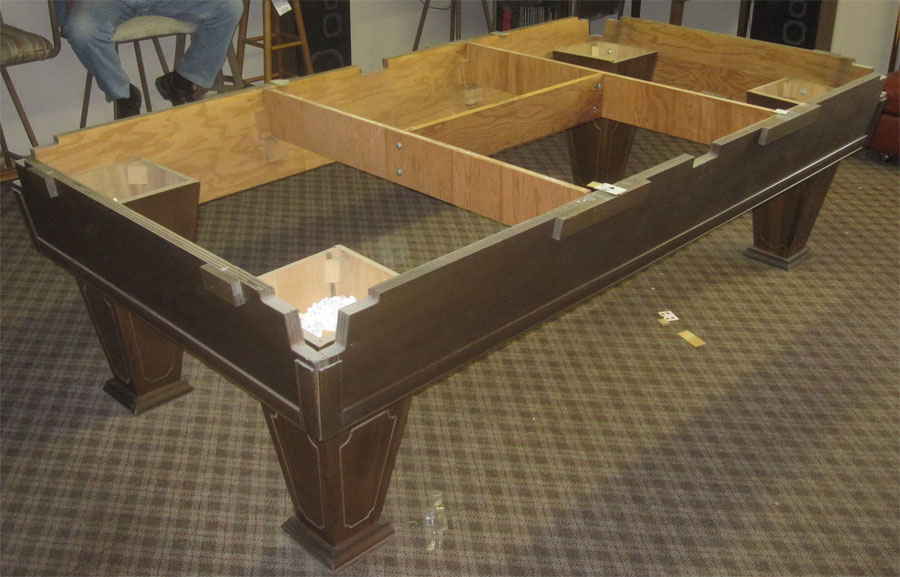 Lion Heart
Removing Legs from Brunswick Heirloom Pool Table
Replies & Comments
---
billiardsforum on 1/17/2021 11:27:01 AM

From the looks of that photo, I would say yes.

Two things which would concern me (and which I don't know the answer to, for certain) are:

Are those legs also glued to the aprons (in addition to those bolts), and,
If the legs are removed, is there anything else holding the long and short apron board together in the corners.

If the answer to #2 is no, just be sure to number pieces in such a way that there's no confusion when it's going back together in it's new home.

Also, the quote from the technical bulletin you shared above is a bit ambiguous. Perhaps it means that it's assembled at the factory to check it's rigidity and flatness, but then broken back down for shipping. It is hard to imagine they'd ship those fully assembled like that.

To that point, I see that the Heirloom technical bulletin does NOT have that same phrasing as that of the Brunswick Heritage technical bulletin that you noted above.

brunswick.pastperfectonline.com/library/262E013E-BBFA-45A0-9DE7-054332373436

Please do let us know how it goes!

Lion Heart on 1/20/2021 8:51:26 AM

Hey guys!

An update for those interested, or anyone in the future doing a Google search for the Brunswick Heirloom table and needing, as I did, some advice on dismantling.

So, all went really well on collection day. The base does indeed fully (and easily!!) dismantle. There are no sections that are glued, it is designed to be dismantled.

First of all, a big up to Randy from Schaffer Installations (PoolTableGuy.com) as I saw on his website he had an Hierloom for sale: http://www.schafferinstallations.com/id74.html - So I sent him a message, and his reply came through on the morning of collection and he was REALLY helpful. He told me that he never sold that pool table and actually decided to keep it for himself. He confirmed that the base frame easily dismantles and gave me some tips and general help. Great guy!

So, that put my mind at rest greatly for the day of collection, thank you Randy!

Ok, so there is a decorative trim all the way around that hides the sides of the slate, and those are just attached on small brackets with screws.

Unscrew the pocket leather straps from underneath.

Rails bolt on exactly as expected from underneath.

The pockets are the standard type that have a machine screw on the underside, and metal 'dowels' that fit into the ends of the rails. Completely standard.

The slates are heavy, especially on the 9-ft like this one!! 1 inch slate on 1 inch timber framing. They have screws passing down from the top, as normal, to attach the slates to the frame.

All pretty standard stuff so far.

So, on to the base frame...

In each corner there are two decorative trim 'strips' on the outside (visible in the image I added above). You will see that one on the two pieces covers that gap between the two pieces of frame (side and end).

That one needs to come off. It has nails, put something thin in behind and gently pry it off. It's quite delicate wood to be careful with it!!

The central H shaped frame in the center just lifts straight out, no glue, no fixings. To dismantle the three pieces of timber making up this H shape, there are bolts on either side (visible in the image), just unbolt these. Simple.

The legs are hollow, and inside the legs you will find two bolts connecting to each side/end piece of the frame (so each leg contains 4 bolts total). Zip those bolts out whilst someone holds the section you are unbolting. Simple as that. With the bolts removed you end up with four legs, two sides, and two ends. Fully dismantled.

So, all in all pretty easy!!!

Something I'd like to add for others reading this seeking Heirloom information:

There is a link found when Googling on a pool forum where a user links the user manual for someone thinking of buying an Heirloom, but actually it's the manual for the HERITAGE and not the Heirloom! This manual advises that the frame come supplied pre-built at the factory. I think that this IS the case for the Heritage as that model came with an optional ball return system so was more complex. But the Heirloom model almost certainly did not come with a pre-assembled base frame. It would have come flat-packed and is fully designed to be taken apart (easily too!) So worth noting and not getting the two confused or comparing them (as I did).

Hope that's helpful for anyone looking at the Heirloom table in the future!

billiardsforum on 1/20/2021 12:19:12 PM

Fantastic! Glad it went smoothly!

Now all that's left is to share a photo when it's all set up in your new game room!
Removing Legs from Brunswick Heirloom Pool Table
Title: Removing Legs from Brunswick Heirloom Pool Table
Author: Lion Heart
Published: 1/14/2021 12:07:46 PM
Last Updated: 1/17/2021 11:07:29 AM
Last Updated By: billiardsforum (Billiards Forum)