Wendt Pool Table Model ID
---
5/4/2023 11:13:29 AM
Wendt Pool Table Model ID
I have this Wendt/Brunswick Balke-Collender pool table coming up at an unreserved online auction in WI.
The pool table pictured is in need of cosmetic/veneer restoration. No date is currently set for the sale.
So far I've been unsuccessful in trying to track down the specific model name for this Wendt pool table.
Like the one in the thread, Antique Wendt Billiard Table, it has a Brunswick Balke-Collender nameplate on it. I've seen one other Wendt pool table model with an identical pattern but it had only 4 legs instead of the 6 like the one I'm selling.
If anybody has nailed down the specific model name I'd be grateful if they'd share it.
Thank you.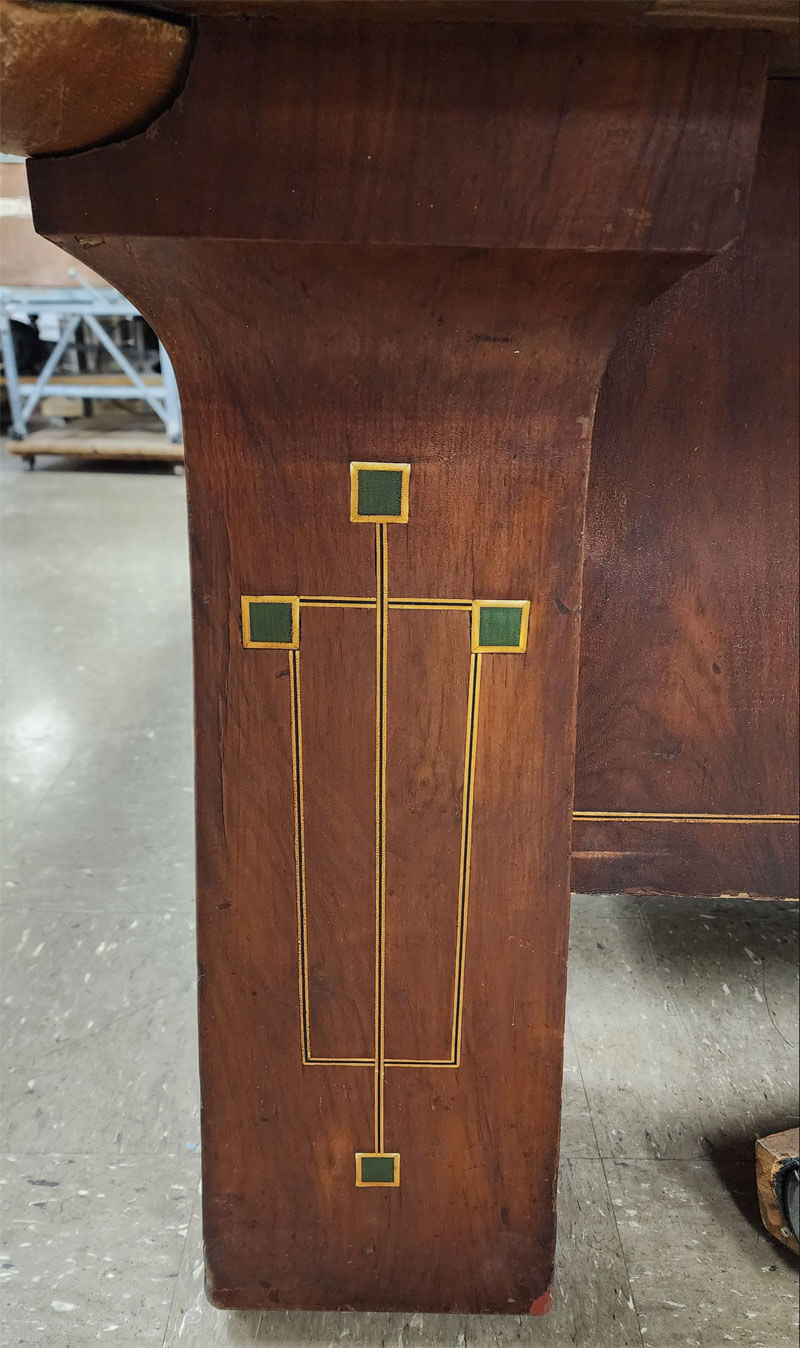 Auctioneer
Wendt Pool Table Model ID
Replies & Comments
---
afield on 5/4/2023 1:17:13 PM

That's the Wendt "Grand" pool table.

The catalog description mentions the green square inlays.

Auctioneer on 5/5/2023 12:06:30 AM

Thank you!

I was so cued in on 6 legs that I completely breezed by that image. And of course it spells out, "4 or 6 legs". So now I know that it is unequivocally a Wendt pool table but I sure am curious as to how it ended up with a BBC nameplate.

afield on 5/5/2023 8:17:49 AM

Yeah, that's a good question - my Wendt pool table had a Brunswick name plate as well, which I replaced (see the other thread).

I think there might be 2 reasons:

Someone told me that those plates were frequently swapped out when tables were serviced back in the day, and occasionally got misplaced;
Many people look at a table like that and just assume it's a Brunswick.

The previous owner of my Wendt table was told BY THE PRESIDENT OF BRUNSWICK that it was a Brunswick pool table!

I surveyed ten antique pool table experts across the country and nine of them said it's a Wendt pool table.
Wendt Pool Table Model ID
Title: Wendt Pool Table Model ID
Author: Auctioneer (Mike Paul)
Published: 5/4/2023 11:13:29 AM
Last Updated: 5/5/2023 10:29:58 AM
Last Updated By: billiardsforum (Billiards Forum)