Is this an Authentic Brunswick Pool Table?
---
2/4/2021 8:54:30 AM
Is this an Authentic Brunswick Pool Table?
I'm looking at buying a used Brunswick pool table and I'm wondering about the quality of some of the materials.
From the slate identification tag, the table appears to have been manufactured in 1998 and uses "OIS" Original Italian Slate, which is a good sign.
However, the pockets of the table look a little on the cheaper side. Both the pocket trim and the pocket itself seem to made of a low quality plastic material. Would this be characteristic of a Brunswick table of this era? I'll include some pictures of what I'm referring to.
Let me know what you guys think.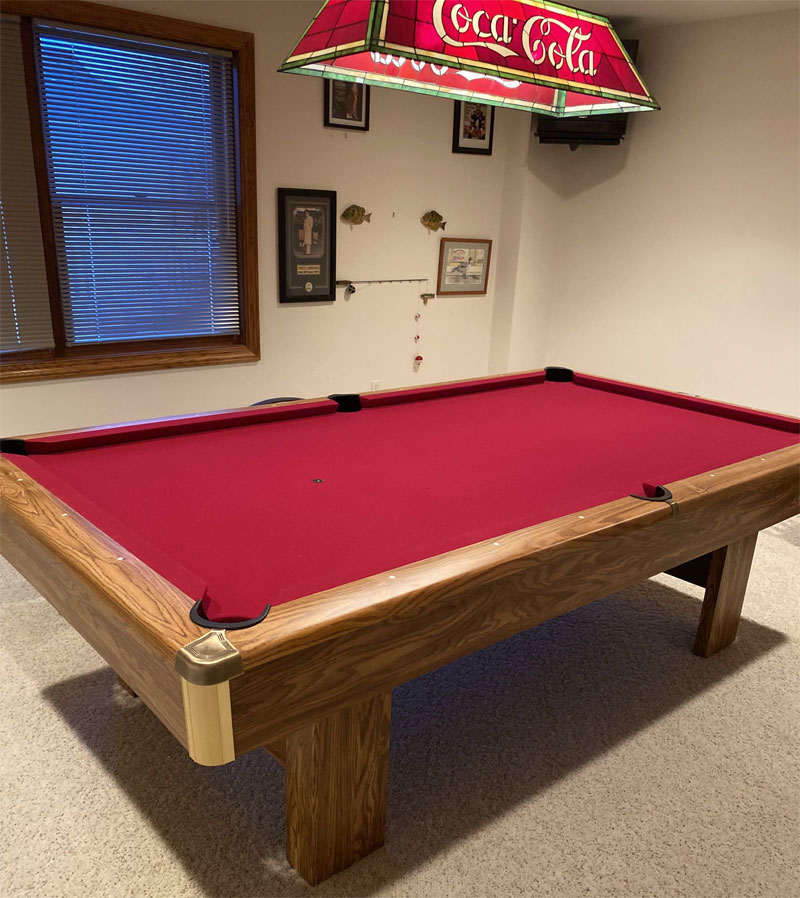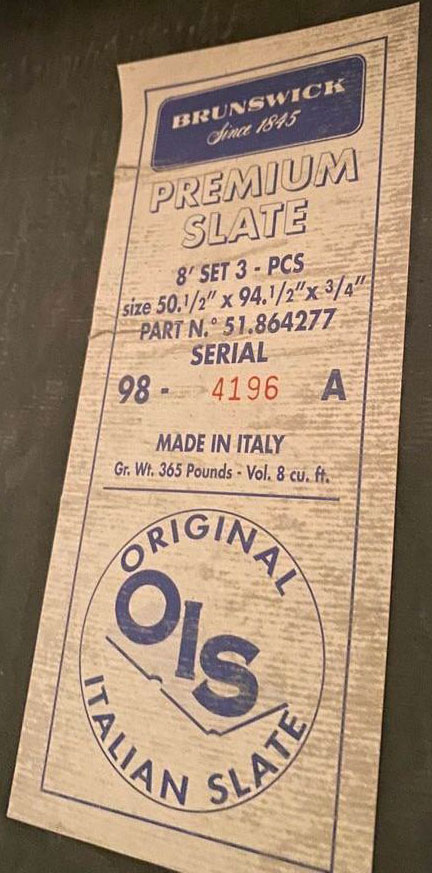 user1612457669
Is this an Authentic Brunswick Pool Table?
Replies & Comments
---
billiardsforum on 2/4/2021 1:43:14 PM

It is a Brunswick Bristol pool table from their "Contender" line of economy residential-grade pool tables, circa 2000-ish.

Here's piece of Brunswick marketing material that explains the difference between their standard Brunswick pool table lines and their economy "Contender" lines:

Brunswick "Contender" vs Brunswick "Authentic"

Brunswick offer two distinct ranges of pool tables - Contender and Authentic.

The Brunswick "Contender" pool tables offer high quality design and build. They are aimed to deliver a great value entry into pool table ownership for discerning customers looking for the hallmarks of product quality with which Brunswick are associated.

Centennial™ cushion rubber — unique Brunswick design for recreational play.
MDF/plywood/solid wood construction — durable and strong.
Nut and bolt assembly — quality fastening system for solid performance
Pearlized rail sights — made of wear and fade-resistant composite resin.
Man-made leather pockets — providing options for the price conscious shopper.

The Brunswick "Authentic" range offers an impeccably high level of design, finish and craftmanship to provide a stunning range of pool tables for clients who are looking for the utmost in quality.

SuperSpeed® cushion rubber — patented industry standard for over 70 years. Provides exceptional accuracy and consistency every time you play
Solid wood — premium materials to last for generations.
Dovetail cross supports* — utilizing old world construction methods for superior modern-day performance
Mother-of-pearl rail sights* — genuine cultivated pearl material offers a beautiful contrast to the rail wood finish.
Genuine leather pockets — strong and durable while aging beautiful over time

By the way, that label, and the info on it, only applies to the slate.

The slate is the best component on that pool table. The rest of it is produced extremely cheaply with very low-end materials.

I don't know what the asking price (or your budget) is, but I would personally stay away from this one. Given the excess of inventory in the used pool table market these days, it doesn't take long for something decent to come along.

RayMills on 2/4/2021 3:08:42 PM

I agree that this is an entry-level pool table, as I had one about three pool tables ago.

I fashioned a ball return system out of rain gutter troughs and hung it under the rails' very simple "undercarriage".

As a renter, I liked that it was easy to move, and I probably paid under $300 for it. The four legs come off in two pieces total, then I kept the slate and rails attached and carefully tilted it through the front door.

user1630179635 on 8/28/2021 12:40:36 PM

Do you have a picture of the Brunswick name plate on the end rail of that Brunswick Contender pool table?
Is this an Authentic Brunswick Pool Table?
Title: Is this an Authentic Brunswick Pool Table?
Author: user1612457669
Published: 2/4/2021 8:54:30 AM
Last Updated: 2/4/2021 1:46:17 PM
Last Updated By: billiardsforum (Billiards Forum)